From an uncommon idea to a thriving rental business, bridal boutique Dare & Dazzle is giving brides a new money-saving option for finding their dream dresses.
Their beautiful storefront, set against the backdrop of Sonoma's wine country, offers the same fun, high class experience of a luxury boutique with gorgeous sustainably designed gowns and custom tailoring for the perfect fit. However, instead of prices in the thousands, they range from $200-$500 for a 10-day rental.
"I got the idea as I was planning my own wedding," explained Dare & Dazzle founder Hien Le. "The price tags on new dresses were crazy! We were trying to save up for a house and I kept thinking about how this money could help us in other ways."
The only hiccup to her plan? Dare & Dazzle's opening day was two weeks before the shelter-in-place mandate went into effect, leaving them scrambling to rewrite their vision and adapt it to a virtual marketplace.
"We had to focus one day at a time," said Le. "We started seeing orders trickling in for virtual weddings, or spontaneous ones where the couples would have a really short window to shop for dresses, which is where we shine."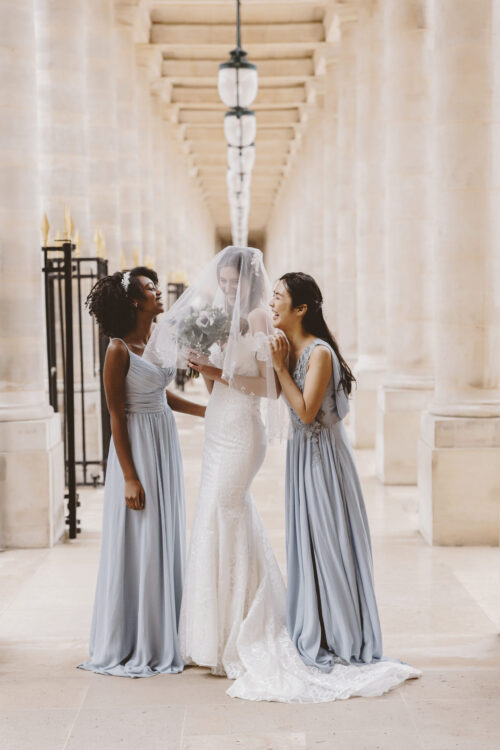 Dare & Dazzle has more than 100 dresses to choose from, including bridesmaid dresses. Le and her team design all the gowns, choosing eco-friendly materials and lace-up back designs that can be reused and easily tailored in order to reduce their fashion waste. "We are transforming how brides think of one of the most important purchases in their life and the wedding dress industry," said Le. "Alterations being unavoidable is no longer the case." Le says the key to finding a dream dress is to keep an open mind and choose one that you feel the most comfortable and confident in.
Her dresses range in sizes 2-20 and come in a variety of stunning silhouettes and styles from romantic A-lines to unforgettable ball gowns. To make the experience even more memorable, all of the dresses are named after female leaders and game changers. She also offers accessories like adorned headbands and detailed veils to create the perfect look. After 10 days, brides are able to return the gown without worrying about cleaning, storage and maintenance… a true fuss-free and unique experience!
Up next, Le plans to continue to add to her dress collection and expand her line to include maternity and flower girl dresses.
While you can now schedule an in-person experience, the pandemic inspired them to also develop an intuitive and fun virtual consultation process and commitless try-on policy in the comfort of your own home.
To learn more visit www.dareanddazzle.com.
About Dare & Dazzle
Dare & Dazzle is an industry-disrupting bridal brand enabling unapologetic brides like you to shine the way you deserve without compromising on your principles. Their unique rental policy and extensive collection of bridal and bridesmaid creations are here to support your needs, dreams, and values.
The post Wedding Boutique Takes Center Stage with a Money-Saving Twist appeared first on Home Business Magazine.
Click Here For Original Source Of The Article