As you may know, tartan is a type of checked pattern of horizontal and vertical lines that create small squares and that may incorporate multiple colors. You might have also seen the tartan's colors further enhanced by an overcheck in a different color. Are you intrigued by different celebrities wearing tartans and are planning to get yourself one? We're going to go through different ways and styles in which you can wear tartan and look chic. You can wear tartan outfits no matter if you are a man or a woman. Read till the end and then plan your tartan outfit accordingly to rock the floor exactly as your favorite celebrities do.
How to Wear Tartans
Below are some solid ideas for men to style their tartan outfits.
Tartan for Men
Kilts
One of the most ancient options available to be worn in tartan is wearing a kilt. There are tons of men's kilts for sale in the market. You can choose a range of tartans and have your kilt made in any of your tartans. Most of the tartans represent the families and have some kind of traditional depiction.
Shirts
You can choose any attractive color of tartan to get yourself a tartan shirt as casual wear. It will make you look more attractive than you think especially when you pair it with denim, corduroy, or khakis. You can even layer it with a sport coat in a fabric like a wool tweed in cooler months of the year.
Suits
Though full suits in loud-colored tartans like red and green are seen everywhere, these types of outfits are not preferable in the world of traditional menswear. Instead, I suggest you go for a decent and monochromatic tartan which is more of a general plaid or something dark yet colorful and eye-catching like the black watch set. Layer it with the suit's jacket which should ideally be monochromatic as well, such as a white or light blue dress shirt or a dark turtleneck sweatshirt. Along with that, keep your accessories simple yet attractive and select those which go with the plaid pattern and colors.
Sport Coats
Tartan sport coats can enhance your look more than you think they will. Tartan sport coats can be a little bit brighter and louder than full tartan suits. It's best to wear a tartan sport coat while making sure that the other elements of your outfit, including your trousers and shirt, are low-spirited.
Waistcoats
Tartan plays well as the pattern on a waistcoat. If you're wearing one of these, it's best to pair it with preferably a plain or very decently patterned jacket, so that the two patterns don't get mixed up with each other.
Trousers
Tartan trousers with or without a matching jacket should follow the same principles mentioned above for tartan sport coats. A subtle shirt paired with or without a jacket. The jacket can be either plain or subtly patterned depending on your choice, and will be your most favorite and eye-catching part of an outfit. Along with a subdued coat or jacket, trousers with a bold and loud pattern will be a cherry on top. But make sure to avoid pairing patterns with patterns; keep your shirt simple and block colored so that the tartan trousers can get all the attention of viewers.
Tartan Outfits for Women
Now that we have talked about tartan outfits for men, let's see how women can wear tartan and rock their outfits.
Skirts
Darker and bolder tartan designs are perfect for pairing with a long tartan skirt. Pair with a nice sweatshirt of your favorite color in the fall. It's the perfect outfit for feeling warm and looking pretty. It can go well for a formal or business-casual event, and for holiday parties and friends' hangouts.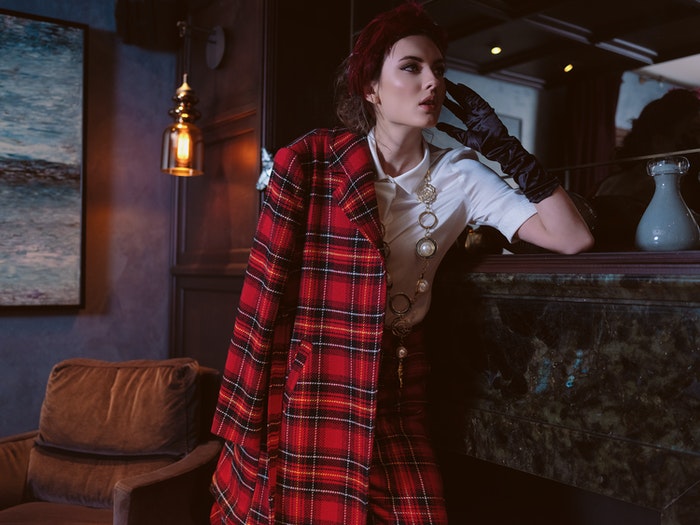 Tartan and a Turtleneck
Are you planning to attend a party or a formal dinner or just want to have fun with friends? Wear something fun, chic, and classy with colorful plaid, tartan designs, with a pair of dress pants or trousers. Get yourself a solid turtleneck shirt or sweater and boom! You are all ready to rock the game.
Blazer with Trousers
A tartan blazer with a pair of dark jeans or trousers or even with your favorite shorts can be a great way to keep it casual.
Blazer with V-neck or T-shirt
If you are looking for a fun outfit that you can wear out to a concert, you can go for a tartan blazer paired with matching suit pants and a simple t-shirt or v-neck.
Maxi Dresses
Tartan maxi dresses can be a great option for formal events as they are flattering yet flowy and are a massive fashion statement.
Suits
Tartan suits look stunning and are perfect formal wear for workaholic businesswomen out there.
Button-down with a Blazer
Tartan button-downs in a variety of colors look amazing with a nice pair of pants. Wear a cool pair of heels and you're ready for any event you have to attend.
Scarves
The plaid colored patterns of tartan do great on scarfs. Feel cozy and warm in the winter while looking classy! Just wear a nice sweatshirt or jacket and wear a thick tartan scarf.
Shawls
Tartan shawls are a great option. Wrap one over your shoulders in the winter. You can style it with a nice belt.
Coats
This is great for wearing to an event on a cold winter evening. The tartan patterns and color schemes look wonderful for fall and winter.
Jumpsuits
Let your fun side out by wearing a tartan jumpsuit. You can wear one for a casual event or fun party with friends, etc.
Conclusion
Get started on designing your tartan outfit! You'll look fab while feeling comfortable at your next event. Your outfit will get tons of positive attention when you choose the right colors and accessories.
About the Author
Ethan Wilson has been a writer on Kilt and Jacks for 4 years. He has vast experience in fashion designing and styling, especially in Scottish attires.
The post How to Wear Tartans appeared first on Home Business Magazine.
Click Here For Original Source Of The Article