Here's the painful truth: Inefficient business processes can hurt your revenue big time.
Workflow bottlenecks can also hinder your employees' from achieving optimum productivity while eating up a chunk of your time and resources.
The good news is, there are hacks for streamlining business operations and improving your processes' overall efficiency.
In this guide, we'll cover five of the best ways to expedite your business process.
1. Use a reliable project management tool
Project management tools let your team collaborate from a single place, increasing their efficiency and productivity.
Some of the best project management software includes features that help you and your teams get a close view to oversee your project's tasks, targets, and phases from start to finish.
For instance, ClickUp makes project and task management efficient by letting you plan, track, and collaborate from one platform.
You can manage your resources through a box, Gantt, calendar, or list view and create your workflows.
The software includes a myriad of other project management features and tools such as priority tagging, checklists, custom statuses, task templates, task dependencies, agile board view, task assigning, commenting, workload charts, reminders, filtering and sorting, and more.
The project management software's user-friendly interface and functionalities allow your busy team to streamline and even automate going through and accomplishing critical tasks.
This helps you optimize finishing your projects and team collaboration, ultimately making your business processes more efficient and productive.
2. Use automation
Automation tools drastically reduce the possibility of human error, which ultimately leads to fewer firefighting tasks for your team. This allows you to focus on building and streamlining your processes as opposed to you fixing problems.
Those who build their codes using Azure DevOps, for example, can run their DevOps backups automatically using a third-party platform such as BackrightUp.
Backrightup automates your backup jobs, giving you the peace of mind of recovering your Azure DevOps data from accidental deletion or malicious software such as ransomware.
The platform allows you to backup to custom storage locations without maintaining your backup scripts.
You can also back up everything, including your work items and pipelines, and restore the items any time in one click.
A reliable automation tool takes away the complexities and time-consuming parts of your business process, allowing everyone across your company to work more efficiently.
Automate where you can, from your data backups and marketing and sales to other crucial workflows to eliminate manual, tedious processes and save time and precious resources.
3. Use cloud based tools
When your tools are only accessible from a single, physical place, completing your tasks becomes a total nightmare.
Because your team needs to go to that one place to do their tasks:
They won't be able to do their tasks immediately since they need to travel
They could easily forget their tasks because they weren't able to do them immediately due to the tons of things to do at the location they're at
Etc.
The amount of firefighting can easily skyrocket because of the missed tasks.
That's why using cloud-based solutions is crucial. It lets your team access your tools anywhere as long as they have internet access.
A classic example is Record360's equipment inspection software.
The company has equipment inspection forms in their cloud-based software, allowing their users to conduct their equipment inspections anywhere and anytime using compatible mobile devices with internet access.
Since the tool is cloud-based, its users won't need to visit their office, get a form to conduct their inspections, and submit the document once the inspection is done.
They can perform their inspections with digital forms, tap a few buttons, and everything is added to the cloud, easily accessible to everyone with the proper clearance.
Cloud-based tools can streamline business processes, especially for companies operating in multiple locations. These also reduce the long back and forth that typically comes with paper-based, non-cloud-based tools, saving you and your team boatloads of time and energy while speeding up your workflows.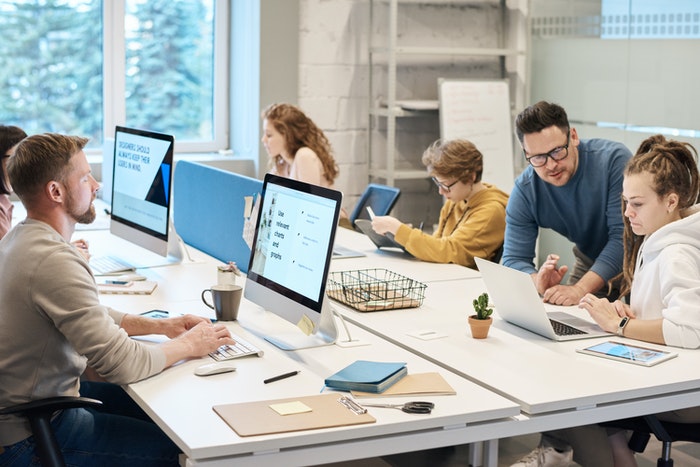 4. Use a CRM solution
Managing customer relationships and prioritizing customer relations are crucial to business success, making it vital to manage client interactions and information efficiently.
The key is to use reliable Customer Relationship Management (CRM) software that gives your sales, including your marketing and customer service teams, visibility over your lead and client engagement on all your channels, such as your website and emails campaigns.
This helps your sales team streamline prioritizing opportunities and leads who are most likely to convert based on their interactions and engagements.
Other tasks, such as cross-sells, upsells, and renewals, become more efficient since accessing and using customer information are quick and easy with your CRM.
The HubSpot CRM, for instance, gives you an up-to-the-minute view of your whole sales pipeline through a comprehensive, visual dashboard.
You'll get detailed reports on your sales productivity, activity, and team's performance, allowing you to track relevant data, such as how your sales reps monitor quota.
You'll also have the necessary information to spot gaps in your sales pipeline, coach your team for improvement, and optimize your processes to achieve better results.
A CRM software provides a central repository for your business data, allowing you to analyze data and generate reports efficiently to boost customer experiences with your brand.
5. Use a time tracking app
Failing to track your employees' work hours, or at least doing it manually, can cause a huge dip in your productivity and operations.
After all, if you don't track how much time your staff spends on their tasks, you're likely to miss spotting inefficiencies, such as your employees taking more than two hours a day going through emails.
The solution? Use a time tracking app.
Time tracking software and timesheet apps let you capture the hours employees spend working on their assigned tasks, helping you identify inefficiencies and address gaps to streamline your workflows ultimately.
For example, Deputy provides a timesheets app that allows you to track employee attendance and time from one app.
With the right time tracking software, you'll get insights on your business operations, including tasks and processes that eat up a chunk of your employees' time and cost you the most resources.
This helps you spot gaps in your workflows, apply the proper strategies, and plan and allocate your budget appropriately to enhance your business process.
Supercharge your business process today
Accelerate your business process and take it to new heights by using the tools and following the tips in this guide.
While every business is unique, using the right tools that best fit your company's needs can help optimize your day-to-day operations and streamline your tedious tasks to improve your business' process and, in turn, performance.
The post How to Streamline Your Business Process appeared first on Home Business Magazine.
Click Here For Original Source Of The Article