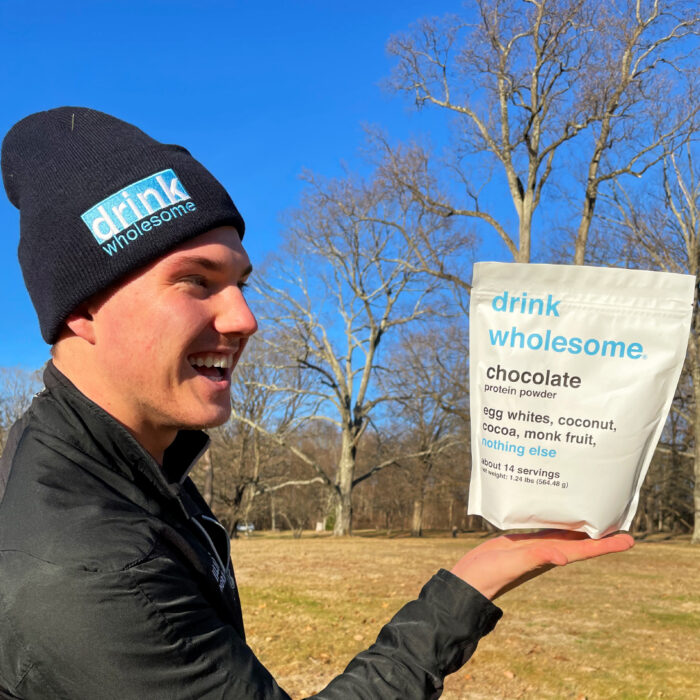 Jack Schrupp is a high school teacher, coach, and the founder of Drink Wholesome. Drink Wholesome is a new small business from New Hampshire that has taken a better-for-you, better-tasting approach to protein powder by using only real food ingredients — ingredients you can pronounce and find in your kitchen. Their new vanilla protein powder, for example, is made with just 6 real foods: egg whites, coconut, chickpeas, vanilla, monk fruit, and sea salt. They list these ingredients in a big, bold font on the front of the packages.
The idea for Drink Wholesome came to Jack as a college athlete. At the time, he could not find a protein powder made with only real foods that actually tastes good, so he made his own. Two years and many iterations later, he decided to turn that idea into a business. As mentioned, Drink Wholesome is a better-for-you, better-tasting alternative to most protein powders, which are full of added junk, and taste like chalk. If you are sick and tired of choking down protein shakes full of laboratory formulated ingredients, then Drink Wholesome is for you. They make their protein powders by hand in Massachusetts using real food ingredients, and nothing else.
Jack launched Drink Wholesome in 2020, and had hoped to grow the business through event marketing. Unfortunately, all large sporting events were cancelled in the United States in light of the pandemic, which meant that he had to find new ways to spread the word. As a small, independent business with limited resources, this presented a huge challenge! One of his most successful strategies has been a sample program that allows him to share products with interested customers as well as solicit feedback.
Launching a business during the pandemic has been challenging in other ways too. For instance, only weeks after launching, his supply chain was hamstrung by global shortages and sluggish manufacturing. This made it impossible to source several ingredients. Fortunately, he was able to partner with other small food/beverage businesses to get the ingredients he needed! 2020 was an exercise in resilience, and he is looking forward to wholesome 2021! You can purchase Drink Wholesome on their website, as well as on Amazon, and you can find them on social media @drinkwholesome.
The post High School Teacher Jack Schrupp Launches Nutritious Protein Powder Brand appeared first on Home Business Magazine.
Click Here For Original Source Of The Article