Home Business Magazine Online
As a business owner, you already know the importance of popping up in Google search results. But what you may not know is that without properly submitted business information, your business will not appear in the Google listings.
When it comes to local marketing, Google My Business (GMB) including Google Maps marketing is a useful free tool for small businesses.
Just think about how different this platform is compared with social media networks and its unique metrics and insights which can benefit your business in the long run! Local search has an intent-driven approach where users have the will or interest to do something right away.
Do you want to rank higher in the "local pack" on Google? Here are five essential elements you have to pay attention to.
1. Set the Real Working Hours
There are a number of benefits to clear business listings.
Your customers will benefit from knowing that you're open and how long they can expect your store or office hours to be. It's also important for you because displaying the correct opening times allows patrons who may otherwise have missed out on visiting your establishment to come in when appropriate, ultimately boosting sales.
Are your working hours different on certain days? State it, and don't mislead potential customers.
If you have multiple stores with varying opening times for each one of them, make sure to clearly state that information as well when advertising their store's schedule online or in print materials.
Claiming business hours has some extra benefits besides misleading customers. For example, it may boost your sales by creating a sense of urgency. You may ask how.
Well, when people see that you're closing in the next hour, they will be motivated to buy things from your store quickly before it closes.
2. Post Regular Updates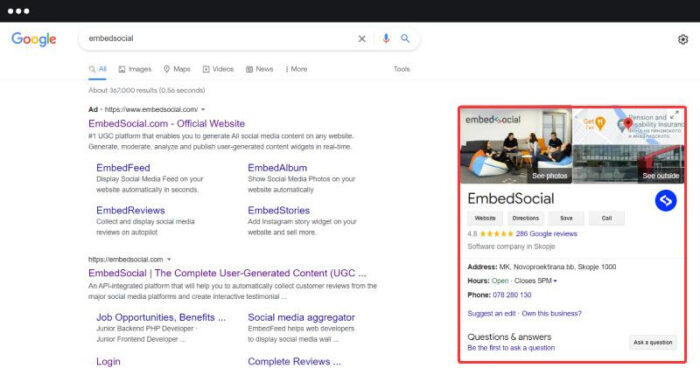 Having up-to-date information on your GMB listing is very important. And here's why.
People tend to search for businesses online that are close to them. Having accurate info such as an address, phone number, and other details will pop you up in the SERP.
If you run multiple businesses, make sure to include all information about your business locations when adding them to the Google Maps directory. This way it is easy for potential customers in search of your services who live nearby can find their nearest location.
To avoid confusion, make sure your store addresses are clearly separated for each business location. If you don't include the relevant zip codes, people may come across misinformation in their searches and it could cause problems.
Remember that the more accurate information you give to your customers the better Google likes your business and will rank it higher in the search results.
3. Optimize GMB Photos & Videos
Google photos are valuable assets in generating new business and getting people to discover your offer. They give you a chance to show off your business in all its glory.
For instance, if you're a hotel or restaurant, the photographs on Google My Business will show your liveliness and appeal directly to potential customers.
Try to pay significant attention to your:
Profile Photo – One of the best practices is to upload your logo as your profile photo. Just make sure to upload it in the needed format. This photo has to be on point since it's shown when you post Google posts, videos, photos, or respond to your customers' reviews.
Cover Photo – This is the centerpiece of your listing when Google serves as a result when people are searching for your business. Sometimes, Google may not show your initial cover photo but show other photos that may seem more appealing at the moment.
Other Business & Product Photos – Along with your profile and cover photos, you should upload other images to make your listing more informative. Videos are also a great idea because they can be used as an educational tool for potential customers who want information about the business that they are not able to reach out through emails or phone calls.
4. Collect and Respond to Reviews
Having Google reviews can do wonders for your business — especially if they are positive.
With positive reviews posted by your customers, you can easily differentiate from your competitors in the Google local search. People searching for businesses in your industry will be able to make a more informed decision regarding their purchases based on these real customer insights.
As such, having high ratings and lots of feedback is an important strategy for businesses trying to compete with larger brands.
You can use different strategies and approaches when it comes to collecting reviews, such as:
Ask for reviews via email
Get reviews in person
Request via SMS
Collect on your website
Print a QR code on printed materials
But collecting a bunch of reviews is not enough. Responding to them is as important.
First of all, customers want to know that their opinions matter so hearing back from you makes them feel good about themselves. Make sure they always leave feeling satisfied by responding with interest when they provide feedback.
Moreover, responding to reviews makes you the search engine's favorite. Google really wants to see that you care and provide valuable information to your customers — including feedback response.
5. Optimize for Local Keywords
Including keywords is a real MUST.
Including keywords and search phrases in your business listing will significantly increase your ranking, especially since it is listed directly within Google.
First of all, you have to optimize for the standard local SEO keywords like "near me." Believe me, every single one of your competitors in the area is optimized for that keyword and if you're not — you're losing potential customers and sales.
To make the most out of the keywords, do your research and brainstorm ideas.
Are you a plumber service business? Then go on and find all the relevant keywords and key phrases that your customers use to find businesses in your niche.
Is "plumber in North Carolina" the one? Optimize for it. Do they search under "emergency plumbing services Boston city center"? Optimize for that too.
Use Google autocomplete, analyze competitors, use specific keyword research tools, or whatever helps you to find the relevant ones that will help you rank higher and of course ― bring you traffic and conversions.
Bottom Line
Your Google My Business profile is the first place that customers go to find up-to-date information about your company ― especially after the pandemic.
It's absolutely essential for opening in this new world where businesses are reopening at blistering rates. If you don't constantly update it, you'll be bleeding out potential customers left and right!
The post Five Must-Haves for Your Google Business Listing appeared first on Home Business Magazine.
Click Here For Original Source Of The Article