National Fitness Day is officially around the corner and we are putting some of the best fitness products on your radar to get you in the mood to exercise! Celsius, a healthy energy drink, has completely revolutionized the concept of a pre-workout. It's a pre-workout that puts health at the forefront.
Celsius powers active lives every day with essential, functional energy. Many individuals are focusing on supporting more health-focused brands, and for good reason. This is why brands like Celsius are rising in popularity!
The influencer-crazed brand is different from other energy drinks because it focuses on movement, not to mention the tons of health-focused components in Celsius. Most pre-workout or energy drinks are filled with a TON of harmful ingredients. Celsius takes a "more natural" approach. It's filled with: Green Tea, Ginger Root, Chromiu, and Taurine, to name a few. Celsius does include Guarana, which is known to increase energy, however, a large amount isn't advisable as it does have some health effects. Of course, as with anything, you should consult your healthcare provider prior to trying a new product.
Celsius not only can provide vitamins and minerals that are needed by the body, but also the beverage isn't LOADED with sugar — this helps avoid the dreaded "crash" at the end of the day! Each drink has 200mg of caffeine that will make you alive and have energy throughout the day.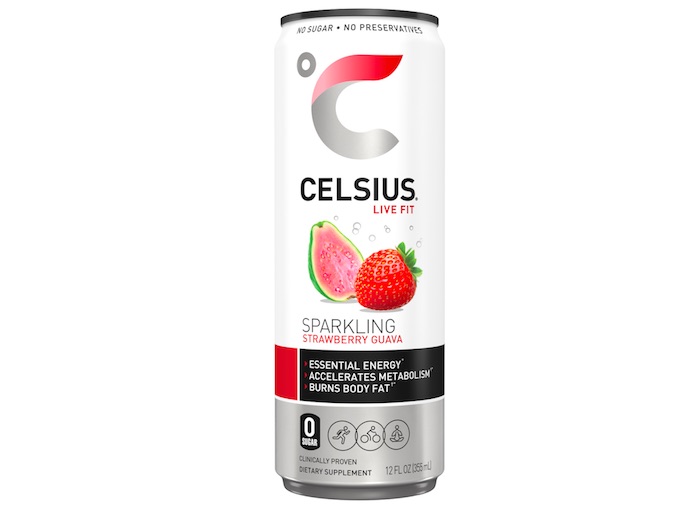 Celsius just announced its newest flavor, Sparkling Strawberry Guava, just in time for summer and it's now sold in Target stores in 6 new cities: Los Angeles, Orlando, Tampa, Atlanta, Houston, and Dallas!
Stay active and energized all day long with Celsius by your side. When combined with exercise, our formula is clinically proven to boost your metabolism and help you burn body fat. Whether you need an extra boost at the gym or a delicious pick-me up to help you hustle through your workday, CELSIUS is here to help you stay active and focused on your goals.
More information about Celsius:
Currently, Celsius is available in 12 different flavors: Sparkling Strawberry Guava, Sparkling Peach Vibe, Sparkling Fuji Apple Pear, Sparkling Orange, Sparkling Kiwi Guava, Sparkling Wild Berry, Sparkling Watermelon, Sparkling Grape Rush, Sparkling Cola, Raspberry Acai Green Tea, Peach Mango Green Tea, and Grapefruit Melon Green Tea.
The post Celebrate National Fitness Day with Celsius, a Healthy Energy Drink appeared first on Home Business Magazine.
Click Here For Original Source Of The Article