Home Business Magazine Online
With the massive growth in Gen-Z traffic flooding on the platform, more and more people are asking: Can you make money from TikTok? But if you've been keeping up with the trends, you'll know that there is serious money to be made. So the answer is yes, definitely! You can make money from TikTok, and we're talking about earning up to seven figures!
Ever since TikTok was launched, it has been downloaded over 1.5 billion times and engages over 800 million active users monthly. This is why TikTok influencers, big or small, are out there constantly finding unique ways to engage audiences and at the same time monetizing them. This article will give you everything you need to know about how to earn as a TikTok small creator.
Top 7 Ways to Make Money on TikTok
Upfront, what's great about TikTok is that it gives influencers equal opportunity to make money. With more than 27 million active users in the U.S. alone, small creators on TikTok can make money through the massive growth in Gen-Z traffic flooding on the platform. But of course, you'll have to begin somewhere. These seven tips will get you started.
1. Create Consistent and Quality Content
As a small creator, "showing up" consistently on the app with the high-quality videos you create widely affects your success and reach. The principle is simple: the more you post, the higher chances you get for success. Popular TikTokers upload their videos every day.
Be sure you know what kind of content strategy best suits your audience on TikTok. Have a niche that you're interested in and excited about. It can be anywhere from cooking, comedy, dancing, lip-syncing, arts and crafts, stunts, sports, and many more. Once you've settled on what you feel best reflects your personality and what you think will provide value to your audience, start creating! Use only high-quality videos. Create evergreen content in batches and whenever possible, hop on trending sounds and challenges to get the chance for virality.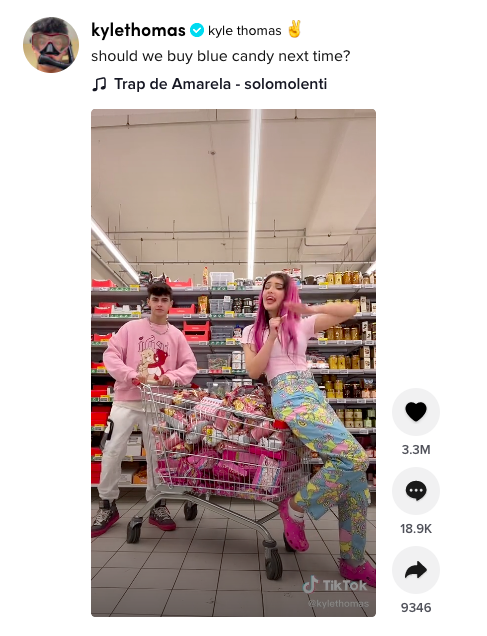 Create a consistent schedule and try producing videos in bulk. This way, you become more productive. Set a few time slots a month and decide to make these your TikTok content creation times. This may be hard at the beginning, but it's doable. With a content plan, you'll never run out of ideas and you'll stay inspired.
2. Partner with Influencers
Once you've gotten a hang of content creation, explore possible partnerships with other influencers. Why? Because as a small creator, you need to generate brand awareness and acquire leads. Remember, the Gen Z audience doesn't like feeling marketed to. They'll skip ads instantly, so reach out and engage with them, collaborate and partner with influencers.
The strategy is, use the existing influencer's influence to build your influence as an influencer.
Before looking for an influencer, you should first have a clear goal in mind. If you want to increase engagement or drive sales, focus on niche influencers with a hyper-sensitive target demographic that is similar to yours. You'll want to find TikTok influencers who appeal to the same niches as your primary audience.
Once you've selected suitable influencers, contact them and talk about forming a partnership. Ensure that any deal will be acceptable to your influencers. Give influencers the creative license and trust their expertise. Partnerships with influencers should be approached as collaborations. Focus on creating share-worthy, entertaining, and interesting content together as you plan campaigns. Work towards a strategy that creates the best opportunity for success for both of you.
3. Establish Brand Deals
When TikTok creators ask, "Can you make money from TikTok?," the immediate answer is a definite yes. Almost all creators' revenue stream is earning through brand deals. A brand deal is also referred to as brand sponsorship. It's a partnership between creators and brands. The idea is, the creator does something with the product in the video that aligns with the brand.
Sponsorship options on TikTok include shoutouts, brand takeovers, giveaways, brand or product placement, brand collaborations, and simple advertising. As an influencer, the trick is to get an option in front of the right brands to be considered for future promotions or campaigns.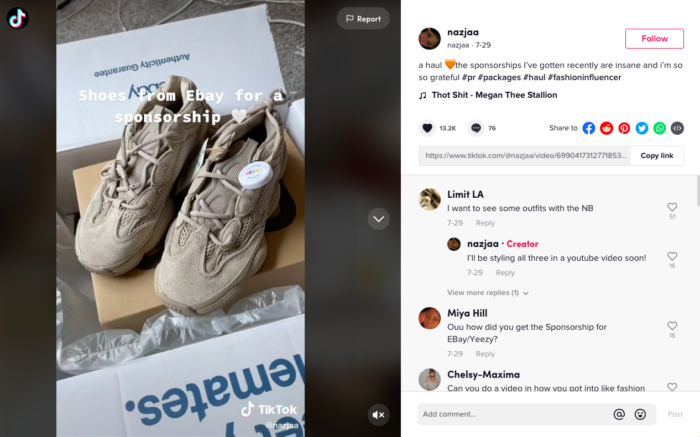 To get in front of brands, you can work with an agency, become part of multi-channel networks (MCNs), join and be active on influencer marketing platforms that provide sponsorships across broader programs or reach out to brands directly.
4. Affiliate Marketing
TikTok Affiliate Marketing happens when you upload videos on TikTok to monetize your audience through affiliate links in the videos you create. In other words, you promote a product or a service, and then you earn a commission on each sale that you help bring in. With the extreme popularity of TikTok, you can potentially have your videos viewed and shared by a diverse audience and large user base.
The short video format of TikTok also allows you to demonstrate products in real-time while showcasing them visually. Brief recordings are found to be more impactful than reading them on a blog post or watching a long YouTube video. That said, you can produce your affiliate links in video descriptions. Just be sure you have a TikTok Business Account.
To make the most of affiliate marketing, choose your affiliate marketing products carefully and focus on building a strong TikTok channel.
5. Apply for TikTok Creators Fund
According to TikTok, the TikTok Creator Fund "rewards creators for doing what they do best — making incredible TikTok videos." It's the platform's way of supporting and celebrating creators for their "dedication, ingenuity, and spirit." TikTok pledged to set aside $300 million to this fund for the three years after March 25, 2021. For the first year, $70 million is put aside and will be distributed to creators.
The TikTok Newsroom says that the fund isn't a grant or ad revenue sharing program. Instead, creators receive funds based on a variety of factors. This fund is money that TikTok put aside and distributed to creators as earned rewards when they share original content on the platforms. The amount of such reward is dynamic; there isn't a clear set amount per day or period. It's based on the number and authenticity of views and level of engagement, along with other things.
To qualify for the TikTok Creators Fund, you:
Are 18 years old or older
Are a legal resident of one of the U.S., UK, France, Germany, Spain, or Italy
Have at least 10K authentic followers
Have accrued at least 100K authentic video views in the last 30 days
Post original videos in line with TikTok's Community Guidelines.
Creators who meet these eligibility requirements can apply within the TikTok app through their pro/creator account. Go to your profile and click the three dots at the top-right corner of your screen. Click "Manage Account," then scroll down and select "Switch to Pro Account," then choose "Creator."
6. Live Streaming
TikTok continues to improve its services, enhancing its live streaming functions to maximize both the platform's and the creator's potential. Some new elements are added to the live streaming options such as scheduled events that you can promote as creators, live Q&A, and a co-streaming option to enhance the user experience.
Can you make money on TikTok LIVE? Yes, you can and it's done through LIVE gifting. When influencers HOST A TikTok LIVE Stream, they can utilize this feature and send or receive virtual gifts during the LIVE stream. These virtual gifts will be taken into account by TikTok in the calculation of the reward.
To send or receive gifts, you need to be 18 years old or older. TikTok users should first purchase virtual coins in-app through the profile Settings. In the "Balance" tab, select the "Recharge" icon and view the coin denomination options. After purchasing, the coins can be exchanged for virtual gifts of various values. Once you have your coins, you can purchase a gift, join the LIVE stream and select the gift panel. Hit "send" on any of the gifts you'd like to give. It'll appear in the stream.
TikTok also awards Diamonds to creators based on the popularity of their videos. Creators can also earn Diamonds by receiving gifts from followers. They can then exchange these Diamonds for funds and transfer these to a payment method.
7. Consulting
Another way to earn money on TikTok is by becoming a TikTok consultant. If you have expertise in all things TikTok, many creators need your guidance, especially those who are still new to the platform. People will pay to hire you as a consultant to help with content strategy, boosting followers, and building the brand.
How Much Creators Can Make from TikTok
It's no easy task becoming a TikTok creator. But it's worth the effort. Most brands prefer working with small creators or micro-influencers (influencers with a few hundred to 20,000 followers) that have a more engaged audience. If you feel that you are an influencer based on your engagement and your number of followers, you can find out your estimated earnings from your TikTok account through a TikTok money calculator.
With tools like a TikTok income calculator, creators can calculate how much revenue can be pulled in based on several factors that include the niche, follower count, content, engagement rate, and the country. The amounts calculated are estimates of how much a creator may earn.
All you need to make money as a TikTok creator is a few thousand engaged followers. We gathered information and came up with five helpful insights on just how much you can earn through the platform:
1. Brand Partnerships
TikTok creators make money through sponsored posts. According to Business Insider, if a video gets 100,000 views, the creator can make about $1,000 in sponsorships. Creators can make an average of $0.01 to $0.02 for each sponsored view on TikTok. Earnings depend on the number of TikTok followers and how often users engage with your videos.
Personal finance influencer (1.6 million TikTok followers) Preston Seo said he charges $600 per sponsored post on TikTok, while Atlanta-based TikTok creator Symphony Clarke said she charged between $350 and $600 for a sponsored post.
According to Austin Georgas, senior account manager in music marketing for Gen-Z media company Flighthouse, micro-influencers with fewer followers can earn anywhere from $20 to $150 per sponsored post.
2. Affiliate Partnerships
When you promote products you use or recommend to others, you bring value to your followers. Each time a person buys that product, you receive a commission.
However, commission rates will vary depending on a company's or brand's set of affiliate programs. The common range is between 15-25%. Creators who apply for affiliate programs in a specific niche that offer high commissions can earn up to 50% of a sale. Further, 25% of affiliates make around $20,000 yearly from affiliate sales, while the other 10% of affiliates make over $100,000.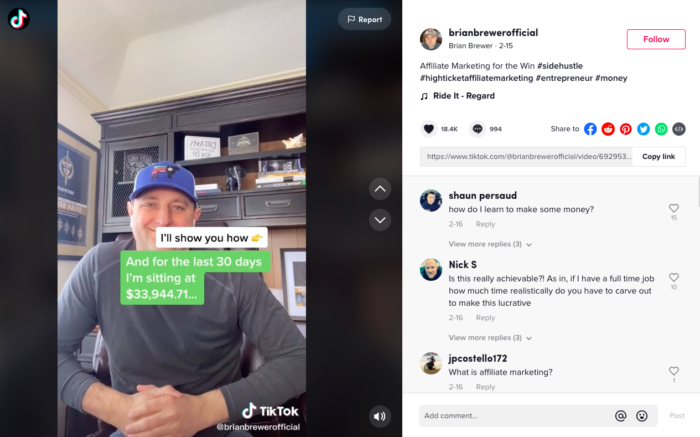 3. Tiktok's Creator Fund
Creator Fund payments are not calculated based on just views. According to Insider, "the effective payouts for videos have amounted to a few pennies for every one thousand video plays."
How does this add up?
A real-life example is how Preston Seo, a personal finance influencer with 1.6 million followers on TikTok, earned $1,664 from the Creator Fund between January 2021 to May 2021. On average, his account earns between $9 to $38 a day.
Other TikTok influencers who use the Creator Fund have reported that they get paid between 2 to 4 cents per thousand views. This means, if a video gets 500,000 views, the creator earns an average of $20. This may not seem much, but if it goes viral, the amount will be significant.
4. Live Streaming
On average, TikTok will begin to pay creators around $100 for every 10,000 for live shows.
When creators go on a live broadcast on TikTok, followers can send virtual gifts bought through coins. Once you've reached 1,000 followers, you're allowed to accept gifts. Gifts are converted into diamonds once sent to the live stream. These diamonds will be exchanged for real money.
Diamonds are worth 50% of the coins' value and TikTok takes a commission of 50%. Diamond values vary and depend on TikTok's creator, ByteDance. It's possible to withdraw a minimal amount of $100 up to $1,000 a week.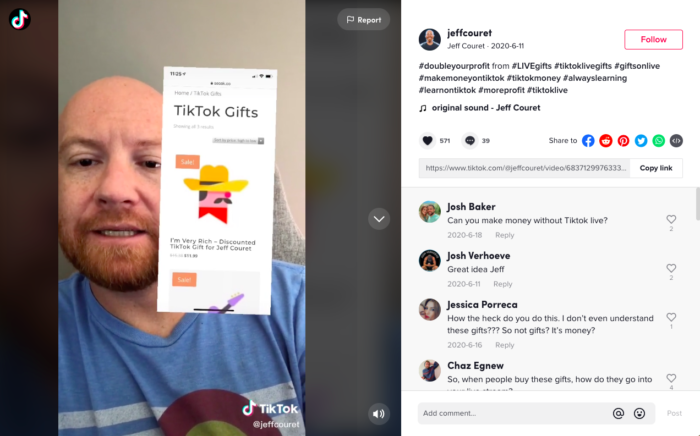 5. Consulting
TikTok experts earn from consulting fees. A TikTok consultant can earn an average of $10,000 a month. Sean Young, a professional TikTok consultant began earning that much in 2020 by advising celebrities and businesses about the best kind of content for their brands.
If you understand the platform and established a good track record of creating engaging and viral videos with high engagement rates, you're qualified to teach others how to do the same.
Top Paid TikTok Creators in 2021
Now that we know that TikTok creators can make good money, we recently profiled 5 of TikTok's highest-paid stars in 2021.
#1 Addison Rae Easterling
TikTok Followers: 84.1 million
Annual Earnings (estimated) $5 million
How She Became Successful
Addison Rae Easterling started using TikTok in July 2019 to show off her dance moves as an LSU student. Three months later, she hit one million followers and started getting recognized on campus while walking to class. She posted her first sponsored posts for Fashion Nova in the Fall of 2019. In December, Easterling left LSU and moved to Los Angeles to pursue celebrity life. She started working with a group of TikTok influencers and formed the creator cooperative Hype House. Her business opportunities skyrocketed.
Easterling's main revenue streams are from branded merchandise and sponsored content from Reebok and Daniel Wellington, a watch company. She capitalized on her success and in July 2020, she became the main spokesperson for American Eagle. Her influence went beyond TikTok and digital and traditional print and TV ads. She then created her makeup line, Item Beauty, a partnership between Easterling and beauty startup Madeby.
Most Viewed Video
Addison Rae's most viewed video is the WAP Challenge Video, raking up over 100 million views within two days. It is reported that she made over $3210 from the number of views alone.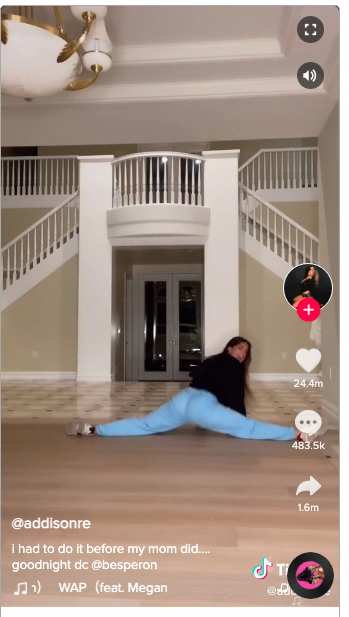 #2 Charli D'Amelio
TikTok Followers: 124.1 million
Annual Earnings (estimated) $4 million
How She Became Successful
Charli D'Amelio started on TikTok in June 2019 and rose to TikTok fame that summer and fall when her series of dance videos went viral. She was then invited by Bebe Rexha and asked Charli to join her opening for the Jonas Brothers in Brooklyn's Barclay Center. Charli then found herself moving to Los Angeles from Norwalk, Connecticut upon invitation to appear as a guest on The Tonight Show Starring Jimmy Fallon.
From there, she'd go on TikTok to share her experiences at Paris Fashion Week for Prada. She entered into a collaboration with EOS Cosmetics. One of her biggest appearances was when she did a Super Bowl commercial for Sabra hummus. Charli and her sister Dixie also became part of Hype House. They both signed with Hollister and Morphe Cosmetics. Charli also launched her line of influencer merch.
Most Viewed Video
Charli D'Amelio's most viewed video is her video doing "Renegade" with two of her friends. It reached 234 million views. Because of that, she was seen as a trendsetter for her popularity in dancing on TikTok.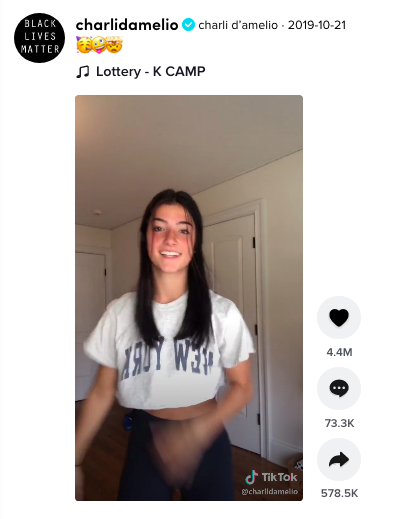 #3 Dixie D'Amelio
TikTok Followers: 54.9M
Annual Earnings (estimated) $2.9 million
How She Became Successful
Dixie's success began about the same time with her sister Charli D'Amelio. Both of them moved to Los Angeles from Connecticut to join in each other's videos. They both signed contracts with Hollister and cosmetic company Morphe.
Dixie then opted to focus on music. She released her first single, "Be Happy" in June 2020 and debuted at number one at the Billboard's Top Triller U.S. and the Top Triller Global charts. "Be Happy" was the number one trending video on YouTube.
Most Viewed Video
Dixie's most viewed video is the one where she and Charlie, all glammed up, were dancing to JACKBOYS & Travis Scott's OUT WEST. It got 79 million views.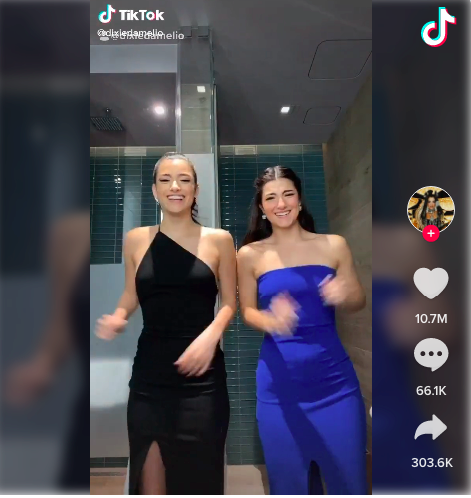 #4 Loren Gray
TikTok Followers: 54M
Annual Earnings (estimated) $2.6 million
How She Became Successful
When Loren first started on TikTok, she went through tough times with bad talent managers. When she decided she was going to do things on her own, success came a lot sooner. Loren signed a contract with Virgin Records in 2018 and now has eight singles under her name. Because of TikTok, she landed deals with Hyundai, Skechers, and Burger King. Today, Loren has a Revlon deal offering her freedom to generate Revlon-related content that her followers resonate with.
Most Viewed Video
Loren's most viewed video was a video she made on Taylor Swift's song, "The Man." The gender-swapped TikTok video got nearly 3 million views.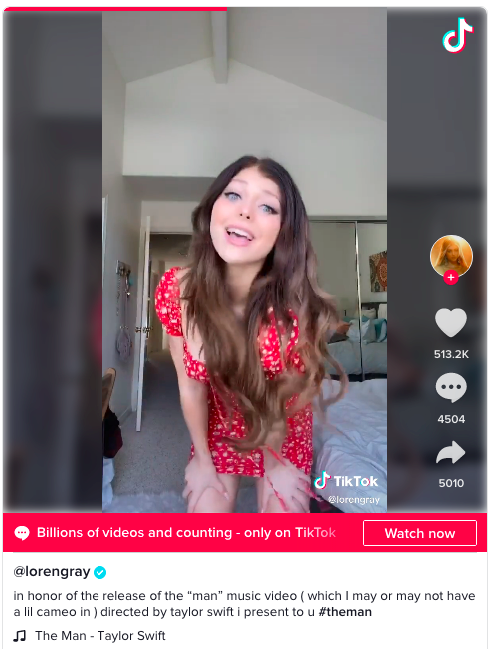 #5 Josh Richards
TikTok Followers: 25.5M
Annual Earnings (estimated) $1.5 million
How He Became Successful
Josh became hugely popular because of his singing, dancing, and lip-syncing videos. He landed partnerships with Reebok and Houseparty, and now has his influencer merch line. He leverages YouTube ad revenue and even has a song deal with Warner Records. Josh went further and started an energy drink business, Ani Energy. He also co-founded TalentX, a talent management company, and is Triller's Chief Strategy Officer. He also teamed up with Mark Wahlberg to launch CrossCheck Studios, a "Gen-Z-focused" production company.
Most Viewed Video
Josh Richards started going viral on Musical.ly. He studied how videos go viral and also discovered the potential of live streaming. One of his most successful videos is from TikTok SponCon in 2019. In the video, he promoted a program of applications for his scholarships with Sports Hi.
Grow Your Audience Base
If you're looking to make a living through TikTok, you'll be living the dream of everyone who asks, "Can you make money from TikTok?" Just remember that to be the next success story on the platform, you'll need to grow your audience base first. The more viewers you have, the more revenue you'll be able to earn. Finally, proceed with a creative entrepreneurial mindset: do your research, be intentional, be smart, and most of all, tap into all of that moolah. You'll achieve success soon enough.
The post Can You Make Money from TikTok as a Small Creator? appeared first on Home Business Magazine.
Click Here For Original Source Of The Article