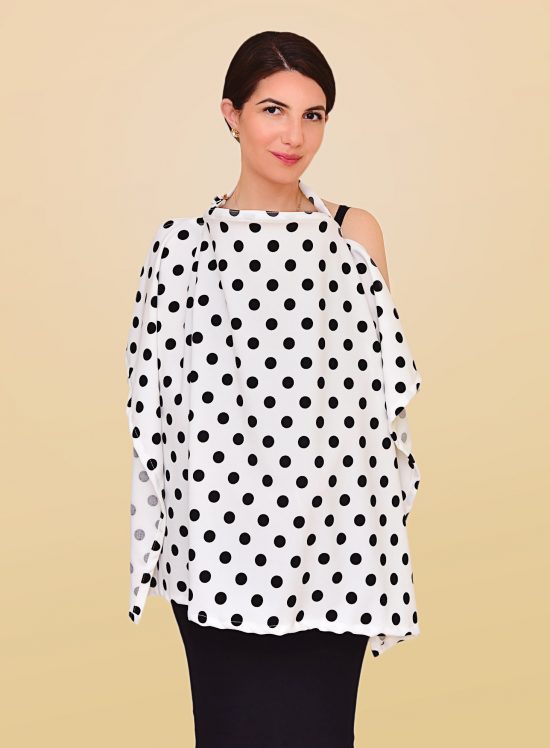 By Yarden Ben
Yarden Konki, the founder of Breast Couture, set out to create a chic line of breastfeeding covers when there was nothing like them on the market as a new, breastfeeding mother.
As an exclusively breastfeeding mother, she often had to take her baby with her to events (weddings, business meetings, birthday parties) and was often embarrassed by her bland nursing cover. As a woman who appreciates style and enjoys dressing up for the occasion, she needed a nursing cover that felt like more of a fashion accessory instead of a "tablecloth" after breastfeeding approximately every 3 hours. She realized that most mom products available were boring, unflattering, and did not cater to what moms these days have evolved into: fashion-forward, career-oriented, powerhouses.
The idea of Breast Couture was born when Yarden was forced to pull out a shabby, unflattering cover at a black tie event. She quickly turned the idea of creating fashionable nursing covers that were both beautiful and practical into a reality. She quickly began learning about all of the most important steps involved in starting one's own business.
Today, only six months after its launch, Breast Couture has: appeared in its first retail store, Juvenile Shop, and in popup shops such as Potterybarn Kids; sold numerous covers through an online website that Yarden built herself; and collaborated with top Instagram mom influencers.
All fabrics and covers are handmade in Los Angeles, CA. They are made in small batches and all the materials used are purchased from small local vendors, because Yarden is a big believer in supporting local businesses. Breast Couture also donates a percentage of its net revenue every quarter to different nonprofit organizations that support women and children, such as one of her personal favorites, Elizabeth House.
Yarden's goal is to truly empower breastfeeding moms and women everywhere. She believes that the smallest things can make the biggest differences in general and in motherhood. "It's like having your nails done. It just gives you that extra feeling of sophistication and femininity."
With a background in sales and marketing, Yarden has worked for her family business for about 10 years and was always wanting to branch off and pursue her own passions. She looked to other entrepreneurs and mompreneurs for inspiration and courage to "just do it" and follow her dream.
The post Yarden Konki's Products Empower Breastfeeding Moms and Women Everywhere appeared first on Home Business Magazine.
Click Here For Original Source Of The Article