Commercial bathrooms can be a bit of a taboo topic. In commercial spaces, attention goes to the lobby or office space. All areas have that self-appointed focus room that gets all the design and tech attention. Why not change things up? Stand out. Make your own trend. Steal the attention.
And you can start in the bathroom.
Get Out of the Kitchen and Lobby
Contractors, builders, and building marketers have a long-standing tradition of focusing on the kitchen. It's the heart of the home, and buyers just aren't satisfied with the spaceless, featureless, drab kitchen of yore. Today, though, that kitchen has been modernized and upscaled to the point that it's not such a stand-out selling feature anymore. It's boring. The same goes for commercial lobby spaces.
Anything can be popular until everyone has it. Then, the thrill loses its thrill, right? That's the case for the kitchen and the lobby. So, why not talk about the other important room every single space is likely to have—the bathroom.
The bathroom gets the poop end of the attention stick in a lot of cases, but it's just as important as your other commercial and residential spaces—if not more. In fact, millennials are already taking note of the bathroom and demanding that it be on par with tech-based solutions they've become accustomed to in the rest of their environment.
In the residential space, it's where you wash away the outside elements to keep your home and person clean. It's where necessary functions of life take place. It's the one place you can go to and ensure you have a moment of solitude. It's where you go when you want to soak your problems away with your favorite book or drink. A lot goes on in there.
Likewise, in the commercial realm, the bathroom is akin to looking under a person's bed. The care a brand takes in making their bathroom clean, functioning, comfortable, and organized reveals a lot about their commitment to a healthy building, staff, and guests. For example, think about the chore the maintenance department has in constantly removing offensive graffiti, and that housekeeping has in keeping handles clean enough not to elicit "yucks" from users.
Even without the gasp-worthy dirtiness, most people know that a bathroom is just microscopically dirty by its very nature. So why not offer your home or business bathroom features that are clean to interact with and minimize the contact with what isn't so clean?
Now that we've established that the bathroom is the place to be and be clean, making it appealing should be at the top of your agenda.
You're selling a construction. Instead of writing up the same old listing blurb on how grand the kitchen might be, imagine the attraction of a blurb showcasing a smart bathroom. Now, you have a stand-out selling point!
Imagine your commercial building's guests and workers taking bathroom selfies tagging your name with an innovative smart bathroom feature that your competitors have completely overlooked. On top of this, the added cleanliness all around will definitely impress the germaphobes!
It's time to start capitalizing on and enjoying smart bathroom features.
The Coolest Smart Bathroom Features
There's actually a lot of tech out there to smarten up the bathroom and make it catch up with other spaces that are already automating their own features. Let's look at a few:
1. The Smart Bathroom Partition
Recycled HDPE plastic and phenolic bathroom partitions are highly durable, a snap to repair, and show a brand's commitment to sustainable green materials.
HDPE is a solid plastic color of high-density polyethylene resin and pigments, and phenolic is a melamine sheet with layers of resin impregnated kraft paper. Both materials are perfect to withstand high volumes of bathroom traffic. They're also scratch-resistant, offering a long-lasting new look for your modern bathroom.
HDPE has the added benefit of being anti-microbial, which is important to prevent the formation of mold and mildew. While HDPE and phenolic are both anti-graffiti, HDPE has an edge in that it doesn't have a coating that deteriorates over time or any specialized maintenance procedures.
Your maintenance team will thank you for the investment, and your bathroom guests will respect not having to come into contact with stained and graffitied bathroom stalls. Remember, perception increases the value of your commercial space and your brand.
This is a particularly solid investment in male restrooms, where privacy, comfort, and cleanliness is often an overlooked feature.
Since partitions aren't the most glamorous part of business, you'll want to get the process over with as quickly and painlessly as possible. There are two ways to go about it: local and online.
Local bathroom partition shops can manufacture and install partitions to the dimensions you need. The pros are that they do all of the legwork for you. This is probably the best route for the majority of small businesses. The cons are that you'll pay more and have fewer options in terms of materials and colors. It can also take a while for small operations to get the order together, so don't be surprised if the lead time winds up being several weeks longer than expected.
If you're handy with a measuring tape (or know someone who is), you can order bathroom partitions directly online. Specialized bathroom partition distribution companies are going to offer a wider array of product choices and can leverage their volume to get lower prices than you would pay locally. The downside is that assembly and installation will be your problem. Think of it as IKEA on steroids.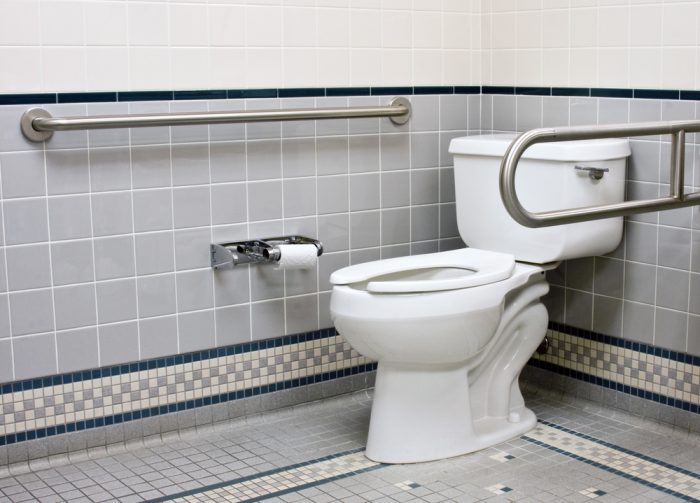 2. Touchless Technology
How many bathrooms have you visited and noticed that napkins or wads of wet toilet paper are all over the floor by the door? At first glance, you may think it's just inconsiderate visitors, but the truth is that these napkins represent the user's last stop in their quest to touch as little as possible in the bathroom.
With studies showing just how dirty bathroom surfaces really are, touch-less bathrooms can also be an asset to your building or home's health. Plus, they reduce water waste to keep those water bills manageable and the environment healthy. Never have an overflowing sink again with smart-shutoff and on!
Capacitance field faucets combine artistic design with the ability to pick up movement in the appropriate range for hands-free hand-washing. Pair it with a touchless hand pump, AirBlade dryer, and touch-free door sensor or push paddle exit to ensure there are no more mounds of paper at the door.
The average residential home was once all but priced out of commercial touch-free bathroom fixtures. Yet, residential bathrooms have the same germ issues as a commercial space. Touched objects are germ havens.
Today, however, stylish residential options are plentiful and affordable. You can even save space and over-squeeze waste by adding automatic soap dispensers in your tub or shower. If you really want to amp up your water conservation efforts, try a sensor-controlled automatic shower, which can be programmed to turn off after a certain amount of time.
Not only are all of the above technologies useful in keeping your home or commercial space physically clean, but they also offer a clean, streamlined aesthetic.
3. Smart Tech for Comfort
How about a chemical-free, work-free toilet bowl cleaner that keeps odors away naturally? Biodegradable cleaning dispensers like TOELECT are doing just that. They can kill bacteria and odors using an electrolytic water generator that doesn't use harsh chemicals.
Add a towel-warming basket or built-in space for perfectly warmed towels. You also never have to worry about leaving it on, as it has a handy auto-off. Cabinets can even be temperature controlled for medicine storage and cold drinks if you have a spa insert.
Keep your bathroom floor spa-like with stylish radiant heating systems in laminate, tile, stone, or engineered wood. And, yes, they even program your smart devices to easily pre-set or turn off or on remotely.
4. Meet the Smart Toilet
Toilets are no longer the lazy, dirty objects of yesterday. Today, you can upgrade your toilet to be as innovative as your budget allows.
Aesthetically, smart toilets just look better. You can hide unsightly plumbing lines and the sensors, and their pre-programming capabilities make most models touch-free.
Smart seats are your cheapest upgrade option. The materials are more sanitary and durable against hinge issues. Some simply slow-close for noise prevention, and other models have automatic lid and seat flip to operate it hands-free. Certain models also include a seat-warming feature.
A water spray option (bidet wand) is a sanitary addition that saves on toilet paper consumption and helps reduce irritation of certain medical conditions, such as hemorrhoids. Heated jets ensure the water spray is the perfect temperature.
Bowl and tank systems are more expensive, but they offer hands-free flushing. A bowl mist feature helps keep grime and bacteria out of the bowl. LED bowl lightening also ensures you'll find your way and hit the target in the dark.
Of course, eco-friendly models use a lower GPF (gallons per flush) to keep water usage to a minimum. If your brand wants to send the message that it cares about the health and safety of its bathroom visitors and the environment, a smart toilet flushes any doubt away.
Are You Being Smart About Your Bathroom?
In closing, these smart bathrooms are as functional as they are aesthetically-pleasing. From cleanliness to comfort, today's smart bathroom is a trending asset to any business or home, which is why Market Watch is predicting an almost $11-million-dollar global smart bathroom market by 2023.
The post Top 4 Ways to Make Bathrooms Smarter for Your Business appeared first on Home Business Magazine.
Click Here For Original Source Of The Article