Working at home has its positives and negatives. While you are within arm's reach of your favorite snacks, can keep your pajamas on all day, and even spend more time with your family, it may not be the best environment for actually getting work done. The solution? A separate home office.
Once you've decided to take the leap and build a bespoke office, the next thing you'll need to decide on is the material with which to build it, whether wood, brick or steel. The option you choose is up to you, but a steel construction will give you a private, sturdy space to ensure you do your job well, without losing the luxuries of remote work. Reputable companies like Worldwide Steel Buildings can provide you with kits and pre-designed buildings for all of your home office needs.
Here are four tips on building a steel home as your home office.
1. Consult a Professional
Steel buildings are ideal as home offices for the ease of design and flexibility of a multi-functional space. To ensure the building is not only well-built but also fits all your needs, a professional home builder will work with you to create the ideal workspace. Though this may seem like a smaller-scale building job, you'll find that the best results will come when you treat this project as if it were a full home build.
Your initial idea could simply be to build a quiet room to work in, but a professional builder can create a home office for you with more in mind. They'll consider all possible designs and construct the perfect space to suit your needs, whether that means floor-to-ceiling windows or bright lights. In your search for a home builder, seek a professional with experience in steel builds. Also, shop around for quality and value. You'll want to avoid overpaying, while still getting a high-quality construction that you couldn't build yourself. Take your time doing research, and don't be shy in asking potential home builders any questions that may come to mind. Their job is to educate you through the process.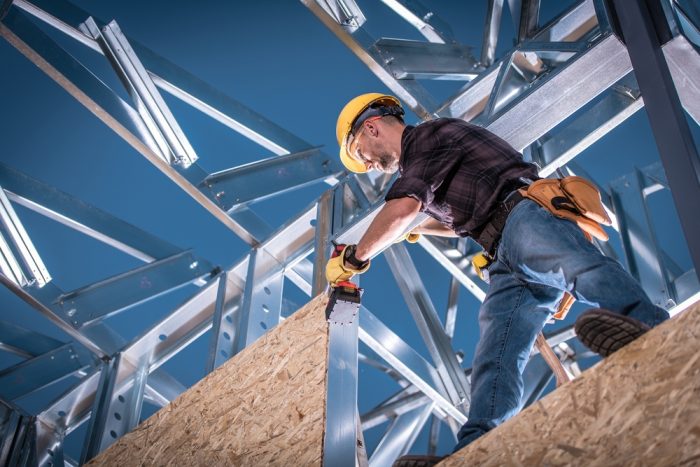 2. Insulate the Building
As this new home office is where you'll be "going to work" five days a week, you'll want it to be comfortable. This means proper insulation. Insulating a building has many benefits, including regulating the temperature inside, reducing the level of exterior noise, and minimizing the buildup of condensation within. As with all modern building materials, there are a variety of insulation types to choose from. When selecting the type of insulation, there are four main components to decide on: facing, linear panels, permeability, and workability. A huge consideration is the climate you reside in. Rainy weather versus dry desert temperatures are two vastly different environments and thus require two vastly different forms of insulation. Each type of insulation has its strengths in different areas, so determine what's most important for you while keeping your budget in mind.
3. Factor in All Expenses
Insulation is one of many costs that'll go into your home office build. Depending on where you look, prices for metal building kits can vary as much as $8,000 for the same sized building. Though you have narrowed down your building options to a steel home office, there are additional options, all ranging widely in price, that you have to choose from. All these expenses are in addition to the steel build itself. For instance, there's still the foundation, labor and interior design to factor in. The total cost doesn't have to be daunting as long as you're prepared going into this office build. Of course, opting to build with steel can minimize your costs compared to a conventional construction project.
4. Design for the Individual
Perhaps the most enjoyable part of using steel as your base for the build is the variety of aesthetics to customize. Steel buildings don't have to look like they're made of steel. You can choose the color you desire for the walls and trim, in both the exterior and interior. If customizing the color isn't enough, there's also the option for additional exterior finishes such as stucco or wood. The interior can be finished with drywall, too, allowing you to mimic the interior design of a regular home and add decorative touches.
These additions may sound costly, but many of them can be done yourself, allowing you to save on the cost of labor. Have fun with the final design and make it reflective of your unique personality.
Conclusion
Contrary to popular belief, steel buildings have the potential to be so much more than just plain metal shells. Steel gives you the flexibility to set up a home office that can be transformed into a workshop or whatever space fits your needs and tastes. It's a cost-effective way to create a comfortable space, allowing you to enjoy all the benefits of working from home without distractions.
The post Tips on Building a Steel Home as Your Home Office appeared first on Home Business Magazine.
Click Here For Original Source Of The Article