Meet Abby Warner, Taimi Kennerley and Zoia Ali of The Girls Company
One fateful day in an entrepreneurship class at Brigham Young University, Abby Warner, Taimi Kennerley and Zoia Ali were placed together at random in a group. They made up three of the six women in a class of 50. They became fast-friends, and were coined "The Girls." Little did they know that this class would lead them to eventually found The Girls Company, and create the world's thinnest heated band, no electrical cords or outlets required.
The premise of this class was to be put in a group, find a problem "or pain point" and develop a solution. The Girls decided they wanted to solve a problem that was related to periods, since they all knew from personal experience that this was an underserved market.
"We began by talking to other people about their worst period experiences. We called these Empathy Interviews. We spent HOURS talking to women about their period experiences," said Zoia. "We learned a lot from these interviews, not only about physical pain, but about how lonely, isolating and shameful periods can be."
The three women vowed that if they were to create this company that they would not only help solve that physical pain, but that they would create a safe and positive community for women.
"In regards to a physical pain, what stood out the most was cramp pain," said Abby. "Women were in debilitating pain every single month and a quick Google search showed us that the only options were taking some ibuprofen, being chained to the wall with a heating pad or heating up a rice pack in the microwave. So we decided to focus on period cramp pain."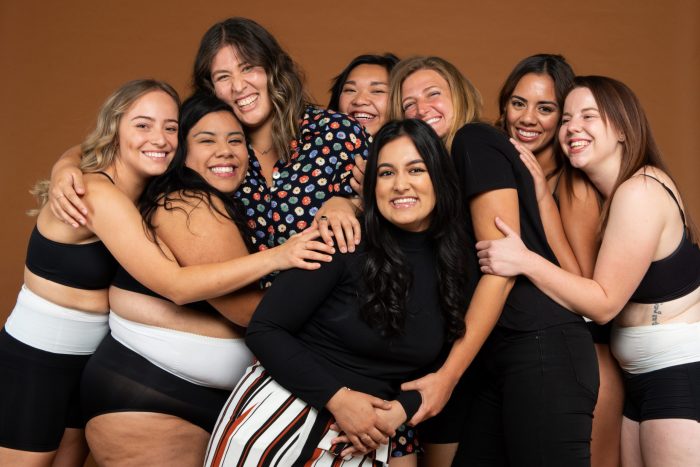 The Girls then went into research mode. They conducted surveys, and joined support groups on Facebook (Taimi was actually blocked from Facebook multiple times for joining too many). They found that most women (95% of those surveyed) were either using some form of heat and/or medication to alleviate their pain and that they really wanted and were willing to pay for a solution to their cramps. They also found that one of the major problems with the current heated solutions was that they were not portable and required women to be lying down. Women are always on the go, and often do not have the time to be held back by a heating pad that is plugged into a wall.
Then came the experimenting to create the world's thinnest heated band, no electrical outlets required. Some of their first prototypes consisted of waistbands with pockets full of rice sewn in. It smelled weird, did not say warm long, but they were getting somewhere. Many more prototypes were developed (think Spanx, hand warmers, and more), and as they received feedback, the Girls realized they had something really special on their hands.
"We all discussed what would happen once the class concluded and decided that because of the positive feedback we received from our most recent prototype, we wanted to continue working on our idea," said Taimi. "None of us had expected the class project to turn into anything but we knew that this was something women truly needed and we felt compelled to continue."
The Girls kept pushing forward to bring their company and The Band to life, even once the semester ended. They entered a variety of business competitions, and won prize money, which allowed them to get off the ground and purchase their first order. They kept standing out at every event they attended, and went on to become the first all-female team to win first place at the International Business Model Competition.
But things were not easy. "As three young women in what is still an older male-dominated program and field, we've endured snickering during our presentations, uncomfortable investors and panelists, men telling us how to adjust the product to better benefit the female anatomy, and being told that we won competitions because of how "cute and animated" we were (and not because of the calculus-based regression model we used to analyze our company)," Zoia explained. "But we've kept pushing."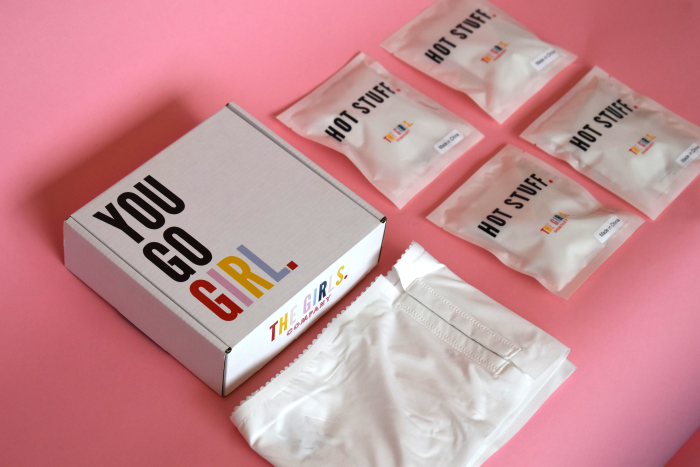 "We keep going to meetings where we're the only women there, keep smiling through interesting comments, keep explaining what a uterus is (yep, true story!) and keep making people uncomfortable because we believe that women deserve to have options to alleviate one of the most common, yet debilitating, pains that women experience and those options should not be compromised just because people don't want to talk about them. It's 2020!," exclaimed Taimi. "We believe that your life shouldn't need to stop when your period starts."
By January 2020, The Girls had gone through the appropriate steps to establish their company (The Girls Company), and received their final product, which is now available to the public via a one-time purchase or a monthly subscription.
So after all of the experiments and prototypes, how exactly does the final version of The Band work?
You can watch this short video, here. The Band comes with three pockets in the front, and three in the back. Take your thin, disposable warmers, and insert them in the desired pockets. The warmers provide all-day heat (8 to 10 hours). Once you are finished, dispose of the warmers. The ingredients are environmentally safe, and the band is machine-washable. This extremely discrete band can be worn under your clothes during a business presentation, to the grocery store, on a date, on a long flight, or lounging around the house, and nobody can tell.
"We have a big vision for our company. We want to play a role in destigmatizing talking about periods. We want to make more solutions for the largely underserved women's health category. Our solutions will increase productivity, provide emotional support, and offer pain relief for their underserved problems," said Abby. "We want women to know that they are not alone and that there are people that care enough to first listen to them and then to design solutions to help them."
Stay up to date with the latest news from The Girls Company on Instagram @thegirls_co and Facebook @TheGirlsCo1.
The post The Story Behind the World's Thinnest Heated Band appeared first on Home Business Magazine.
Click Here For Original Source Of The Article