With more people than ever being forced to WFH (work from home) due to the current COVID-19 pandemic, many businesses have had to perform what's become known as the "Pandemic Pivot" in order to keep their business relevant and accessible during the current challenging economic and social climate. One example of this is in New Jersey, where Sperling Dermatology recently introduced the state's first Mobile Spa.
The aptly named "Sperling Sprinter" was introduced by the multi-location cosmetic dermatology practice in early June in order to enable their clients to continue to receive all of their award-winning spa treatments without ever leaving their home property. Services like Botox, Fillers, CoolSculpting, EMSCULPT, EVOKE and HydraFacials are just some of the services offered on-board the 25-foot Mercedes Benz Sprinter.
With a "spa cabin" spanning over 500 cubit feet, two 50-inch SMART TVs, and "Maybach-Style" fully reclining leather chairs, the Sperling Sprinter offers a one-of-a-kind experience for clients throughout the state of NJ (and NY) to not miss a beat when it comes to taking care of their faces and bodies. According to Sperling, after announcing the mobile spa via their Instagram page, they received over 100 appointment requests in the first week. Many requests came from people wanting a solution to their so-called "Zoom Face", "Maskne" problems, or the ubiquitous "Quarantine-15" that many people working from home can relate to. With a slew of non-invasive facial and body treatments, the Sperling Sprinter has put some much-needed smiles (and beautiful skin!) on people's faces this summer.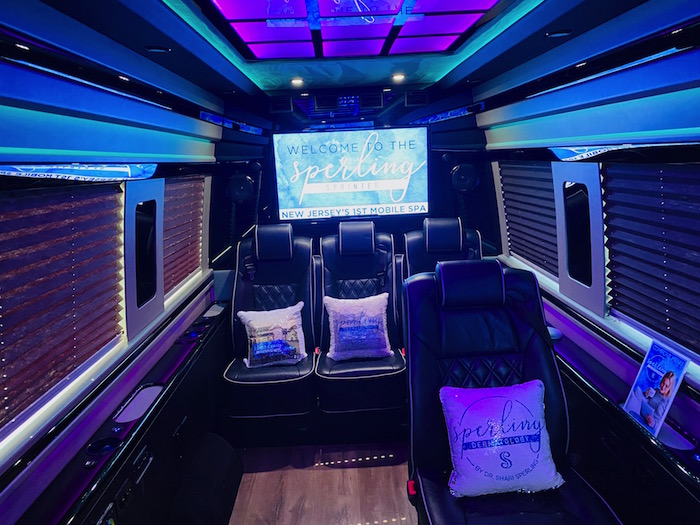 We had the chance to speak with Sperling's Managing Partner, Ari Katz, about the mobile spa. As he explained, the Sperling Sprinter made perfect sense to introduce in the midst of a pandemic that required businesses nationwide to shut their doors and enforce social distancing measures, but it wasn't without risk.
"Honestly, the idea for the sprinter really came to my wife (Dr. Shari Sperling, founder of Sperling Dermatology) and I one weekend early on in the pandemic", Katz said. "Like many businesses across the country, our business was forced to shut down in mid-March and we had to ask ourselves: what will we do if after the restrictions are lifted people are still afraid to visit our locations?" With that in mind, the idea for the Sperling Sprinter was born.
"It was really kind of an "aha" moment where we thought, if we were able to introduce a mobile spa offering, wouldn't that be a great way to not only strictly adhere to the current social distancing guidelines, but also to circumvent the whole notion of fear that is being spread by this terrible virus by allowing people to experience all of our 5-star treatments from the comfort of their own driveway?"
Katz explains that all COVID-19 related guidelines are strictly followed on-board the Sprinter, including temperature checks before entry, full mask-wearing while on-board, and a complete and deep sanitization of all surfaces after each patient. "In a lot of ways, following the strict guidelines and maintaining a safe environment for our clients and our staff is actually a lot easier to do on-board the Sprinter as opposed to in any of our three locations," he says. "For example, on the Sprinter, we don't need to worry about a waiting room filling up with people, and germs piling up in a bathroom being used during the day."
The experience of introducing NJ's first mobile spa wasn't without its complications though. "Finding someone to drive the Sprinter was our first challenge, and then of course it introduced a whole new set of operational challenges like how we would run enough electricity to power our medical grade machines [they got a powerful Honda generator] and how we would efficiently handle all the appointment requests coming from every corner of New Jersey," he says.
Fortunately, for Sperling Dermatology, that is a good problem to have. Katz tells us introducing the Mobile Spa is one of the things he is most proud of in his career, as it shows the courage he and his wife had to take a major financial and business risk during the most uncertain of times, and so far, this Pandemic Pivot is definitely paying off.
You can learn more about Sperling Dermatology on their website, www.SperlingDermatology.com, and if you are located in NJ or NY, you can reserve your spot on-board the Sperling Sprinter by visiting www.SperlingSprinter.com.
The post The Only 3 Letters Better Than WFH? SFH (Spa from Home) appeared first on Home Business Magazine.
Click Here For Original Source Of The Article