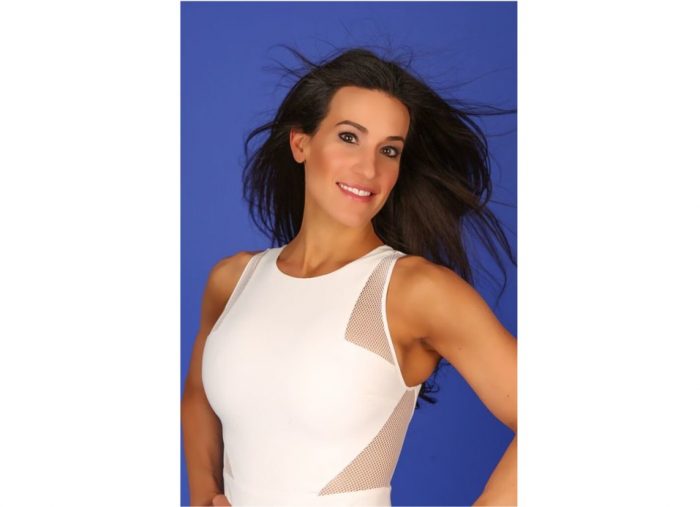 Jennifer Materia of GLOW Airbrush Tans wasn't always a tanning expert. Her start in the airbrush tanning business came after a 15-year career in finance.
Growing up, Jen Materia would spend hours baking in the sun, with no sunscreen, often times even using reflectors to make the sun's rays more powerful. When she wasn't soaking up the sun, she'd frequent the indoor tanning beds, sometimes directly after laying outside. She loved being tan, and attending a college in Florida for 4 years allowed her to include tanning into her daily routine.
Sun tanning is just a fancy way of saying 'sun baking in ultraviolet rays'. UV rays penetrate the outer skin layers and pass into the deeper layers, where they can damage or kill skin cells. Frequent and prolonged exposure to ultraviolet rays over many years is the chief cause of skin cancer. When she turned 30 years old, several people in Materia's life had been diagnosed with skin cancer– having to undergo procedures and skin grafting. At that point, she knew it was time to look for a healthier alternative to tanning. It was during this time that Materia discovered airbrush tanning and instantly fell in love with it. A beautiful bronze tan was able to be achieved quickly and without the sun's harmful rays. Her only concern being the rarity of it. There were very few salons that offered airbrush tanning on a consistent basis that fit her schedule.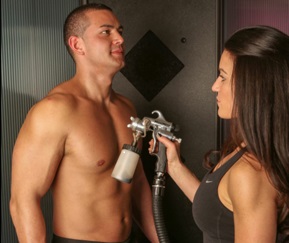 After 15 years in finance, Materia had dreams of transitioning to the health and beauty industry. After extensive research on the matter, Materia decided to get her airbrush tanning certification and open her own salon offering top of the line organic and all-natural products. This marked the start of what would then become GLOW Airbrush Tans.
Materia started GLOW Airbrush Tans in a small space in her house in Armonk, NY. Being actively involved in both fitness at her local gym and her kids' school, her first clients were all friends and acquaintances from her town that she was able to share her love of airbrush tanning with.
She also provided mobile services and went to the clients to tan them in the comfort of their own home. As her business grew, she knew it was time to expand into a bigger space in order for her to take on more clients and grow her business even more.
In January 2015, Materia opened GLOW Airbrush Tans in the Rye Ridge Shopping Plaza. Partnering up with the local boutique fitness business is how she found most of her clients initially; Ripped Fitness, Soul Cycle, SLT just to name a few. As word spread, her business continued to grow. People were loving the organic custom blended airbrush tans. Each clients' tan is custom blended to match their skin tone and desired outcome. Whether it's a barely noticeable glow, a healthy sun kissed look or a deep bronze, all are achievable with a custom airbrush tan. All of the products used are organic and all natural. Paraben-free, gluten-free, vegan and cruelty-free. The solutions are odorless and there is no foul spray tan smell or heavy scents to mask chemicals used in many other products on the market.
Jen truly cares about her clients. When someone comes to GLOW they are going to get a truly personalized experience from someone who cares. Every tan is hand sprayed with precision and attention to detail, giving you consistent results each and every time. Your color is customized to your skin type and desired outcome. GLOW uses only the finest quality solutions, made with natural and organic ingredients, and infused with anti-oxidants and pure botanicals. The cosmetic bronzer gives you an instant sun-kissed GLOW that develops into a long lasting, beautiful tan without the harmful effects of UV tanning. A GLOW tan will also minimize the appearance of fine lines, uneven skin tone, cellulite, acne, and varicose veins.
Colors are custom blended based on skin tone and all clients are fully educated on post tan care. The spray tan application is always precise with great attention to detail delivering a flawless tan every time. Tans last up to 10 days and GLOW even has a rapid option where the client can rinse off in 1-4 hours!
She wanted to create a space that people would enjoy going to– a beautiful environment that put clients at ease and made them feel comfortable. Creating a calm, inviting space was important to her, as well as using organic, natural tanning solutions. She spent hours upon hours researching and testing the best products available and only using the ones that she personally loves and approved of.
She found that people who love to look good and feel good by working out and maintaining a healthy lifestyle also love the feeling they get after getting an airbrush tan. Instantly, it tones and tightens the skin, making muscles more defined, and most clients say they look 10lbs thinner after getting an airbrush tan. Glow also offers full body contouring that defines and sculpts the muscles to give the look of abs and a toned body.
They have airbrushed tanned Academy Award winning actors such as Catherine Zeta Jones and Michael Douglas, anchors for Fox News, NBC, CNN, cast members of Orange is the New Black, and Academy Award, Golden Globe and Grammy Award attendees.
In the past 3 years, they have done over 10,000 airbrush tans! They are growing and glowing as the years progress.
The post The Glow Up of Jennifer Materia appeared first on Home Business Magazine.
Click Here For Original Source Of The Article