Seth Hall is the Founder of Transformational Solutions, a Los Angeles-based life-coaching company that helps to provide people with sustainable solutions to self-destructive habits and to ultimately find their true purpose. Through his own personal journey of recovery from drug addiction, depression, and homelessness, Seth's mission is to support others in accomplishing their own personal goals.
He approaches coaching with empathy and compassion, as well as a core belief that anyone can recreate their lives at any time — no matter their past or setbacks. Seth is also the co-author of "The Mountain Method

," an actionable workbook that helps readers identify their true goals — their "mountain" — and to be self-accountable and proud of their progress and aspirations.
HBM: Have you always had that coaching spirit? [Is there a childhood story of helping a younger sibling build a Lego fortress or showing a teammate how to score a goal?]
SH: "Yes, for sure. I was the oldest of 3 boys, so I grew up feeling like the protector of my brothers. We all took martial arts as children and I used to lead warm-ups and training from about ages 10 to 14. I then raced BMX and quickly went pro. I've helped facilitate training seminars, and I've always had my own coaches I was learning from, too. Some were good, others not so good, which helped me to learn the difference between a good and a bad coach. What I learned was that a good coach inspires you and helps you to adjust your thinking to remove limiting beliefs. They help you see yourself 'winning.' While a bad coach (which I'm sure many readers have had) can be bullies and often use fear and humiliation. One builds you up, the other breaks you down. Luckily, I've had some of the most amazing mentors in my life. Sir Isaac Newton said, 'If I have seen further, it is by standing on the shoulders of giants.'"
HBM: You've overcome addiction, depression and homelessness to get to where you are today. How do you push yourself through when the going gets tough?
SH: "When the going gets tough, I try to remember why I am doing what I am doing. My mother said to me, 'Seth, the only thing a person will regret on their death bed is that they did not help more people.' This is why I do what I do. It's my mantra. My purpose here is to help others believe they can achieve their dreams for themselves, that their dreams are divine and inspired, and to help them achieve that vision. They have it for a reason, and I want people to be the best possible versions of themselves and find meaning and purpose in their lives. I want everyone to wake up in the morning and say, 'This is pretty damn good.' I've lived out both hell on earth and heaven on earth. Heaven on earth is hell of a lot better."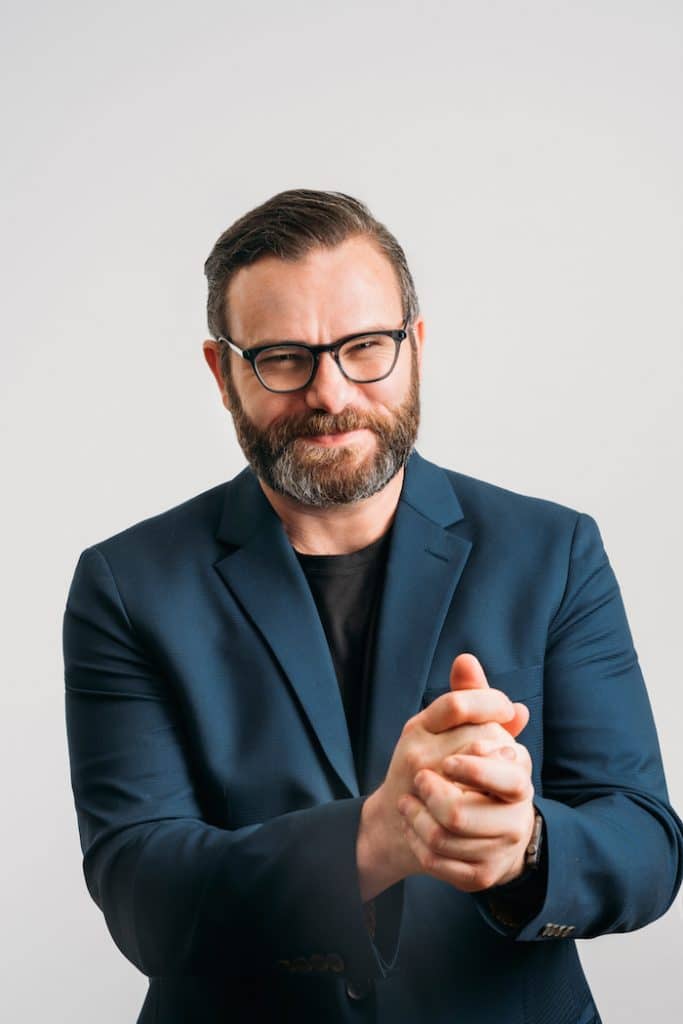 HBM: How do you help clients zero in on their purpose?
SH: "Purpose is an interesting concept. I help people realize that your purpose today may not be your purpose tomorrow. I run workshops on purpose and meaning quite a lot. Usually the answer to the question 'What do you feel your purpose is?' starts off with 'To help people *blank*.' Nine times out of ten people who are depressed also feel they lack purpose in their lives. They have settled with the idea that their dreams are 'impractical.' They then feel they need drugs or alcohol to sedate the feelings of being unfulfilled.
Our purpose is often associated with the necessity for courage, hard work, and risk-taking. I began creating my company when I was earning $14.95/hour. I saved and created an LLC. I paid someone $100 dollars to create our first logo. I paid the $800 LLC tax one month at a time over the course of eight months in our first year. No one else will invest in your future — you have to do that! And there will finally come a time when it's sink or swim. I remember counting change for rent in the months between quitting my job and our first client. But if you define what success looks like for you, put in the effort, and have the mindset that you will be successful no matter what, you will be."
HBM: What does success look like in your line of work?
SH: "We are successful when our clients no longer need us. When they are empowered and living a life that is meaningful to them, then we have done our job."
HBM: What is one of your proudest accomplishments?
SH: "My son, Jaxon, is my proudest accomplishment. Second to him, co-writing The Mountain Method: Conquer Your Mountain

and the success of our company, Transformational Solutions."
HBM: Who/what inspires you?
SH: "I am inspired by people who have gone after their dreams and made the world a better place. I really look up to my mentors from the past — Ronnie and Kenny, and currently Denise Klein. In terms of business and life, I look up to Gene Simmons from Kiss. I created my company after reading his book while I was dog sitting at his house, believe it or not. He took care of his mother when she got older, and he built himself up from nothing. His family does a lot of good in the world in terms of giving back — a lot of good that is not front-page news. My life has been a wild ride!"
HBM: How do you manage passion versus business (some entrepreneurs get caught up in what they're passionate about, while others are all about business)?
SH: "I focus on being creative. But I also love business. For me, business and passion are not mutually exclusive. The business part is exciting, but the fun is in the creation for the business. The creative part is what I live for."
The post Seth Hall on Overcoming Adversity and Succeeding in Life appeared first on Home Business Magazine.
Click Here For Original Source Of The Article