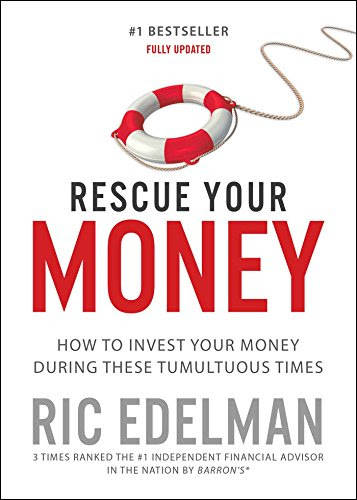 Ric Edelman's re-release of his #1 national bestseller tells readers what they need to know about investing in today's tumultuous times. Originally published in 2009 to help people recover from the 2008 Credit Crisis, Edelman has fully revised and updated the book to reflect the economic conditions that Americans are facing right now.
Edelman, a #1 New York Times bestselling author and Founder and Executive Chairman of Edelman Financial Services, recognizes that millions of Americans collectively lost trillions of dollars during the last recession and many gave up hope of building a secure financial future for themselves and their families.
"Although the Credit Crisis is long gone, its remnants are still felt by millions of people," said Edelman. "While the core advice I've written in Rescue Your Money hasn't changed, the data in the book has been fully updated and revised, making it as valuable today as it was when I first wrote it seven years ago.
Easily read in a single sitting, the book explains what causes investors to make poor investment decisions. With blunt commentary about market timing, fads, media pundits, and hot sectors, Rescue Your Money will help readers avoid the mistakes others have made.
Edelman Financial Services is also launching a new Rescue Your Money seminar, presented in locations around the country by Edelman's Financial Education Team, all of whom were trained by Edelman himself. The seminar reveals how to make sound investment decisions to help participants achieve their financial goals. Each attendee will receive a complimentary copy of the book at the seminar. Further details are available here.
About Ric Edelman
Ric Edelman, Founder & Executive Chairman of Edelman Financial Services, has been ranked the #1 Independent Financial Advisor in the nation byBarron's three times.* His commitment to teaching consumers about personal finance has established him as a popular and trusted financial professional in the country. A #1 New York Timesbestselling author, Edelman's eight books have collectively sold more than one million copies and have been translated into several languages. He also hosts his own award-winning radio show,The Truth About Money with Ric Edelman, heard throughout the U.S. In addition to being an acclaimed public speaker, Edelman frequently provides his expertise to major national media, including CBS, FOX, CNN, CNBC, The Wall Street Journal, The New York Times, Family Circle, Reader's Digest and many more. For more information, visit RicEdelman.com.
Rescue Your Money is available in bookstores and on Amazon.
Ric Edelman, Founder and Executive Chairman of Edelman Financial Services, LLC, a Registered Investment Advisor, is an Investment Advisor Representative who offers advisory services through EFS and is a Registered Representative and Registered Principal of, and offers securities through, EF Legacy Securities, LLC, an affiliated broker/dealer, member FINRA/SIPC.
* – According to Barron's, "The formula [used] to rank advisors has three major components: assets managed, revenue produced and quality of the advisor's practice. Investment returns are not a component of the rankings because an advisor's returns are dictated largely by each client's risk tolerance. The quality-of-practice component includes an evaluation of each advisor's regulatory record." The rankings are based on the universe of applications submitted to Barron's. The selection process begins with a nomination and application provided to Barron's. Principals of Edelman Financial Services, LLC self-nominated the firm and submitted quantitative and qualitative information to Barron's as requested. Barron's reviewed and considered this information which resulted in the rankings on Aug. 27, 2012/Aug. 28, 2010/Aug. 31, 2009.
The post Ric Edelman, New York Times Best-Selling Author and Renowned Financial Advisor, Re-Releases Rescue Your Money appeared first on Home Business Magazine.
Click Here For Original Source Of The Article