Dress Your Kid Like a Celeb with This Affordable, High-Quality Line!
Dressing your child has never been so fun thanks to SoCal designer and "mompreneur," Kim Lande, who makes darling, affordable outfits and accessories for children from 6 months to 12 years old. Celebrities such as Tori Spelling and Amanda Stanton love dressing their daughters in her new line, ModerneChild Shoppe. Now you can get these same looks and trendy, holiday-ready outfits at a reasonable price!
---
---
ModerneChild Shoppe offers high-quality, unique attire and accessories that are deemed what fashion bloggers call "cuteness overload." Have a mini-fashionista who loves expressing herself? She'll love these fairytale creations:
"Simone" Tweed Tutu Dress – ($36 this darling dress is very "Jackie O meets "Breakast at Tiffany's" and is perfect for the holiday season)! It even comes with the gold necklace as seen in the photo!  This darling sweater dress called the "Aubrey" is perfect to keep you baby warm and cozy cute during winter. It comes in tan, blue, or grey (only $36).
The "Ivanka" black and white party dress is a modern twist on a more classic look that you just can't go wrong with.
Affordable, High Quality Chic Designs
Celeb Favorites!
"Mommy and Me" matching outfits
Prices: $14-$36 dollars
 6 months – 12 years
Bottoms, Dresses, Outerwear, skirts, Suits, Sets, and Accessories
Dress the apple of your eye in the best, one-of-a-kind outfit for your next family photo or special event with ModerneChild Shoppe!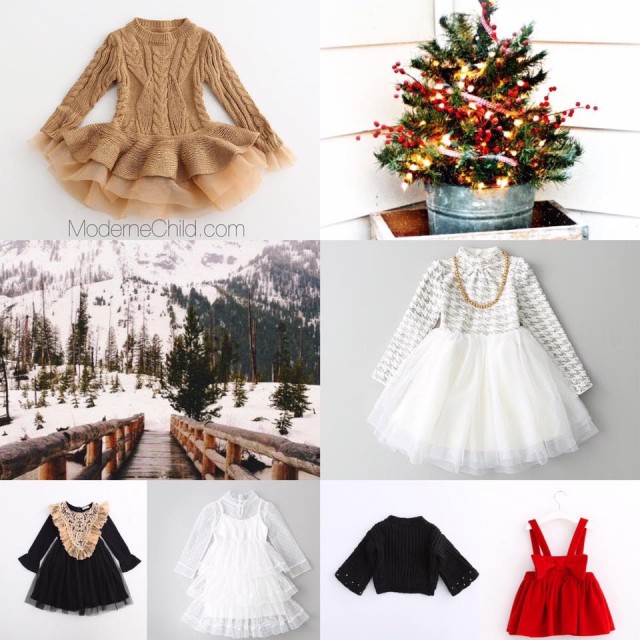 ABOUT MODERNE CHILD SHOPPE 
ModerneChild Shoppe Boutique owner Kim Landi is a CPA  by day, super-mom and fashion designer by night. Lande has been a lover of fashion since she was a child. As a hard-working certified public accountant and mother of two beautiful little girls, she spent a great deal of time styling outfits for her little ones and learning about kid's clothes and fashion trends. She began posting pictures of her stylish children on Instagram and soon garnered a large and loyal following. The social media attention encouraged Kim to create her own online children's boutique, and with that ModerneChild Shoppe was born. Two years later, ModerneChild Shoppe continues to increase in popularity, with their outfits frequently seen on celeb's children and with 150k+ Instagram followers and 34k Facebook followers. Kim believes that every little girl should feel beautiful both inside and out and their styles are meant to help children achieve a healthy self-esteem and encourage girls to express their unique style.
The post Picture-Perfect Children's Attire: ModerneChild Shoppe appeared first on Home Business Magazine.
Click Here For Original Source Of The Article