As a company owner, you need to effectively manage receipts for business expenses, invoices, and other financial documents. This is crucial in order to streamline accounting tasks and make the yearly tax season as stress-free as possible. Manually processing financial documents can result in data-entry errors and the risk of lost data, so it's vital to have a more fail-proof process. One solution to help you better organize your enterprise's financials is Epson's just-released RapidReceipt RR-600W scanner.
This smart receipt and document scanner will make keeping track of your finances a quick, hassle-free experience—no more wasting time on manually plugging financial numbers into a spreadsheet! The RapidReceipt RR-600W features a robust 100-page Auto Document Feeder that quickly and easily scans large stacks of papers of varying sizes (up to 8.5″ x 240″). Its included Epson ScanSmart® financial software then automatically and accurately extracts and categorizes data from receipts!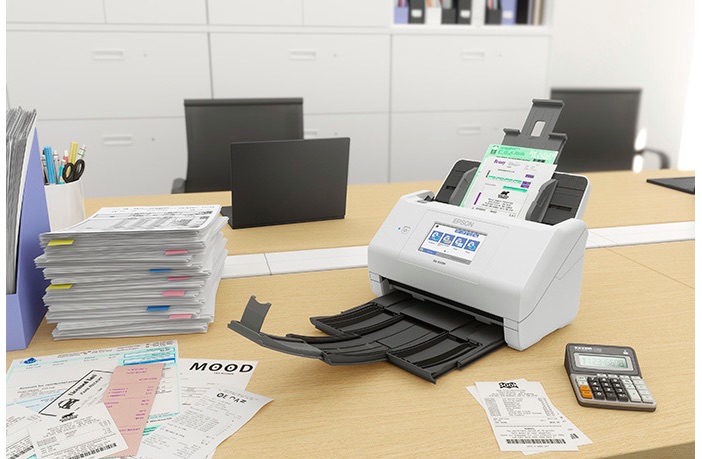 Free of any subscription fee, the receipt management software will easily integrate your scanned data into QuickBooks®, Excel®, TurboTax®, or another financial application of your choice. Featuring wireless (2.4 and 5 GHz) scanning and a USB 3.0 port, the RapidReceipt RR-600W provides the ultimate in connectivity. It also features single-step technology that rapidly scans two sides of a document in one pass (as fast as 35 ppm/70 ipm). The scanner's intuitive 4.3″ touchscreen and USB port also allow you to scan directly to a USB drive, no computer required!
Epson's RapidReceipt RR-600W also easily scans business cards and manages contact information with its included NewSoft® Presto! BizCard® bonus software—this will help you organize your company contacts after a trade show! The scanner also includes Kofax® Power PDF® for Windows® and PDF Converter for Mac® bonus software, which both allow you to create editable and searchable PDFs. It also includes a TWAIN driver for easy integration to most document management software. You can scan to cloud services like Dropbox, Evernote, and Google Drive

.
Its intelligent image adjustments (automatic cropping, blank page deletion, background removal, dirt detection, etc.) will also ensure amazing image quality! Earth-friendly entrepreneurs will also appreciate that this scanner is recyclable, RoHS compliant, and that Epson America, Inc. is a SmartWaySM Transport Partner.
Get this ingenious receipt and document scanner for your home office today! It retails for $499.99 and can be found online at epson.com.
The post Organize Your Business Expenses with Epson's RapidReceipt RR-600W Scanner appeared first on Home Business Magazine.
Click Here For Original Source Of The Article