Committed to making lives easier by creating an efficient and practical way to get organized, mumi Design has gained a loyal global following by offering a wide range of practical and stylish products that satisfy the needs of modern families. Founded by two friends, moms, and entrepreneurs who know a thing or two about the needs of busy households, mumi's products give the liberating feeling of getting organized. The brand continues to expand its product line with each product meticulously designed and crafted for a variety of occasions and logistical challenges.
Founded in 2014 by Mexican-born entrepreneurs Gabriela Mekler and Maribel Moreno, who now call Miami, Florida, home, the company came to market with a simple yet monumental mission: to share the amazing feeling of feeling organized with products that deliver a practical way to stay organized at home, school, the office or when traveling.
Gabriela and Maribel first met at prenatal yoga when they were both expecting their first child, and they became inseparable. They did everything together, with their kids growing up like cousins and sharing the same family values and spending holidays as a family.
They often talked about going into business together and then, while on a summer vacation in Valle de Bravo, Mexico, they saw how both of their luggages were meticulously packed and organized. That's when the idea of developing beautiful packing cubes for families came to life. They started working on the concept of assigning one color for each family member, something that is still an essential aspect of their brand.
Building a home-organizing movement under the premise of "Organized Never Looked So Good," the brand first launched with its now iconic Packing Cubes for traveling, a solution that became an instant success for the company and one of mumi's pillars even today. The Packing Cubes continue to be one of their bestsellers. The company's ethos combines equal parts of functionality and design, with a loyal customer base that is really passionate about products designed to keep everything where it belongs.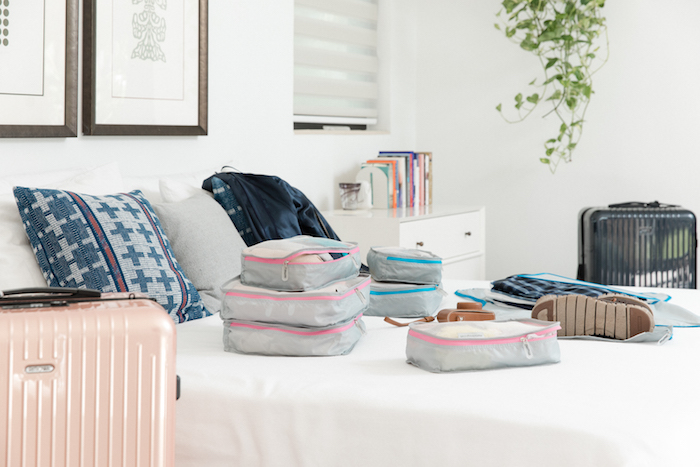 "We didn't invent anything, we reinvented something we were passionate about by finding solutions that work for us," said brand co-founder Gabriela Mekler.
Though the company built its stellar reputation with its Packing Cubes, it now offers a wide range of organizing solutions beyond the travel sector and continues to expand its offerings to address any and all occasions that require organization. Both Gabriela and Maribel feed their love and passion for mumi through their customers, seeing how engaged their followers are online and how much they connect with the brand once they enter the "mumi world."
"We realized that our customers demanded organizing solutions well beyond travel products, which is why we have now expanded our offering to innovative home-focused alternatives," said Maribel Moreno, mumi co-founder.
With people spending more time inside, turning their homes into improvised offices, schools and gyms, modern households demand home-organizing solutions that allow each family member to keep things in place. Their most recent product launch, the mumi Divider Cubes, were designed to keep closet clutter and drawers organized with an easy-to-follow storage system.
Mumi offers products for every need — from toiletry cubes to laundry bags, pill pouches, reusable zip-up bags, cable ties and much more. Over the past few years, mumi has grown tremendously, having gone from selling products in school bazaars to now offering its products in nine different countries and shipping merchandise to all continents. Gabriela and Maribel continue to innovate and explore ways to solve daily organizational problems and have plans to continue expanding the mumi home collection over the next year.
The post Mumi Rethinks Home Organization with Design-Focused Product Line appeared first on Home Business Magazine.
Click Here For Original Source Of The Article