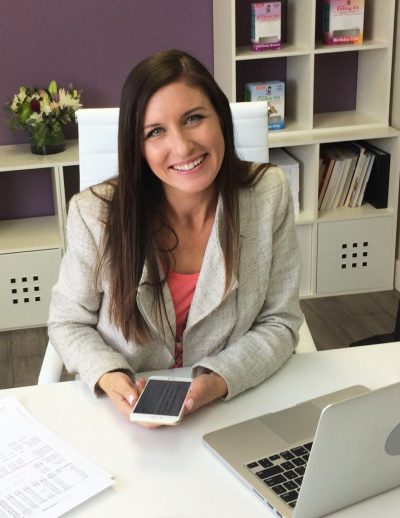 From "Shark Tank" to Your Kitchen! Scratch & Grain Brand Throws Bold Innovation into the Mix with Growing Line of Healthy Baking Mixes
The year was 2015 and Oregon "mompreneurs" Taya Geiger and Leah Tutin were in the "Shark Tank" to pitch Scratch & Grain Baking Company, their highly innovative line of baking kits featuring individually-packaged and measured gourmet ingredients with such easy-to-use numbered and color coding, even children could feel like pastry chefs. Passing acquaintances before starting their business, the two women were now firmly united in the pursuit of two equally daunting but decidedly thrilling goals: to walk out of the Tank with a Shark in their corner, and to parlay their extraordinary television debut into a brand that would at long last redefine the baking mix category and make homemade baking for the entire family easier, tastier and healthier than ever before.
As fans of "Shark Tank" and Scratch & Grain know well, Taya and Leah not only struck a deal with Barbara Corcoran (entailing a $150K line of credit for 20% equity) and were later featured on "Beyond The Tank," but have indeed taken their all-natural and organic line of cookie, brownie, cupcake, cornbread, muffin and pumpkin kits to amazing heights in little more than two short years. Today, in fact, what began with two baking-challenged Moms asking the question that's led to so many entrepreneurial breakthroughs over time – "Couldn't we do this better?" – is now a beloved, rapidly-growing brand sold online as well as in more 5,000 stores nationwide.
As Taya (who now runs the company on her own as CEO) recalled recently, "Being a lifelong foodie, I had very high standards for everything we ate and served our kids. We thought that each dish or dessert should be amazing and have a true 'wow!' factor. If we couldn't get a reaction along the lines of 'that's the BEST chocolate chip cookie I've ever had,' then it wasn't good enough for us. Fortunately, Barbara Corcoran supported our vision, and I'll be forever grateful to her, the entire 'Shark Tank' team and all of the loyal consumers who've taken us so far so fast."
Home Baking Redefined
Like Taya, many Moms and home cooks without the time, patience or skill required to bake from scratch relied for years on baking mixes that were bland at best and unhealthy at worst. Launched before meal kits became a $1.5 billion industry in 2016, Scratch & Grain almost overnight redefined the baking kit category by empowering virtually anyone with an oven to experience the fun and mouth-watering satisfaction of creating their favorite baked goods like seasoned pros. Better yet, since its inception, Scratch & Grain has been helping everyone from kids to parents to grandparents share old-fashioned quality family time together and temporarily escape the impersonal lure of TV sets and cell phones perhaps for the first time in years.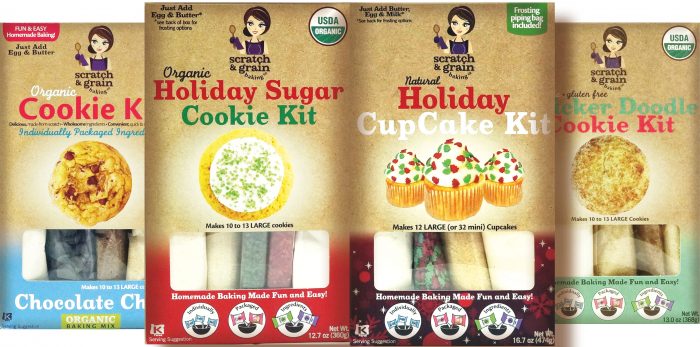 Mixing Up Healthy & Delicious As Never Before!
Featuring easy-to-use numbered, color coded, clearly-labeled and individually packaged wholesome ingredients, Scratch & Grain products enable consumers to not only enjoy the timeless pleasures of baking from scratch but to create their very own recipe variations – an option not available with traditional one-mix-fits-all kits.
Scratch & Grain products include Shark Tank Special Packs; Cookie Kits (including such irresistible flavors as Chocolate Chip, Oatmeal Raisin, Classic Sugar, Gluten-Free Snicker Doodle and Gluten-Free Chocolate Truffle); Cupcake Kits; Brownie Kits;Muffin Kits; Cornbread Kits; Cupcake Kits and Pumpkin Bar Kits. Just add such staples as butter and eggs and you're practically ready to open your very own bake shop!                                                       
Moreover, unlike standard baking mix kits that are often repositories of unhealthy, chemical-laden ingredients, Scratch & Grain products are all-natural, completely non-GMO, and Certified Kosher, with most also USDA Certified Organic and several gluten-free as well.
Competitively priced, Scratch and Grain kits cost between $5.50 and $8.50, with combo packs containing three, four, or six kits available for $17.99 to $49.99. In addition to large chain and independent grocery stores across the country such as Target, Safeway/Albertsons, Publix, and Whole Foods (with an additional 2,000 or more expected to carry the brand by the end of this year), Scratch & Grain kits can be purchased on the www.scratchandgrain.com site or on Amazon.com.
Meet Taya!
The mother of two little boys, Lincoln and Sawyer, Taya gained her business acumen and entrepreneurial spirit thanks to a decade spent in the securities industry. Though baking was a hobby back in middle school, she's as surprised as anyone that her pathway to success would be paved in bake mixes.
"When I was a little girl and people asked me what I wanted to be when I grew up, what I envisioned first was running a company," Taya says. "Now that I'm actually in that position, I can say from firsthand experience that even though starting this business has been one of the hardest, scariest, and most challenging things I've ever done, nothing other than raising my sons has been as rewarding. After all, what could be better than hearing people say 'Thanks to Scratch & Grain, what used to be a chore is now a pleasure,' or 'I've never tasted a better cookie!' or – best of all – 'Thank you for providing such a fun and delicious way to bring the entire family together!'"
For more information about Scratch & Grain Baking Company (which donates 5% of all profits to charity), please visit www.scratchandgrain.com.
The post Mompreneur Taya Geiger Redefines Baking Kit Category appeared first on Home Business Magazine.
Click Here For Original Source Of The Article