By Kalani Dantley
Sam Frank never saw himself starting a roofing company. But when he thought of developing a small business in his hometown, it seemed fitting.
According to Frank, there are a lot of old houses in Baltimore and once he and his business partner began working on projects in town, they instantly realized that there was a need for a service provider that did roofing at a high level.
"It was kind of a circuitous path," said Frank, who was born and raised in Baltimore, Maryland. "It was never our intention to start a roofing company, but my business partner and I wanted to start a small business in Baltimore and we love construction."
And Four Twelve Roofing was born.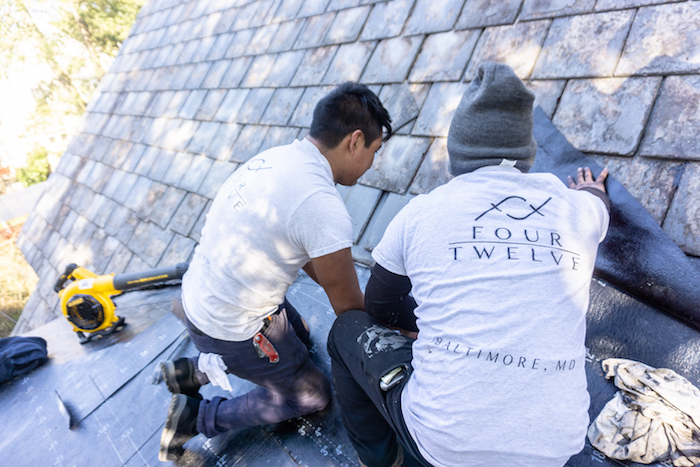 How It Started and How It's Going
Four Twelve Roofing began with the purchase of a single vacant home. That purchase led to Frank and his business partner, Shea Frederick, renovating rowhomes to improve neighborhoods in Baltimore.
In Baltimore, there are a lot of townhomes with flat roofing, which Frank says is "a particularly special discipline."
"Once we brought our expertise, education and quality to that sector, we had more uptake of our services than we could have ever imagined," Frank said.
This past calendar year was Frank's third in roofing, and the 30-year-old worked with more than 1,000 customers in 2020 alone.
Four Twelve Roofing was recognized in Inc. Magazine's list of 5,000 Fastest Growing Private Companies in the U.S., ranking No. 122. The company also received recognition by the Baltimore Business Journal in its Fast 50 Awards 2020 as the No. 1 fastest growing company in the city.
Being a Product Expert
Building a business that positively impacts the community was essential for Frank and Frederick. Mastering the product is of equal importance.
"In whatever you sell, you want to be a product expert," said Frank, who worked in finance before starting his business. "You want to know your craft and really take pride in it."
His advice to anyone trying to get into business is to figure out the product they want to sell and make sure it provides value.
For Frank and his partner, roofing was a perfect product because there was a need for it in their market and they wanted to directly support their community through construction.
"We found an unidentified area in the market where the service and quality was not at the level it could be," Frank said. "We then tried to build a product that solves that, which is essential for growing and maintaining a successful business."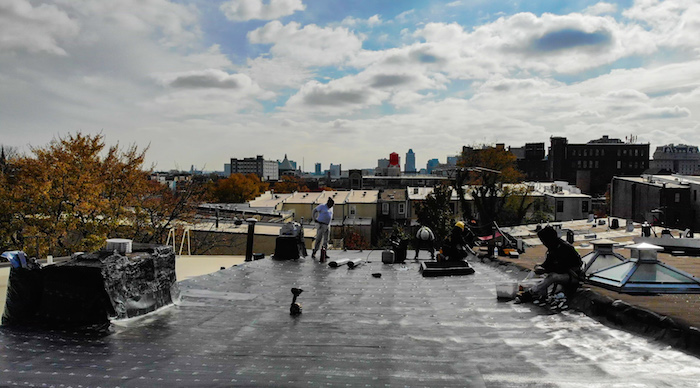 Understanding Your Core Values
From the beginning, Frank and Frederick had an idea of the values that were important to them for growing their business.
Frank loves being around people, whether it's staff or customers. And Four Twelve Roofing has proved itself to the community through its projects and by having a solid group of people that stand behind its work.
"In order to support our customers and staff, as a company we just want to be stand-up guys and women," Frank said. "We want to make sure that when we tell someone we're going to take care of their project, that they know and have comfort in the fact that we're going to do what we say we're going to do."
Frank and his partner pride their company on building relationships through the community and gaining the trust of their customers. As the two grew the business, they naturally realized their strengths.
"One of our biggest strengths was leading a staff that was really passionate about delivering quality service," Frank said. "Another strength was having a small business in the city that we love and wanting to do a great job of being an upstanding community business."
Advice to Aspiring Home Business Owners
Frank started his business in a co-working space that had a lot of small community businesses. He's since moved into his own office and has a staff of around 30 employees.
Through his experiences, he has plenty of advice for aspiring business owners that aren't yet at the point of expansion and people whose businesses don't require a large staff.
"If you know your customer base and what you're doing allows you to have the type of business and lifestyle that you want to have, then that's fantastic," he said.
Frank also said that part of the beauty of today's workforce is that there are so many options to work remotely.
And with Frank's previous role in finance, it's not surprising that he recommends that entrepreneurs know their financials and budget accordingly.
"Knowing things about the financial health of your business and keeping a good tab on how you set everything up is going to allow you to continue to earn enough money where you can invest back in your business," he said.
Frank added that if you think long term about your business, then you shouldn't be worried about taking some risks.
"It's all towards a mission to grow the business and your reputation," Frank said. "It's about having a mindset of growing something that is going to be sustainable over the long term and you shouldn't be afraid of taking risks to make sure that you're building your brand."
The post Meet Sam Frank: The Roofing Company Owner Who Found a Way to Improve His Hometown appeared first on Home Business Magazine.
Click Here For Original Source Of The Article