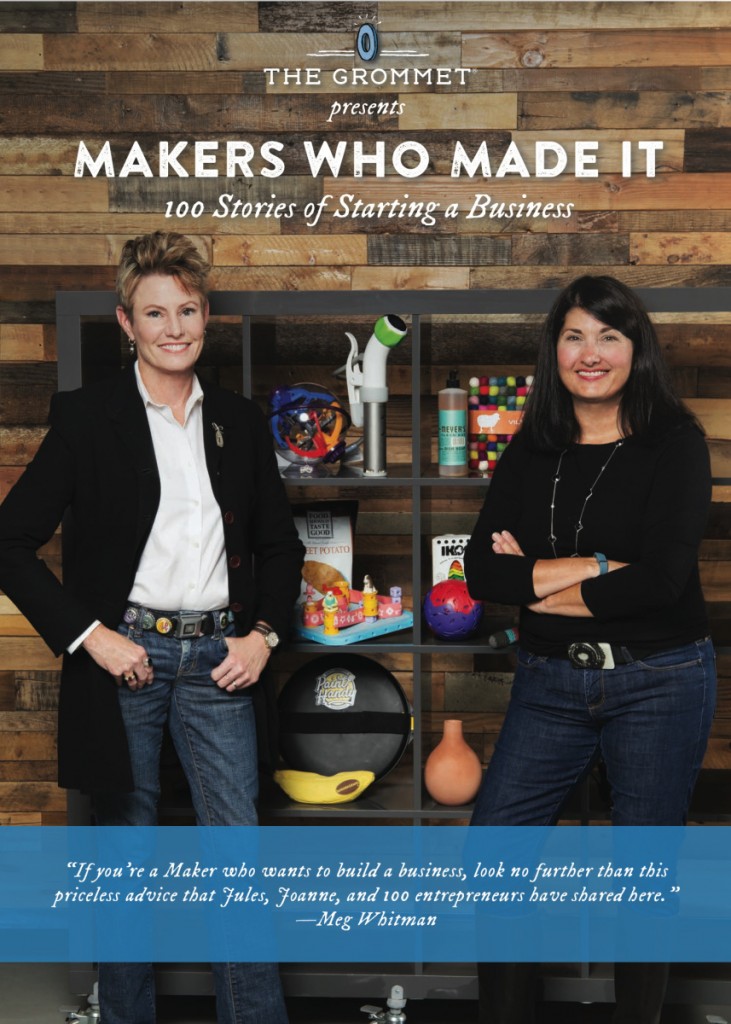 The Grommet released a free ebook, "Makers Who Made It: 100 Stories of Starting a Business" to inspire future entrepreneurs.
The Grommet has published a free ebook, "Makers Who Made It: 100 Stories of Starting a Business," to help inspire Makers, inventors, and entrepreneurs with launching innovative consumer products.
"If you're a Maker who wants to build a business, look no further than the priceless advice that Jules, Joanne, and 100 entrepreneurs have shared here." —Meg Whitman
The Grommet, the product launch platform based in Somerville, Massachusetts, which has launched 2,000 innovative consumer products since 2008, has published a free ebook to help inspire and mentor the next generation of Makers, inventors, and entrepreneurs.
After seven years of helping Makers launch their undiscovered products to the masses, "Makers Who Made It: 100 Stories of Starting a Business" brings together The Grommet's Co-founder & CEO Jules Pieri, Co-founder & Chief Discovery Officer Joanne Domeniconi, and 100 Makers whose products have launched on The Grommet.
"I'm delighted to share this ebook that captures the stories of 100 of the Makers who inspired and enabled The Grommet community," says Pieri. "These creative, hard-working Makers don't hold back on telling the truth—because it is hard-earned knowledge of which they are proud. It's a privilege to share the book and to anticipate the journey this information will take to enable the next generation of Makers to thrive."
For the ever-growing Maker Movement, this free ebook will help readers understand how to develop an idea for a new consumer product, prototype it, manufacture it, launch it, promote it, and build a sustainable and thriving business.
Many of the stories reflect people who reinvented themselves as entrepreneurs after the Great Recession as well as stories of perseverance as they worked through multiple challenges and obstacles in order to bring their products to life.
Featuring a Presidential Proclamation from Barack Obama, a foreword by Mark Hatch, TechShop CEO & Co-founder and author of "The Maker Movement Manifesto," and profiles from 20 members of The Grommet Team, the ebook is filled with tips and ideas to help the Maker Movement build businesses. It's an honest, revealing collection of advice, reality checks, what to expect, and what Makers should (and shouldn't) sweat when starting a small business.
Since 2008, more than 60,000 products have been evaluated by The Grommet. Through its market analysis, testing, and evaluation processes, The Grommet has selected and launched only 2,000 products—or 3% of all products considered—helping Makers launch in a crowded marketplace and helping 2.8 million members of its community to "Discover What's Next."
"Makers Who Made It" is available at http://thegrommet.com/press/makers-who-made-it-ebook and will be available in all ebook stores shortly.
The post Makers Who Made It: 100 Stories of Starting a Business appeared first on Home Business Magazine.
Click Here For Original Source Of The Article