You could have the most talented staff and finest salon equipment in town, but without a solid marketing plan, your business strategy will fall flat. Salon and spa owners need to know how to market their businesses in ways that really get the word out. But we all know the budget can be tight, which is why it's so crucial to find low-cost ideas that bring max returns with minimal effort. In this guide, we're going over a few of our favorite and most affordable salon marketing strategies to kick-start your business.
Becoming an Influence: Leveraging Social Media
If you're in the salon business, chances are you're already well-aware of the many ways social media can bring you some free business. After all, over half of all social media users follow at least one business, and many of them are spas and salons. You could argue no industry has better leveraged social media than the beauty biz, so this is definitely not an avenue you want to leave unexplored.
Leverage social media by setting up pages on Instagram, Facebook and Pinterest and updating them regularly. Here are some more great social media tips for salons.
Use Hashtags and Geotags — These tags help users find you and signal to the platform what you're posting about so it can suggest your posts to others. Make sure your salon has its own location tag and hashtag for you, employees and guests to use so you can easily find and share posts.
Post to Your Target Audience — That is: think about what your ideal client would want to see, considering age, gender, ethnicity, style, etc., and post accordingly.
Make Your Space Dazzle and Encourage Guests to Post — Make sure your salon is aesthetically pleasing and "Instagrammable" with stylish salon stations. Offer guests an incentive, such as a percent off or a free service, to post using your geotag and hashtags. Make the background of each salon chair picture-perfect so that guests naturally want to share.
Post on Stories — Don't make the mistake of posting only on your grid on Instagram or Facebook, especially if you're marketing to a younger audience. Studies show that nearly a quarter of all millennials and Gen Z users browse Instagram stories for products and services, after all.
Ask Your Employees to Post — Ask your stylists to post before and after photos of their clients using your geotag and hashtags. If they aren't comfortable using their personal profile, ask them to create a professional one.
Partner with Local Influencers — Get in touch with the health, wellness, beauty and self-care influencers in your area and offer them pay or a free service to post about your page.
Reaching Searchers: Optimizing Local SEO
Here's a pair of fun facts for you: Nearly half of all Google searches are for local businesses and 80 percent of local searches convert. In other words, a lot of people use Google to find businesses. The vast majority of these searches result in a user taking some sort of action, whether it be making an appointment or following you on social media. What does this tell us? You need to get Google working for you…and fast! That's where local search engine optimization (SEO) comes into play.
Set Up Your Google My Business Page — This is the first thing a user sees when they search for your business, so make sure it's up to date with accurate information. Include your website, address, phone number, hours, pricing, etc. Google My Business is entirely free, so there's no reason not to use it.
Optimize Your Website — Optimizing your website for search essentially means enhancing it with information that Google can use to put your listing at the top of the page when people search for it. This can be done in a few ways:
– Use keywords (the words and phrases people are searching to find your business) throughout your website, YouTube and social platforms.
– Make sure to include your region in your keywords. For example, optimize with phrases like "Tulsa hair salon" rather than just "hair salon."
– Optimize your site for mobile. Google will dock websites that aren't easy to read on a mobile device, so make sure your site looks good and is easy to navigate to from a phone or tablet.
Ask Customers to Leave Reviews — User-generated content can boost your biz in a real way, so offer incentives to happy clients who leave reviews on Google.
Grassroots Bonanza: On-the-Ground Marketing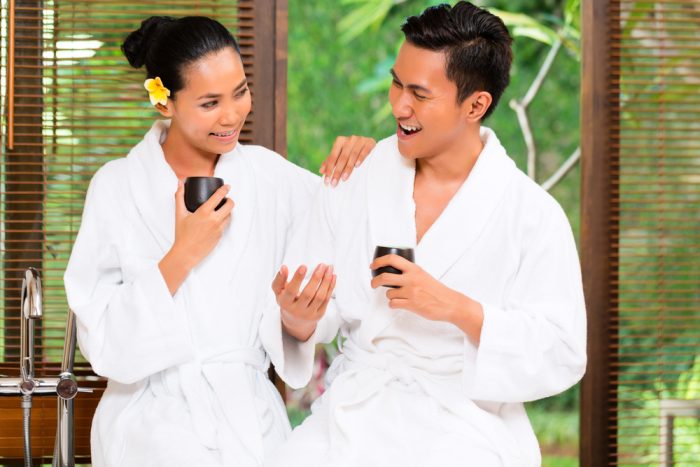 In addition to digital marketing, you need to start thinking about how to blitz the market with the old-fashioned method — via grassroots marketing. These strategies employ age-old techniques like word-of-mouth and event marketing to convert customers one person at a time. Here are some of our favorite methods.
Create a Referral Program — Don't overlook good old-fashioned word-of-mouth marketing! Consider implementing a referral program where you offer your current clients an incentive, such as a percent off or a free service, for referring a friend. This costs you very little but can help you exponentially grow your base.
Attend Local Events — Make your presence known in the community by getting involved in local events set up by the chamber of commerce or local business partnership. You may also want to consider using your business to help community charities and funds. Whether it be donating services to a charity raffle or sponsoring the local little league team, this can help you get your business name into the community and create a positive reputation for the future.
Host In-Person Events — When it's safe to do so again, consider creating some buzz around your salon by hosting special in-salon events for anniversaries, holidays, product launches and just because. Get people in the door with giveaways, freebies, refreshments and live entertainment.
Smart, Affordable Marketing = A Full Appointment Book
The amazing thing about salon marketing is that it's generally hyper-local, which means you don't have to cast an especially wide net. This makes it particularly well-suited to more low-cost efforts, such as basic SEO and grassroots marketing. Employing some of these tried-and-true salon marketing tips to your strategy will undoubtedly help you grow your business and keep the appointment book full.
The post Low-Cost Marketing Ideas for Salons and Spas appeared first on Home Business Magazine.
Click Here For Original Source Of The Article