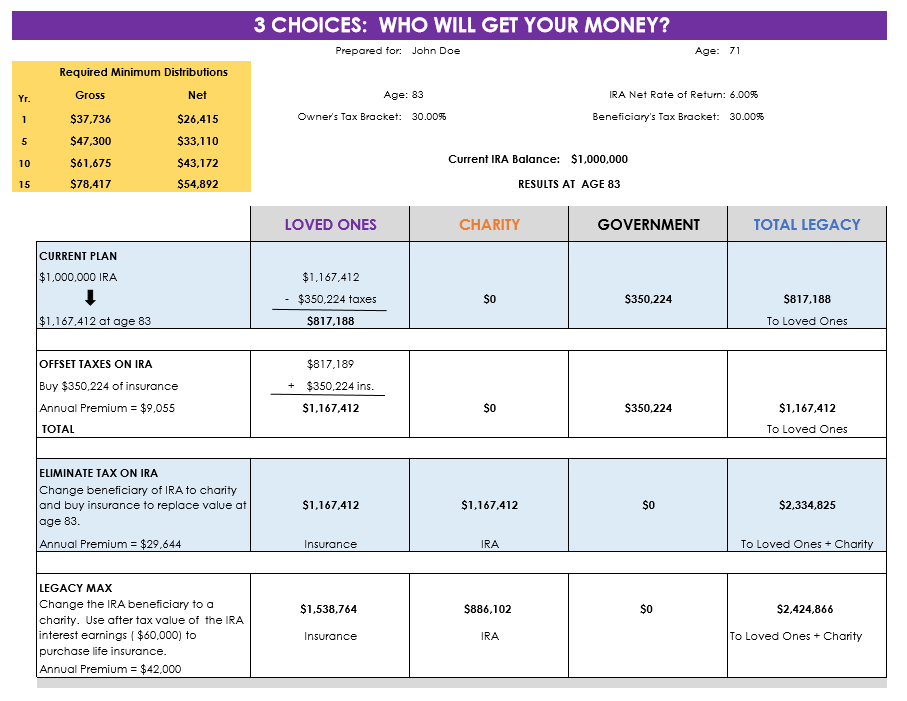 You always have the choice of staying your current financial course, but if you could make a few adjustments along the way that could make a substantial difference beyond your life would you do it?
You've probably heard the saying: Good, Better, Best when making comparisons. With your IRA, you have the same three choices – or actually four if you include the choice of doing nothing!
In the accompanying example, if you do nothing you would pay 30%, or $350,224, in taxes and pass $817,188 to your loved ones as your legacy.
A second option would be to offset the taxes of the IRA with an equal amount of permanent life insurance death benefit of the same amount, or $350,224, for an annual premium of $9,055. The slight change to your current plan is "Good" as you leave $1,167,412 to your loved ones, but still pay the government the $350,224 in taxes.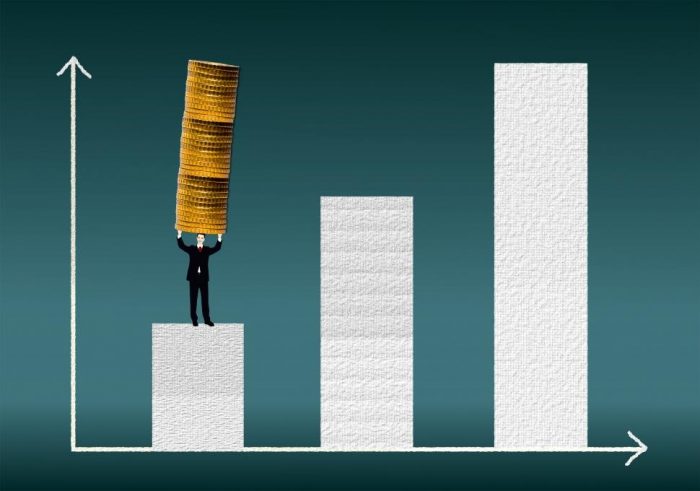 A third choice is even "Better." By changing the beneficiary of the IRA to your favorite charity (or charities), you avoid 100% of the income taxes upon death. And for an annual premium of $29,644 you can also replace 100%, or $1,167,412, of the gift in the form of an income tax-free death benefit from a permanent life insurance policy that you make your loved ones the beneficiary for a total legacy of $2,334,825!
The last or fourth option would be "Best," which is similar to the "Better" option but you're able to obtain a higher net rate of return of 6% after taxes of 30% would allow you more premium ($42,000) and therefore more permanent life insurance of $1,538,764 with a little less to charity but the overall total legacy is increased by $900,041!
So what worthy causes could use $886,102-$1,167,412 depending on which option you prefer? As I'm currently working with a wealthy couple that is planning their estate and giving over $100,000,000 to charity, the worthy causes out there are bountiful! To name a few they are considering; Ronald McDonald House, Shriners Hospitals For Children, St. Jude Children Research Hospital, Cure Breast Cancer Foundation, and if you are animal lovers there's The Humane Society as well as plenty of dog and horse rescue charities out there as well. What a tremendous difference you can make in the lives of many if you just consider some legacy planning with your IRA as well.
Click here to download the full chart: Increase Your Legacy – Rich Groff
Hundreds of Business Opportunities – Visit the Home Business EXPO
The post Leveraging Your IRA To Increase Your Legacy appeared first on Home Business Magazine.
Click Here For Original Source Of The Article