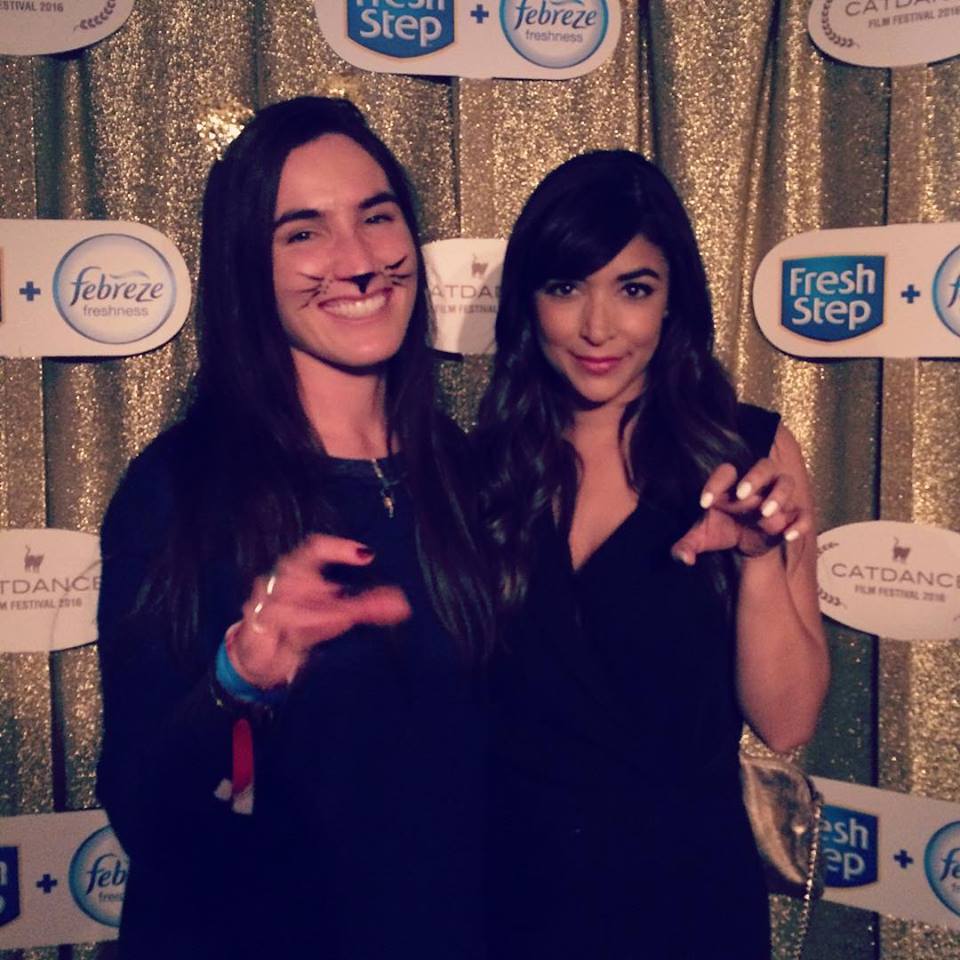 The first weekend of Sundance 2016 was a flurry of film screenings and celeb parties, but the one event all attendees did not want to miss was the Catdance Film Festival that took place at Cisero's Bar. Hosted by New Girl star Hannah Simone and presented by Fresh Step® with the power of Febreze TM, Catdance gave feline fans the chance to watch a series of short cat videos competing in the finals for the coveted 2016 Golden Litter Scoop and $25,000. At the cat-adelic soiree, guests also tested out a virtual reality cat adoption experience, sipped on kitty cocktails, and got "cat-tooed" with temporary paw-print tats!
The Catdance Film Festival always steals the show at Sundance, and this year was even better than last year's much buzzed-about event. Hannah Simone hosted a screening of the top cat video submissions of the year (many of which featured shelter cats), culminating in the showing of Mike Thompson's winning film, "The Purfect Patsy."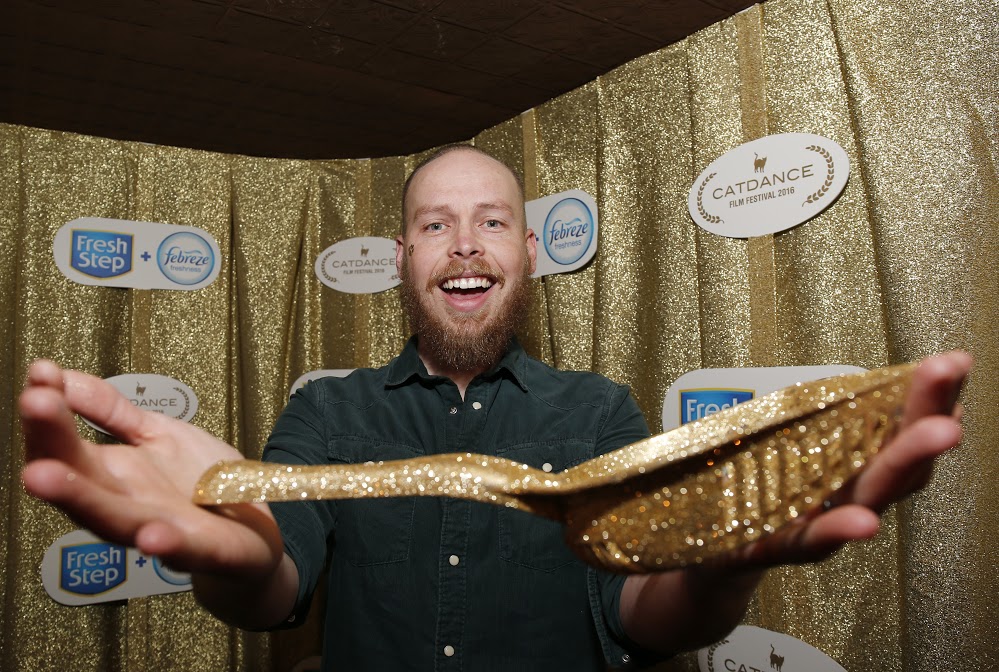 Attendees were also able to don virtual reality goggles and headphones to experience what it is really like to be adopted as a cat, from the moment they are picked by a family to getting accustomed to their forever home. Not only was this a truly heart-warming experience for all of the partygoers, but it also helped to support the Million Meow Mission of Fresh Step with the power of Febreze. Through advocating for cat adoption and donating scoops of litter to shelters worldwide, this cat-tastic campaign is committed to helping adoption kitties find lasting homes with loving families.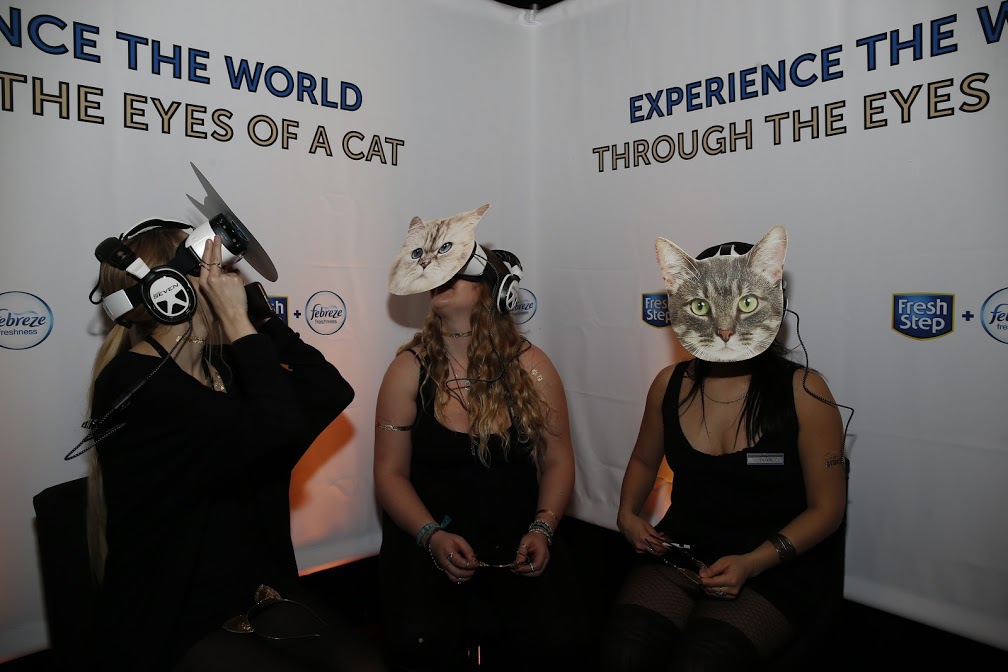 "Given the launch of our biggest litter innovation, Fresh Step with the power of Febreze, we really wanted to kick it up a notch at the Catdance Film Festival and offer fans something new and different," said Nick Meyer, Fresh Step Director of Marketing, Pet Products. "This year we decided to make a splash by rolling out a touching virtual reality experience that gives people a chance to see adoption through the eyes of a cat."
On the red carpet, Home Business Magazine caught up with Hannah Simone to get the inside scoop on what inspired her to work with cats.
"I love cats," the New Girl actress said. "Just take one look at my social media and you'll realize it's an obsession. (laughs) I've had cats my entire life and have rescued them my entire life. I currently have two at home! I heard about Catdance for the past couple of years and wondered why they didn't ask me to host. I thought I would be a great host."(laughs)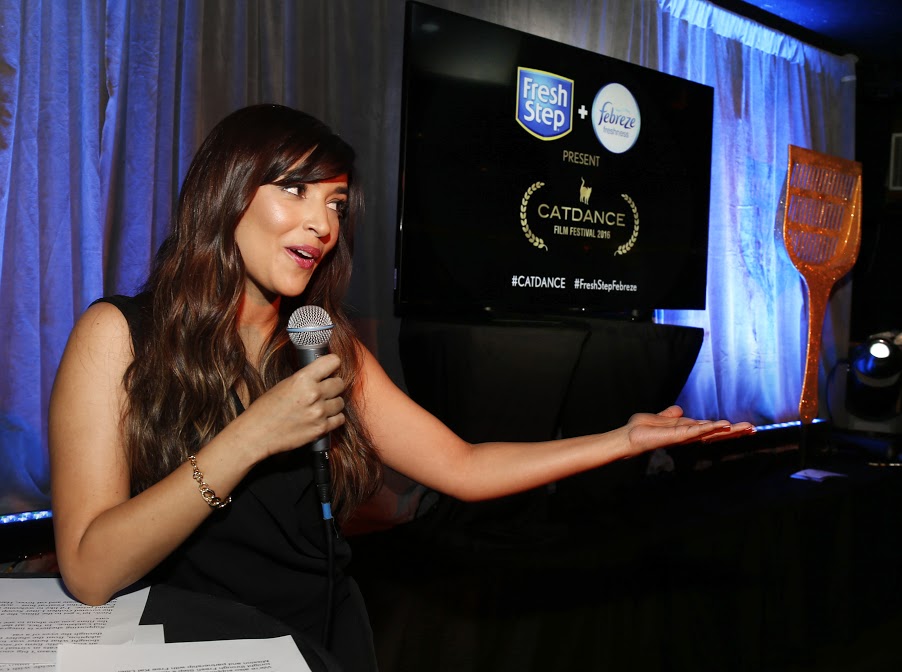 And what does she love about Catdance Film Festival?
"When they finally asked me to host Catdance this year, I was super excited!" Hannah shared. "You get to watch great cat videos, which I do all the time online anyway. Cat videos are the best thing on the internet. I also love that Catdance encourages people to adopt, which is incredible. I think that is such a great thing to do. We are introducing a product that helps keep cats in their forever homes.
I didn't realize that the number one reason why most people return cats back to animal shelters is because of litter box rejection. Febreze created a product that helps eliminate odors so that the owner is more comfortable, the cat is more comfortable, and then the adoption is more likely to be a success. Catdance is all about a great product, great videos, and you have the chance to go home with a beautiful cat that needs a home."
The actress went on to talk about her favorite part about working on New Girl and what fans can expect.
"I get to work with my friends! We've become like this incredible family. We get paid to hang out every single day and make each other laugh. We laugh all day and support each other–it's genuine. I don't know how else to say…it's incredible and I can't believe it's my job! Right now, we are in the middle of season five. We're planning for a big Cece-Schmidt wedding, so that is pretty time-consuming at the moment. Then we will see what happens this summer…I'm not quite sure!" Hannah said.
Hannah also shared her top idea for a new business venture.
"They're having a virtual reality experience here at Catdance, where you get to explore the day in the life of an adoption cat all the way to their forever home," she said. "I wish that there was a business created all about the virtual reality experience of a day in the life of my own cats. (laughs) I would sit there all day and experience what it is like to be treated like a queen! I would watch a human being like me just schlep after them and take care of them. Spoiled!" (laughs)
The post Interview with Actress Hannah Simone At Sundance 2016's Catdance Film Festival appeared first on Home Business Magazine.
Click Here For Original Source Of The Article