Every workspace – but especially those involving computers – tends to become a clutter magnet. The peripherals and accessories start stealing desktop space, then relentlessly creep onto credenzas, side tables, bookcases, shelves and, inevitably, the floor.
There may never be a complete solution but a happy accident led to a major improvement here.
It's a very particular equipment rack, the kind you typically only see in a company's server room. The one you see in the pictures is a Carbon (brand) open-frame rack from Cyber Power. It comes in pieces, like a grown-up Erector Set that you assemble yourself, and when you do, it gives you choices about how to put it together. That includes the choice of stretching it to fully 40 inches deep.
Therein arose an epiphany.
We could fit a lot of our equipment clutter onto and into this rack and some shelves.
Would you like to take a tour?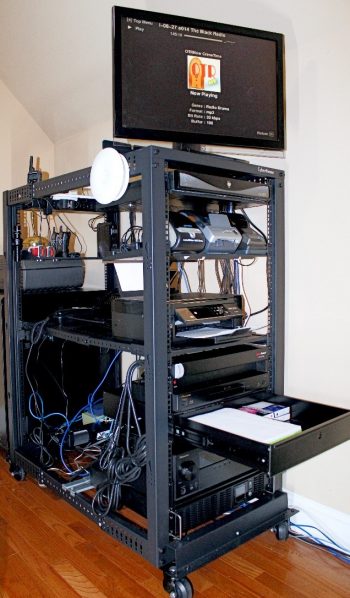 A plate screwed into the top of the frame holds an HDMI monitor. It can display cable TV from the TiVo box just below, or other content that a Pioneer receiver selects, including disc or online content through a Pioneer BluRay player.
To the left, a Halo+ talking fire, smoke, carbon monoxide and weather alert alarm.
Next down, a row of 3 label printers (Dymo, Brother and Seiko); behind them, a USB hub connects them to the office PC.
The new Epson XP‑440 Small-In-One printer and scanner connects over WiFi. A USB-powered LED rod light under the front lip of the shelf just above illuminates it.
A CyberPower PDU (power distribution unit) provides rear outlets. The Pioneer Elite BDP-80FD BluRay drive is next down. Below that, a rack-mountable drawer holds ink and paper for the Epson printer.
The Pioneer VSX-824 receiver fits underneath, just above a CyberPower sine wave uninterruptible power supply (UPS), with 1500 VA of power.
A standard rack could only hold this much, but that's quite a bit. Here's where the double-deep rack starts making a big difference.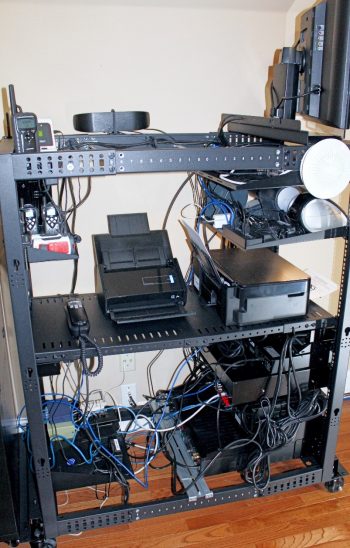 This side view makes several elements more obvious. At the left top, a Acurite weather radio in front of a Tornado Alert lightning monitor. At the far side of the top of the rack the item shaped somewhat like a car's rear-view mirror is an Antop amplified AM/FM antenna, connected to the Pioneer receiver.
Not visible in this view: a CyberPower PDU mounted on the rack's rear uprights; you can see the power cords hanging from it.
On the left, 2 pairs of walkie-talkies (which save a lot of shouting) and, behind them, a multiport USB charger. On the right, you can see the back of the label printer shelf. Note that the Epson printer's paper supply is positioned to clear that shelf.
The Epson printer is on a 40-inch-deep shelf that affords room for the Fujitsu ScanSnap scanner and a telephone, connected to an Ooma VOIP phone adapter on the bottom shelf, well below it.
The telephone shelf has devices to report Caller ID to the PC, to connect audio from the phone lines to USB, a voice modem for automating dial-out and the Ooma interface. On the right, you can see the connections end of the gear we described earlier, and a support strut for the heavy UPS.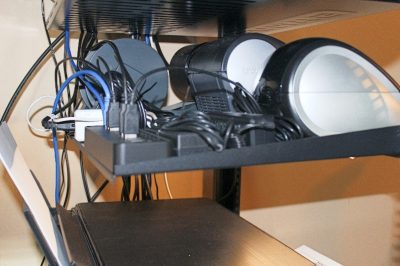 This look at the rear of the label printer shelf shows the "bulk" supply reel feeding the Seiko SLP650 (left) while the Brother P‑touch QL‑500 (center) and the Dymo LabelWriter 450 Turbo get just standard-size rolls. These may print shipping labels, file folder labels, storage labels, drawer labels and so on. Tucked in behind them are their power adapters, cords and an Orico 10-port powered USB 3 hub. The Epson's scanner lid, below, can open enough to let a sheet in or we can slide it forward to fully open it.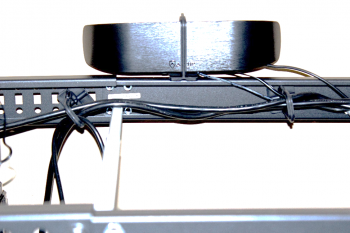 It's not all high tech. As this enhanced-contrast image shows, plastic D-rings help route cables along the rack frames and spring-tension curtain rods help keep those cables from drooping.
One nice thing about being able to group our printers like this is that no matter what it was we needed to print, all of the print-outs will be within inches of each other, so no wasted motion.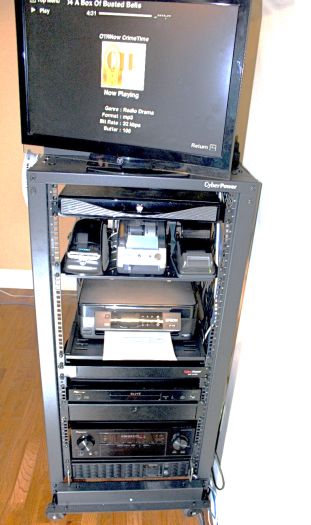 The ugliest thing about this rack is also one of the neatest things: just about all of those lengths of cabling and wiring that used to be draped across the office like streamers at a convention are now contained within the frame of the rack.
From the front, as you see here, it all looks pretty civilized.
Open-frame racks, like the CyberPower Carbon 25U rack you see here, are not as expensive as you may think; we see this one online for as little as $257. Given the value of everything now in it, and the savings in not needing to expand the office space, it feels like a really good value.
And look all around it in the photos.
I can't believe it's not clutter.
---
---
The post I Can't Believe It's Not Clutter appeared first on Home Business Magazine.
Click Here For Original Source Of The Article