Home Business Magazine Online
Do you love to repair cars at an auto repair shop? Are you enthusiastic about the automotive industry? If the answers to these questions are both yes, it is possible to consider setting up your own auto repair shop. Auto repair businesses, if done properly, hold a lot of potential. The auto repair industry as a whole has seen a surge in growth over the past decade.
However, the real question is, what does it take to run an auto repair shop? Today, we discuss some top tips and strategies that you can use to run a successful auto repair business. This ultimate guide is the perfect tool for everyone looking to learn how to run an auto repair shop.
Steps to Run a Successful Auto Repair Shop
For a step-by-step guide for running a successful auto repair business, it helps to look at the characteristics of successful auto repair shops. There are many things that successful auto repair shops have in common. From the industry best practices to the capabilities required to effectively run a repair shop, there is much to learn from auto repair shop owners who are successful. Let us dive into how you can start setting up your own auto repair shop.
Make a Solid Business Plan
The starting points for shop owners should always be to make solid business plans for their auto repair businesses. It is not a good idea to take shots in the dark when it comes to launching an auto repair business.
The auto repair business is a competitive one. Hence, small business owners need to draft strategies. There are a few things for you to consider. What kind of auto repairs will you offer? How can you reach your potential customers? Do you have a competitive advantage that allows you to compete with other local businesses?
As the shop owner conducting research for the business plan, also:
Research the industry and look at top-performing repair shops in your area and on a national level.
Conduct feasibility studies and project your financials.
Research the highly demanded services in the auto repair industry, for example, routine maintenance.
Calculate the total cost incurred in setting up your business.
Making a solid business plan provides you a lot of support as a business owner. Once you know who your target customer is and you made a business plan for your new business, then head to the next steps of setting up a successful auto repair shop.
Get the Necessary Legal Documentation
Once drafting the business plan for your auto shop, it is time to bring the business on paper.
First, get your business license. This is also the time where you decide on the legal structure of your business. It is best to research the different legal structures that you can opt for, including a sole proprietorship, partnership, or an LLC (limited liability company). At this point, it is also a good idea to decide which insurance to purchase for your auto repair shop.
Getting all of the necessary and required documentation helps you maintain a justifiable presence.
Select a Qualified and Trained Team
To become an industry leader and get repeat business, it is extremely important that your business or shop offer the very best quality of services to customers. In the beginning, it can be challenging to find quality auto mechanics or service advisors for your business. However, make sure you spend time picking a qualified team.
Also invest in training and certifications for your team so they are capable of providing quality services to customers. The more well trained your employees are, the more productive they are going to be. Certifications help them stay productive.
Invest in Technology
Out of the few helpful tips for your business, investing in technology is one to pay serious attention to. Acquiring new customers at a rapid pace requires that your business operates efficiently.
In addition, for efficiency, you need to invest in technology. Top auto repair software, for example, is a potentially great thing for your business. Instead of working hard, you are able to work smart and stay ahead of the competition.
Automotive repair software, for example, automates your auto repair tasks, ranging from invoicing your customers to tracking your inventory levels. The amount of time you save helps you in focusing on improving the overall process of your company and saving money.
You can also now integrate different software together or integrate the software with your website to further streamline your work. This increases focus on important tasks by creating efficient processes.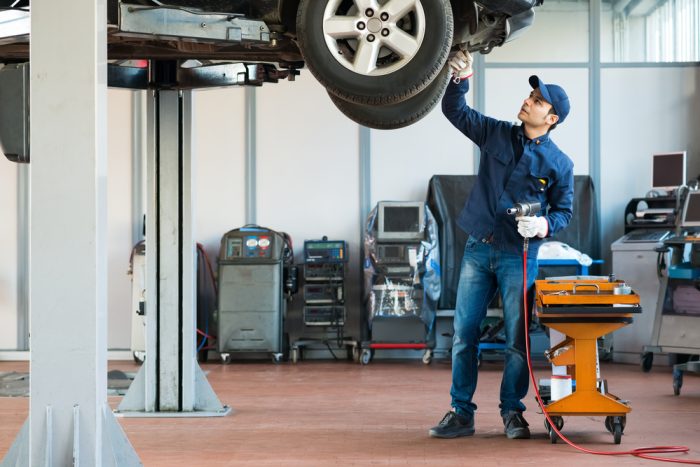 Set Clear Goals for Your Shop
Running a thriving auto repair shop requires a lot of hard work. However, to stay ahead of the competition, it really helps to set clear goals for your shop.
Having weekly and monthly targets and goals also help you in motivating your employees. In addition, you can make your employees active parts of the goal-setting process.
For example, gather insights from mechanics and other team members in what targets they think are challenging yet achievable. This sets clear directions for the mechanics and employees at your auto repair shop. For example, add repeat business as a target goal for each of your employees.
Have Excellent Internal and External Communication
Any business requires excellent internal and external communication. This helps your team and customers stay in touch with your auto repair shop's highlights. A successful auto repair shop always focuses on improving internal and external communications. Have a strong and effective communication and customer service strategy in place that is transparent and aligned with your core values.
Auto repair tools are helpful in strengthening the dialogue and understanding of both areas. Moreover, Team Chats allow your employees to communicate among the different departments and locations in your facility without wasting time and compromising productivity. In addition, digital vehicle inspections let auto repair shops better explain the health of the vehicles to customers so they can make well-informed decisions.
Prioritize Your Customers
Customers are busy. Ensure your auto repair experience is easier and more convenient for them. Otherwise, they will look for alternative auto repair shops.
People do not need to make it hard to schedule their next appointments. They just need places to book and pay for services. This is why the shops that make it quick and easy for their customers will keep the customers coming back.
One way to do this is by taking your business online. Create a website for customers to log onto and book their appointments.
Customer service is very important to any business. Customers want to know that if they have any issues, there is someone there to help them. They also want the opportunities to touch base with a representative of the business — either via phone or email. These two points are especially important to the customer when it comes to an auto repair shop. From the point of vehicle drop-off to a customer's next appointment, the entire procedure should be seamless.
Draft a Good Marketing Strategy
In order to get a wider customer base, it is very important t have an effective and comprehensive marketing strategy. The automotive repair space has low barriers to entry for new players. This makes it highly competitive and leads to more players in this field, no matter where you choose to start your business. It also means that having a good marketing plan that helps you stand is vital to your success.
Essentially, you need to find innovative ways to attract new customers and get them to buy your products. Creating a compelling profile for your mobile auto mechanic business is the first step. You need to have a great business profile.
Here are a few channels you can target to market your business:
Set up an online presence for your auto shop, and feature your repairs on the website.
Add customer reviews and success stories of your services. The success stories serve as social proof of your services. Even if it is on oil change for cars, make sure you get a customer review on your website or other review sites.
Use online marketing tools like search engine optimization and search engine marketing to gain traction on your auto shop's websites.
Use traditional marketing media like flyers and distribute them in areas of your target customers.
Ensure your email marketing remains to date — a popular choice to reach target customers.
Wrapping It Up
It is not easy to run an auto repair business and achieve success. However, our step-by-step guide is effective in helping you own a thriving auto repair business.
The post How to Successfully Run an Auto Repair Shop appeared first on Home Business Magazine.
Click Here For Original Source Of The Article