First, let's clarify — why do you need to download a photo from Instagram?
The goal is important, as for different goals you need different methods of saving from social media.
For a private goal, the screenshot method is enough. And for a professional goal, the downloader tool and downloader bot suit well.
Why do professional content creators need to have downloading methods on hand?
There are plenty of questions relating on this topic:
How to create an Instagram page that will always be full of useful and brilliant content which can become viral and get your profile on the top of the user's feed? How to always keep your followers on trend and make them keep their eyes on your feed and keep them liking your posts?
Where to find inspiration for an everyday content plan? Where to find the inspiration to make two or even three posts a day? How do you keep your content diverse? And what lifehacks do digital marketers use nowadays to create an Instagram profile that brings money?
The answers is: mastering the art of content curation.
What do you need for mastering Instagram content curation?
You need answers for these two questions.
WHERE to get the newest and most viral content? And HOW to get it on your device for the future reuse?
In this article, you will get three amazing techniques of getting a content in original quality from Instagram. And a lifehack to feel inspired to create a great feed for your social account. To always find the freshest and most viral content from Instagram profiles.
Lifehack: how to find the most viral content to download for a future reuse in your profile
Firstly, let's begin with the technique of the professional marketeers of picking up content to use in 2021. Where do professional Instagram curators get viral and engaging feed content?
If you are going to fill up your Instagram profiles with viral content, you need to get it from popular profiles with a great engagement. Analyze any profile you want to find the most commented posts.
So all you need to do is create a list of all the accounts whose feeds suit the theme of your account. These popular profiles are full of posts which are interesting for you and your followers.
Look through the latest posts of this account and choose the most commented and most liked content. Now you need to download this content in the highest quality.
3 methods of saving content on Instagram
After you've found out where to get content, you need to save it on your device properly. You need to download from Instagram without a loss in quality. And here is how to do it.
#1 High quality screenshot method
If you've tried to work with a screenshot content, you already know how difficult it is.
The quality of the screen video or screenshot is too bad for being reused in the profile. It is messy and pixelated.
It is so because of the quality of the device display used for taking screen video.
Normal screen resolution for a smartphone is never more than one 1080 pixels. Plus the original video is adopting a social media resolution and your internet connection quality influence it very much.
For instance, the iPhone 8s Plus has a 1920 x 1080 pixel resolution. So, do you think it would produce a 1242 x 2208 pixel screenshots. But you would never get such a high quality screenshot from it for many reasons. Moreover, the transferring process from the phone to the computer, or from the camera roll to the editing app will cause the quality loss.
The ultimate way to save high quality screenshots is to use AirDrop. How to use it?
To forward any screenshot in the highest quality from an iPhone with the original screen resolution, just follow the below steps:
Take the screenshot.
Save the screenshot to files.
Share it using AirDrop.
This is the only way to forward a screenshot for next edits without any quality loss.
#2 Bot method
Another method to save photos from Instagram is to use a Telegram app bot.
Firstly, you need to get the Telegram messenger app from App Store or Google Play.
Then you should activate a bot. It is called Instasaver.
Or you could search for this bot in the Telegram app. Type in the search line on the top of all chats @Instasave_bot.
The instruction to download from Instagram with a Telegram bot:
#1 Get on the bot's chat screen.
#2 Next, tap on the Start button. Now you should choose your language.
#3 Choose a post on Instagram you'd like to save the content from.
#4 Copy the link to the post. It will be under the three dots in the right upper corner of the post's interface.
#5 Paste the link into the message to the bot chat. Send it.
You'll get a message with a photo in it a few moments later. Tap on the photo and save it on your device.
Now you can easily download Instagram's posts and stories via the Telegram app.
If you've pasted a link to a carousel post with more than one image/video under a single link, the bot will send you back all those files. Just tap on the desired image/video and tap Save to gallery.
#3 Downloader method for saving from Instagram
The last method is the simplest among others and the most quality-saving. Just download Instagram photos with an online tool. The tool is free and accessible from any device and any browser.
No matter what kind of content you want to download from Instagram with this tool — photo, video, carousel post, Story — just follow the same instruction on a Bigbangram downloader:
1. Copy the link to the content in Instagram (copy link button under three dots in the right upper corner).
2. Paste it into the box in the Downloader tool.
3. Click the download button.
4. Choose a folder to save the content to.
That's it. The content you've chosen will be saved in the highest quality on your device memory.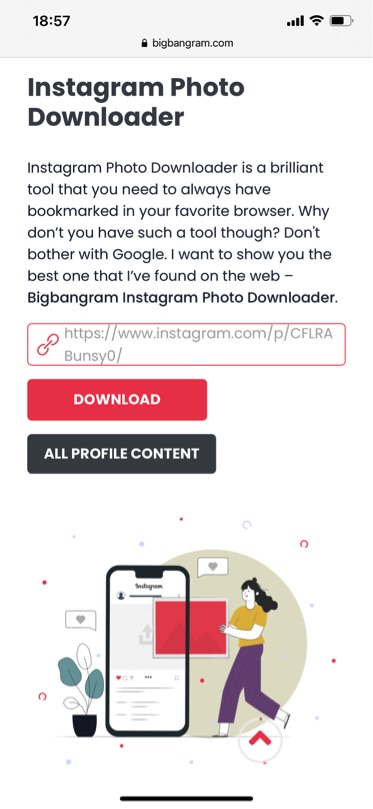 The post How to Save Photos from Instagram: 3 Methods for 2021 appeared first on Home Business Magazine.
Click Here For Original Source Of The Article