Creating a video can get complicated. The numerous small details you need to pay great attention to can cumulatively become quite involving and time-consuming. You have to come up with a great script, use the right tools (some of which are complex to use), and decide how best to edit your project.
The first step in a successful video production process is the creation of a storyboard. It makes your video look exactly like you would want it to. As you edit your video, referring to your storyboard helps you see what elements or pieces need to go together, and how to cut your clips. But what exactly is a storyboard?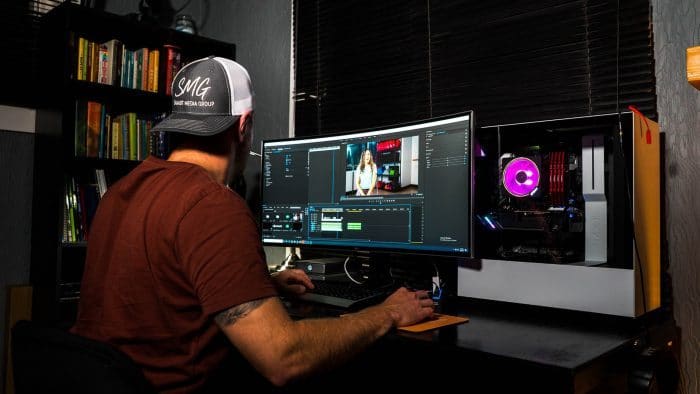 What Is a Storyboard?
A storyboard is a graphic organizer that illustrates or displays images in a certain sequence, clearly outlining how a video will be visually represented. The images can be elaborate creations or rough sketches.
Storyboarding can be done using storyboarding software programs or by drawing using a pen. Using software programs is a better option for people who aren't talented illustrators. It's up to you to decide which is a better option for creating a storyboard.
Creating a storyboard will allow you to plan for your video more effectively. This makes storyboarding a vital skill if you make marketing videos often. By the time you finish reading this article, you will have a clear idea of how to storyboard your next corporate or marketing video.
Creating a Storyboard
Step #1: Define the Purpose of Your Video
Before you start making any graphic illustrations, think about what you would like to achieve by producing your video. Are you marketing a product or service? Or are you creating a training video for students? You need to clearly define the goal of your video project and work towards creating a storyboard that will help you achieve it.
Step #2: Come Up with Many Possible Ideas
Look at the purpose of your video as a point of destination — there could be more than one way of getting to it. Brainstorm and come up with as many ideas as possible, even the ones you think may not work perfectly.
The good thing about coming up with many ideas is that you can always try different combinations of those options to create an outstanding video. If there is a whole team working on this project, get the other team members to give their suggestions as well. You may be surprised by the wealth of ideas they've got.
Step #3: Come Up with a Script
It is now time to write a script for your video. Who are the characters in your video? What about the props? What is the setting or backdrop of your video? When should the props or characters appear on the screen? What sequence will the scenes follow? If you are able to answer these questions, you are on your way to creating an amazing script for your video. Having a mastery of all these key aspects will make it easier for you to create your storyboard. If you would like to learn how to write an exceptional script, check out this article on the aspects of a professionally written script by Vek Labs.
Step #4: Create a Timeline
Once your script is ready, come up with the timeline. At what point does your story begin? What marks the end of your story? Do not forget the middle which is the 'fleshy' part of your video. This step is important because without it, your video will not have a good flow. It may fail to make sense to viewers, which is a huge disaster.
A good timeline also makes sure viewers are engaged throughout the video. Make sure they are emotionally hooked. If your timeline does not make sense or seems to have some missing details, refer to your scripting ideas and figure out how best to use them to make the timeline complete.
Step #5: It's Time to Draw
Now that you are done with the preliminaries that set the pace for your storyboarding project, it's time to actualize your vision. You can do this by either using a storyboarding template or drawing a series of boxes on a piece of paper. You can get free storyboard templates on Boords.
As you draw, work on one frame at a time and allow extra space for making notes. This way, you will avoid leaving out important information. If you find yourself having to add or change some aspects as you progress, do not worry — some ideas will pop in when you're just about done with your project. Make sure you have extra paper for such instances. Make sure you have a good eraser handy as well!
As you will come to realize, drawing by hand is practically easier and quicker than using software. You can still get the most out of it even if you are not good at drawing. Stick images will work just as well.
Step #6: Add Texts to Your Illustrations
The script you wrote earlier will come in handy at this point. Extract relevant parts of your script and write them alongside each image respectively. Add any relevant information that explains further what is happening at each point. The extra information may come in handy by aiding the video production process.
Step #7: Allow Critiques
Get feedback from the other members of your team with whom you're working on the project. Tell them your progress at every point of your journey, each time allowing them to give their thoughts on what you may have done right or possible mistakes.
Getting feedback allows you to correct mistakes early and to get additional creative ideas for your project. At the end of it, the results obtained will be a bigger and better version of your original ideas.
Step #8: Revise
This is perhaps one of the most important steps in storyboarding. At this stage, you can catch any mistakes that may have been overlooked during the entire process. Use this opportunity to polish your storyboard. If possible, work alongside the other people who are involved in this project. They may be able to catch mistakes that escaped your scrutiny.
What Next?
What are you waiting for? It's time to start crafting your storyboard. From planning your storyboard to finding different computer programs used to make your storyboard to the actual finalization of the product. You have all the knowledge needed to craft an exceptional storyboard.
Pro tip: don't get stuck trying to make it perfect. Remember a storyboard is not the final product. It is just a tool used to prepare the final product. An average storyboard can help create a great video, and that's a win.
Be creative and stay focused on your goal. If you are good at drawing, explore your talent. If you aren't, do not sweat it. Represent your props using rectangles, label them appropriately and come up with an awe-inspiring video.
We hope you enjoyed this article and it helped you in your video production journey!
The post How to Create a Storyboard for Your Video appeared first on Home Business Magazine.
Click Here For Original Source Of The Article