Home Business Magazine Online
Health facilities face the challenge of catering to an ever so growing population's health and wellness needs. The demand for medical personnel to augment the current lineup of available healthcare workers continues to rise. Nurses, physicians, and the like are in demand — yet another essential worker that is in high demand by hospitals are physician assistants.
As licensed medical professionals, physician assistants (PA) work closely with physicians. This enhances healthcare access to many communities and populations across the globe. PAs help primary care doctors to provide patients with the best possible care by diagnosing and treating diseases, medical conditions, and injuries.
Although PAs' tasks are like those performed by primary care physicians, the main difference is that doctors work independently while physician assistants must always deliver medical care under the supervision of a doctor. Nonetheless, both are significant cogs in the machine that work interdependently, ensuring the efficiency of the entire medical care industry.
Are you looking into ushering a career in the healthcare industry as a PA? If you want to become a physician assistant, here are the six steps you need to take:
Step 1: Get an Undergraduate Degree
A physician assistant's career starts with completing an undergraduate degree. Although no specific requirements for undergraduates exist, you stand a better chance of becoming a full-fledged PA if you major in health science, biology, or any pre-medicine bachelors.
An undergraduate degree in health science sees you complete units such as research methods, mathematics, medical ethics, physiology, human biology, and anatomy. You could choose to major in genetics, sports science, or nursing.
Step 2: Get Relevant Experience
The next step you need to undertake to become a physician assistant is to gain meaningful experience. Healthcare experience is a prerequisite for graduating from a Physician Assistance program. In most colleges, you must complete at least 2,000 hours of healthcare experience.
A great way to get the experience necessary to become a physician assistant is to pursue a degree in a healthcare subject like paramedic science or nursing. Taking such a degree allows you to get volunteer or job opportunities that offer relevant experience without certification — get the full details here.
Step 3: Sign Up for a Physician Assistant Master's Program
After getting your bachelor's degree in a relevant healthcare degree, you need to sign up for an accredited Master's program in a Physician Assistant Program. You find an accredited program by contacting education associations that accredit such educational offerings.
Step 4: Get Certified as a Physician Assistant
You need to excel in the physician assistant certification exam to work as a Physician Assistant. Often, this exam is taken upon completion of the PA Master's Program. The hours-long exam tests surgical and medical knowledge through multi-choice questions.
If you are not successful on the first attempt, don't give up. You are allowed to retake the exam six times over six years. If you do not pass the exam on all six attempts, you must enroll in the PA Master's Program again. PA certifications last for six years and renew only after passing the certification exam.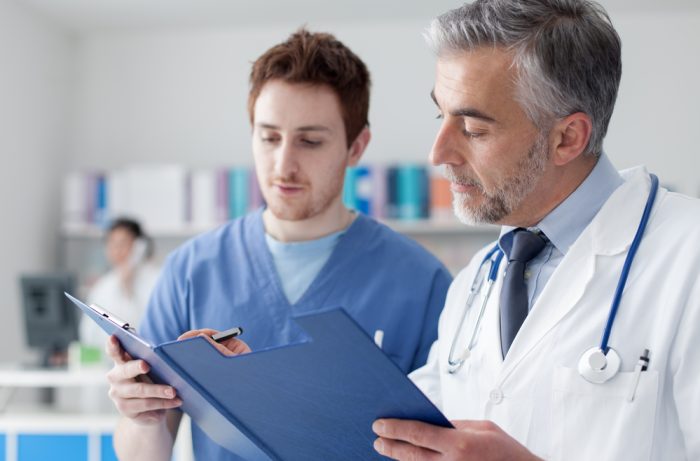 Step 5: Get a Practicing License
To work as a government-recognized physician assistant, you must have a practicing license. Since licensing requirements vary from state to state, check with your state to know what certification requirements are necessary to meet. In most jurisdictions, you are to have an active certification and completed the set number of medical education hours.
Step 6: Apply for Physician Assistant Jobs
Once you get a practicing certificate, the next step is to apply for different physician assistant jobs available. Per data available, being a PA awards you a six-digit annual pay. Before applying, it's recommended to write a cover letter and resume. Boost your chances of getting selected for interviews by:
Aligning your resume with the expectations of each employer; and
Preparing an individual application for each job listing.
Ensure that your resume highlights your clinical experience, exam results, achievements, awards, and grants. Your focus is to showcase the abilities and the achievements you bring to the table as a highly capable and no-nonsense PA job candidate.
What Does a Physician Assistant Job Entail?
Physician assistants perform many tasks under the supervision of physicians. These include conducting comprehensive physical examinations on patients and preparing appropriate healthcare plans.
Within their job scope, PAs order and interpret diagnostic tests like urine and blood tests or imaging tests, prescribe drugs or therapy plans, and counsel patients on managing diagnosed conditions and disease prevention.
Documenting patient information, performing minor surgical procedures, and assisting surgeons with complex procedures are also among the repertoire of medical duties they perform.
Final Thoughts
A physician assistant job allows you to collaborate with a physician. This enables you to provide medical care to patients in varying settings, including private clinics, military service, and surgical centers. Becoming a licensed physician assistant involves completing education programs, getting certification, and a practicing state license. If you still have interest in launching a career in the allied health sector as a PA, keep the tips featured above in mind.
The post How to Become a Physician Assistant appeared first on Home Business Magazine.
Click Here For Original Source Of The Article