Selling a house fast and successfully can be an overwhelming prospect, especially if you're inexperienced in real estate sales. It can take weeks of back-and-forth phone calls, email exchanges, and visits with prospective buyers before you finally close the deal on a home.
You need to be aware of the process if you're planning to sell your property without the help of a real estate agent. And, if you're like many homeowners out there, you may want to sell a house fast. Many factors can affect the selling process, including location, price, and competition, among others. Read on to know how to sell your house quickly by yourself.
Factors That Affect House Sale
There's no concrete timeline when a property can be sold. As mentioned, the sale depends on several factors, which include:
When thinking about how long it takes to sell a house, one thing to consider is how competitive the local housing market is. No matter what your local housing market is currently doing, there's no guarantee that a buyer will come knocking at your door.
In real estate, the location of your property matters a lot. For cash home buyers and those who are looking for a home at a place near facilities as soon as possible, you can expect to sell your home rather quickly than a property far from the city center. However, if your property is near the busy highway or far from access to transportation or other amenities, you can expect your listing to be open for quite some time.
Overpricing the property will turn off many potential buyers. This will also make your property stay on the market for too long. You should post competitive but reasonable prices to attract buyers in the first month after you list it. When the property stays longer than four weeks on the market, you can expect the price to go down significantly.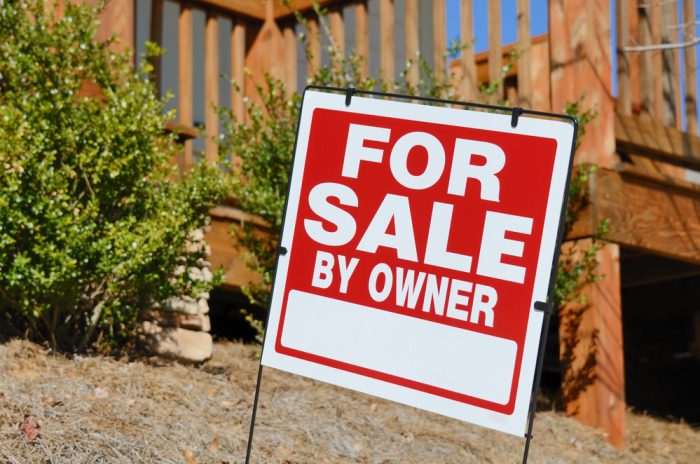 Tips on How to Successfully Sell a Property That Is 'For Sale by Owner'

Here are some tips that can help you to become successful with your sale:
1. Stage Your Home Properly
Once you put up the 'for sale' sign on your property, you need to prepare listings and open houses. Before you take pictures of the home, you need to stage it properly. Ensure you clear out the clutter in all of the spaces and make them look as pleasing as possible. You can also hire a professional photographer to take the shots to make sure the property looks its best in the listing.
You should maintain the good look of your home during open houses. You can rent furniture to make spaces look appealing, and buyers will be impressed with the place's overall design. You can also create videos of the property to give the buyers more ideas on what the property looks like when looking at the online listing.
2. List Your Property on as Many Sites as Possible
There are sites where you can post free ads on social media sites and other online marketplaces, like Facebook and Craigslist. However, these listings' visibility can be challenging, and you might not reach the right people. You can invest in signing up for multiple listing services, and they can post your listing to different real estate websites across the country. Although this service comes with a price, you'll be able to expand your potential customer base.
3. Always Respond to Inquiries and Negotiations
Once the listing has been made, you can expect to receive multiple inquiries and offers. Make sure you respond to people quickly so you won't lose them. You should also be open to hosting special viewing to buyers who you think have a higher chance of purchasing the property. You should also be open to negotiations, especially when your home has already been listed for more than 30 days on the market.
Final Thoughts
If you want to maximize your property's profits, posting a 'for sale' sign on your home is one of your best options. Real estate agents or brokers take as much as six percent of the sale price, which could cost a lot. However, selling a property on your own can be challenging, so you need to become dedicated to working on many things to ensure the sale.
With the different factors affecting a house sale, you need to understand that there's no concrete timeline for selling a house all by yourself. Considering these different factors, you can follow the tips above to help sell your property quickly.
The post How Long Does It Take to Sell Your House by Owner? appeared first on Home Business Magazine.
Click Here For Original Source Of The Article