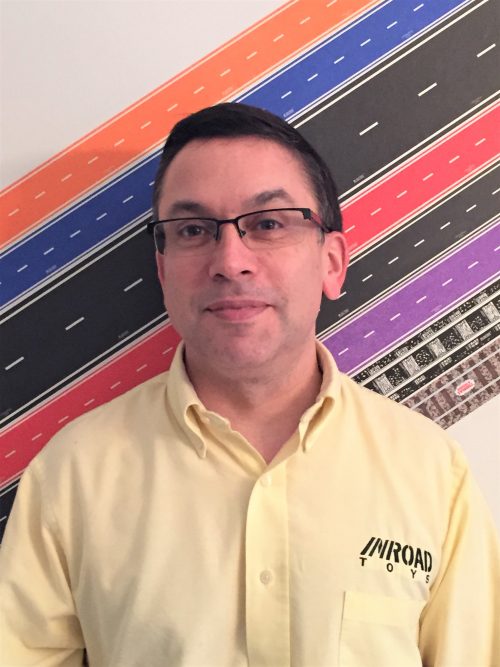 As a dad of three boys, Andy Musliner was always surrounded with toy cars and trucks, but where to drive them was a big question. "As a father, I naturally wanted to play with my sons, but I realized that for all the toy cars, there were no toy roads," Musliner says. This prompted him to found InRoad Toys, and set him on a 12-year journey to develop PlayTape, the perfect way to create instant roads for toy vehicle play anytime, anywhere.
PlayTape sticks to any flat surface, and is easy to tear and reposition. After hours or even days of fun, it peels up without any residue and is recyclable, so cleanup is a snap. Families who are traveling for the Holidays find PlayTape is the perfect travel toy and stocking stuffer. Small enough to easily slip in a pocket or purse, PlayTape makes for hours of fun anywhere – in the car, airport, hotel, or homes of friends and family.
PlayTape is open-ended play at its best. So much more than a roll of tape, PlayTape is a whole new world of play just waiting to be unrolled.  With PlayTape, kids can create roads across the room or up the wall, racing drag strips down the hall, towns, cities and more – anything they can imagine for their favorite cars and trucks. PlayTape makes toy car play twice as much fun – because it's fun to build with and fun to drive on. PlayTape is also 100% Made in the USA.
Since peeling out into the market in 2014, PlayTape has garnered a lot of attention. It is in the top 1% of toys on Amazon, is sold in over 12,000 stores across the U.S. and Canada, and is distributed around the world. PlayTape has won over 30 industry awards including Parents Magazine Best Toys of 2014 and, most notably, was named a 2016 Toy of the Year (TOTY) Finalist by the Toy Industry Association. The TOTY awards are the "Oscars" of the toy industry, a tremendous honor for such a young company. More recently, InRoad Toys was named the 2017 Maryland Home-Based Business of the Year by the U.S. Small Business Administration.
Amazingly, this entire global enterprise is run out of Musliner's home in Crofton, MD! Musliner says, "Our company is 100% virtual, with global operations." Musliner manages InRoad Toys out of his home office and the company has six employees scattered across the country, all of whom work out of their homes. These executives are supported by outsourced partners all over the world in disciplines including product development, manufacturing, marketing, and sales. Although the company has no facilities or physical infrastructure, it ships out thousands of rolls of PlayTape every week, on time, every time.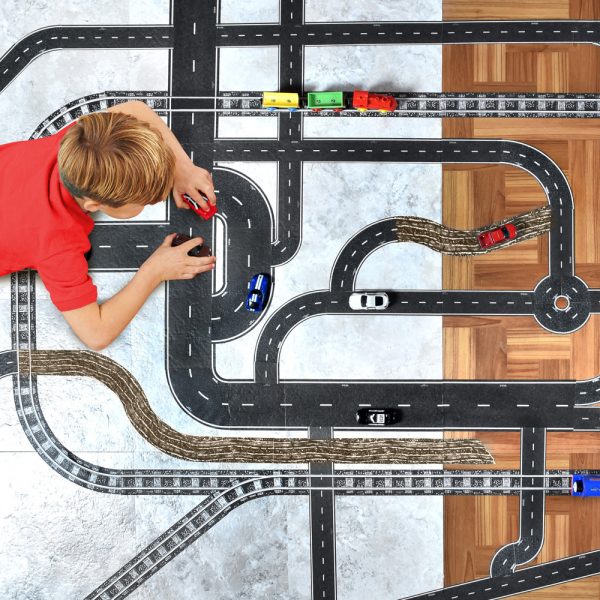 Despite the accolades, the road (no pun intended) hasn't been easy. Musliner set off on a difficult path when he founded InRoad Toys.  Most toys are manufactured overseas, but Musliner was determined to manufacture PlayTape in the U.S., creating American products and American jobs. After years of effort, overcoming seemingly insurmountable challenges sourcing raw materials, integrating processes, testing for safety, and helping his manufacturers scale their operations, Musliner succeeded in growing his U.S. based manufacturing capability, ensuring that every package of PlayTape adheres to the highest quality standards, and proudly carries a Made in the USA seal.
In January 2017, InRoad Toys took another dramatic leap forward when PlayTape got picked up by Walmart, the largest retailer in the world. Walmart discovered PlayTape through its first "Made in the USA" Open Call event, part of the company's $250 billion commitment to source unique, new American-made products that support American jobs. Now, thanks to Walmart and its customers, InRoad Toys and PlayTape are opening a whole new world of creative play for kids everywhere, while proudly supporting nearly 100 manufacturing jobs in 15 states.
Another goal Musliner and the team at InRoad Toys had was to directly impact the health and well-being of kids dealing with the anxiety and stress brought on by illness or crisis. InRoad Toys has made major contributions to help kids and their families in its local community, around the country, and around the world. The company has donated nearly $1 million worth of PlayTape and many hours of volunteer work to schools and museums including the Zimmer Children's Museum in Los Angeles, Inova Loudoun Hospital in Leesburg Virginia, and organizations like Fisher House, the Ronald McDonald House, the African American Association of Georgia, the Native American Heritage Association, Toys for Tots, and the Goodness Outreach Project of Fort Worth, Texas.
With such amazing success, many wonder what advice Musliner could offer to others launching an ambitious home-based business. He shares, "To build a successful virtual business, you need an extraordinary team that embodies professionalism, trust, responsibility, and commitment." He adds, "Leave no room for politics or drama; just focus on communication, execution, and results."
PlayTape retails starting at $3.97 at Walmart. Or get the full PlayTape product line, including Hot Wheels PlayTape and PlayTape Curves, at www.PlayTape.com/store.
The post How Andy Musliner of InRoad Toys Paved the Highway for Toy Vehicles with PlayTape appeared first on Home Business Magazine.
Click Here For Original Source Of The Article