Home service business owners know that without advertising—and effective advertising at that—business will quickly go kaput. But how do these businesses spend their advertising dollars? Are they doing so effectively? And what can they be doing to optimize those precious funds to maximize the amount of customers obtained and money made?
Workiz collected data from over 2,700 home service businesses, across over 35 industries (including locksmith, junk removal, garage door repair, appliance repair, carpet cleaning, and others) to get to the bottom of the advertising question.
While advertising is nothing new for the home service industry, it seems that 2020 put this business imperative into overdrive, especially for an industry that has seen unprecedented demand in light of the onset of the global pandemic. The appliance repair, junk removal, and locksmith industries are continuing to witness promising increases in demand, while HVAC, carpet cleaning, and other industries are positioned to explore new avenues, especially in the residential space, in light of CDC guidelines recommending greater attention to home hygiene and disinfection.
Let's take a look at how home service businesses have been advertising over the last year, if it's delivering results, and how it can work for you and your business.
1. Most Popular Ad Platforms
Perhaps the best-known digital advertising platform, it comes as no surprise that Google also proves to be the most popular amongst home service professionals. 36% of businesses surveyed reported using Google Ads as a source for jobs in 2020, up from 29% in 2019. While Facebook is also popular amongst small businesses for its micro-targeting capabilities, usage by home service businesses amounted to 19%, lagging behind Google. Yelp and HomeAdvisor had nearly identical usage rates at 16% and 15%, respectively. Thumbtack, a services advertising platform that matches projects to service pros, trailed behind at just 6% reporting usage of the platform for advertising.

2. Up-and-coming Ad Sources
Now you know about the ad sources everyone is using, but what about the hidden gems that are about to have their moment? Workiz found that more and more home service businesses are turning to Facebook to find leads. In fact, usage of Facebook ads grew by about 68% between 2019-2020. Thumbtack also showed promising growth in usage, although the company carried out layoffs at the onset of COVID-19. The platform saw 52% more users in 2020 as compared to 2019. This is consistent with reported growth in home services projects commissioned through Thumbtack as a result of increased time spent at home due to pandemic stay-at-home orders. Another climber is Home Advisor, the local home services platform for homeowners, which grew 19% in usage by home service businesses, given increases in home ownership rates, despite pandemic-related economic woes. For businesses serving communities with high homeownership rates, sites like Thumbtack and Home Advisor may be a jackpot for new customers.

3. Ad Sources That Make the Most Money
While the platforms reviewed are popular amongst home service professionals, they don't always give you the most bang for your buck. It was found that some less-expected sources actually raked in the big bucks in 2020. Google Ads may be the most ubiquitous, but Bing Ads (powered by the lesser-known, but powerful rival search engine) brought in significantly higher-priced home service jobs, at an average of $737 in revenue per job. Google's average job revenue for 2020 paled in comparison at just $332! Bing Ads actually brought in 66% more on average in 2020 (as compared to 2019). Bing Ads may not sound as "sexy" as Google Ads, but because Bing is the search engine of choice for many users over age 35 who have more disposable income and are more likely to pay for a service they are looking for, Bing may pose a great opportunity to increase revenues. Specialty platforms dedicated to small business advertising (Angie's List, Home Advisor, and Yelp) also returned higher-paying jobs, perhaps due to the fact that most of these platforms also incorporate user reviews, and customers may feel more comfortable turning to peer-reviewed professionals for pricier, more complex jobs. For businesses with great organic reviews on these platforms, tacking on advertising may prove to be a winning choice.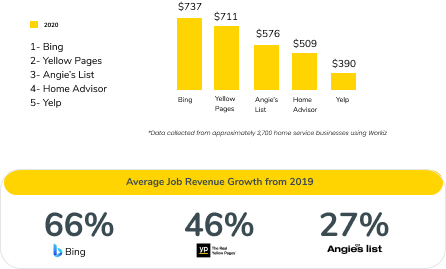 4. Ad Sources for Job Retention
While landing jobs is great, the flip side is high cancellation rates, which is why lead quality is essential. Data show that platforms like Groupon, Yelp, Facebook, Yellow Pages, and Thumbtack generated the lowest cancellation rates for home service jobs booked through these ad sources. Groupon is a high intent ad source, with leads turning to the platform intent to buy, and perhaps less likely to cancel. The disadvantage is that services on Groupon are often sold at discount and could actually hurt business revenue overall. Not only are services discounted, but Groupon also earns a fee per deal sold, so be wary of overusing Groupon for your service business advertising needs. Groupon, Yelp, Yellow Pages, and Thumbtack are marketplaces that leads use specifically to find local service providers, therefore buyers may be less inclined to cancel a service they were specifically seeking. Although Facebook is a lower intent platform—users aren't necessarily searching for a business, intending to make a purchase—there exist various tools and targeting options to advertise to hyper-specific and relevant audiences who are comfortable keeping appointments and may not be shopping around like search engine users. Consider using these ad sources if job cancellations are a big deal for your business.

Conclusion
Based on Workiz user data, it is observed that home service professionals tend to invest in big-name advertising platforms like Google which do, in fact, deliver results. However, less popular or more specialized platforms that attract higher-intent users may produce better quality leads that result in greater revenue gains for your business. Factors such as average job revenue and retention are important to consider when building your advertising strategy. Home services businesses should also consider diversifying ad spend to hedge against the possible downsides associated with any particular advertising platform. Most crucially, in light of changing regulations, service preferences, and demographics as a result of COVID-19, tracking your ad performance and remaining agile in advertising spend allocation is key to maintaining profitability.
About Workiz
Workiz is the premier field service management and communication software for small to medium, on-demand service businesses in the locksmith, junk removal, carpet cleaning, garage door repair, and appliance repair industries. With specialized and customizable features like scheduling, dispatching, client and job management, invoicing, payments, inventory management, online booking, and a patented in-app Service Phone System, Workiz is on a mission to make "work easy" and transform service professionals into business professionals. Workiz integrates with Quickbooks, Google, Zoom, MailChimp, and Gusto.
The post Home Service Business Digital Marketing: What's Working and How You Can Improve Your Advertising Strategy appeared first on Home Business Magazine.
Click Here For Original Source Of The Article