New Book Challenges Conventional Sales Paradigm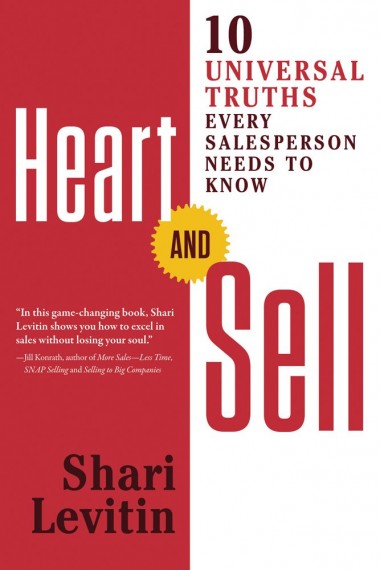 Today's buyers are overloaded and overwhelmed by too much information, suffering from decision fatigue. Across industries, customers are delaying purchasing decisions or even choosing to stick with the status quo so they can avoid the dreaded 'sales process.' And, when customers have an abundance of information, what does this mean for a sales professional? How can they provide value above information? How can they get to the 'heart' of a sale?
---
---
Author, professor, trainer and global sales guru, Shari Levitin, creator of the Third-Level Selling™ movement and Founder of Shari Levitin Group, offers a dynamic framework for effective selling in the Digital Age in her new book, Heart and Sell: 10 Universal Truths Every Salesperson Needs to Know. In a climate where a clients' emotional needs must equal their buying intentions, the right approach is key, and Heart and Sell shows you how to blend the new science of selling with the heart of human connection in order to reach more prospects and consistently close more deals. Heart and Sell offers salespeople, entrepreneurs, corporate leaders and anyone in a 'persuasion profession' a system of emotional selling that will revolutionize the sales process.
"Today's sales professional must combine heart and authenticity with sales skills and knowledge," says Levitin. "My ten universal truths mix what you need to do in a sales encounter with who you need to be as a person."
Unlike other sales books that focus on abstract tips or techniques, Heart and Sell offers a fresh, real-world approach that will help you dramatically increase your sales – regardless of your level or industry. Levitin, who pioneered the Third Level Selling™ movement, takes this concept to a whole new level and shows active readers the methods to create an emotional customer experience that inspires true urgency, a process to decrease objections, and techniques to manage your own emotional state to ensure sustained performance. The result is that you will establish a proven system that will shorten your sales cycle and rapidly increase your income.
Drawing upon decades of experience as a sought out sales leader, Levitin's Heart and Sell is the ultimate guidebook on selling with heart and authenticity, while drastically improving your bottom line. The Heart and Sell System will show you the real balance between building rapport (Heart) and rolling up your sleeves and asking for the deal (Sell). Heart and Sell also includes the following themes:
Discover the 7 Key Motivators that influence every decision your customer will make
Learn to align your sales process with how people buy – instead of fighting against it
Harness the power of the Linking Formula to create true urgency
Master the 10 Universal Truths so you can beat your sales quota without losing your soul
Understand the 6 Core Objections and how you can neutralize them
Listening is the core of trust and how to ask the right questions
"Shari is an amazing speaker and author. Heart and Sell is filled with wit, wisdom and humor. A MUST for anyone selling anything," says Patricia Fripp, Past President of the National Speakers Association, CSP, CPAE Sales Presentation Trainer, Keynote Speaker, and Executive Speech Coach.
An internationally known sales strategist, writer, speaker and entrepreneur, Shari Levitin is CEO of Shari Levitin Group, a global training and consulting firm with clients in over 48 countries, and one of Inc. Magazine's Fastest Growing Companies.
Companies including Hilton, Hyatt, Adobe, RCI, Jaguar, Wyndham Worldwide, financial service groups, and countless individuals have all benefited from Levitin's pioneering Third Level Selling™ techniques. Shari Levitin Group also includes Levitin Learning, a unique virtual university with more than 240 online courses. Levitin is also an adjunct professor at the University of Utah, David Eccles School of Business, teaching their first ever graduate sales course entitled Pitch Perfect.
Learn more at ShariLevitinGroup or connect through Facebook, LinkedIn and Twitter.
Heart and Sell is available for pre-order on Amazon and at ShariLevitinGroup. It will be available at other fine booksellers on February 20, 2017.
The post Heart and Sell: 10 Universal Truths Every Salesperson Needs to Know appeared first on Home Business Magazine.
Click Here For Original Source Of The Article