The Food Matters TV Story
Healthy, organic, plant-based living has become all the rage in recent years, thanks to celebrity voices such as Venus Williams and Mike Tyson publicly hailing this way of life. For many, though, life-changing wellness habits may seem confusing, unappetizing or simply unattainable. Food Matters TV founders James Colquhoun and Laurentine ten Bosch have set out to change that.
The duo have made it their mission to deliver healthy living tips, inspiration and recipes to people everywhere to illustrate just how powerful these lifestyle changes can be. With a convenient click, tap or swipe, subscribers can find themselves absorbing the latest health research, enjoying a yoga session, or being guided through a full-body cleanse among other options. Hailed as "the Netflix of health and wellness," FMTV makes healthy living fun and easy.
James and Laurentine didn't create FMTV out of thin air, however. It was only when they came face to face with James' father Roy's debilitating chronic illness that they began taking a closer look at what an average person could do to combat disease and live a happier, healthier life.
Food Matters
Diagnosed with chronic fatigue syndrome, depression and anxiety, James Colquhoun's dad Roy spent five years bedridden on six prescription medications and gained 50 pounds.
"Not one medical professional suggested he change his diet or eating habits or recommended different ways to handle stress," James recalls. "Their advice? Take the pills, and we'll see how it goes." As Roy's health deteriorated, James and Laurentine set out to find the answers, a journey they chronicled in their internationally acclaimed documentary film "Food Matters" (2008).
"We were freaking out as a family," says James. "What could we do? I started studying nutrition via correspondence and had this huge awakening, but we were really struggling to get through to Dad so we decided to make a documentary." James and Laurentine quit their jobs working on a luxury yacht and dove into the project. Making "Food Matters" changed not only their lives but also Roy's.
"We showed him the footage," James says, "and within three months, literally, he was off all his medications, lost 50 pounds and was back to normal. We had our dad back. We had our family back. And then we went and relayed the film to the world, and it just took the world by storm."
James and Laurentine followed up their initial documentary by launching the Food Matters® website, which has become a leading natural-health resource. The couple then made a second documentary called "Hungry For Change" (2012), revealing how the diet- and processed-food industries are the enemies of permanent weight loss, vibrant health and natural living.
Now studied experts in the world of health and wellness, launching Food Matters TV was a natural next step for these filmmakers. FMTV made its debut in 2016.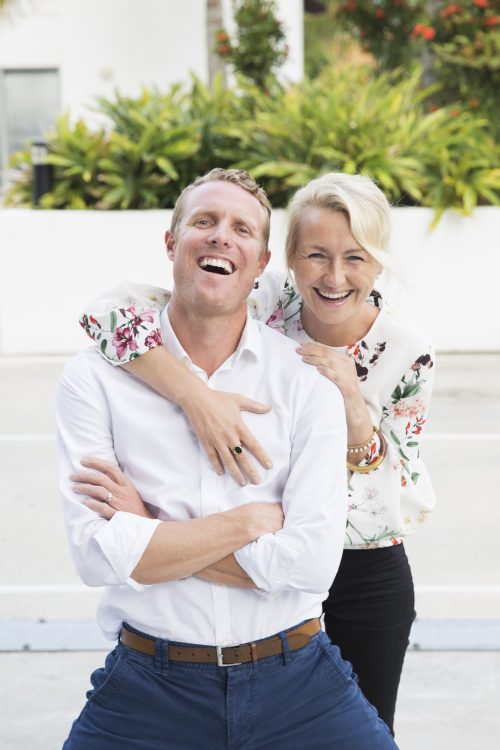 "FMTV is designed to seriously revolutionize the way people consume health care in the 21st century," Laurentine says. "We're allowing people to take their health in their own hands and to start finding answers and solutions from the comfort of their own homes."
FMTV is currently the only dedicated subscription streaming-video-on-demand channel in the health-and-wellness niche. Beyond offering inspirational films and videos, the platform also incorporates education, community, support and guided health programs. The curated content taps into hundreds of experts, from doctors to chefs to yoga teachers.
"We educate on the benefits of plant-based — or majority plant-based — diets as well as the benefits of eating local, organic, homegrown produce," says Laurentine. "Every person is different, so there is no one diet that fits all. However, every human will benefit from adding more whole foods and plants into their diet. Our content as a whole is curated on this principle. Once a person has discovered FMTV, our aim is to take them on a path to success and help facilitate their health goals."
"The healthcare industry is broken and going broke," James adds. "We believe that a true health revolution will happen not in the doctor's office, not in the hospitals, but in people's homes and kitchens — through access to quality information, through improving daily habits and rituals, through the foods people eat and the exercises they do, through how they sleep and relax. FMTV is all about giving people access to all the information they need to implement a three-step approach to health and wellness: education, diet/lifestyle and mind/body. This platform is the culmination of our years of research and documentation, and we are thrilled to have the chance to help others heal the way my father healed."
—
James Colquhoun and Laurentine ten Bosch both studied at the Global College of Natural Health in Santa Cruz, California. The duo has dedicated their lives to transforming people's health. They believe "your body is worthy of good care and no one is more suitably qualified to care for it than yourself," says James. Laurentine is from Holland and James was raised in Australia where the couple currently lives and operates Food Matters TV headquarters. For more information, visit www.FMTV.com.
The post From Healing Dad to Healing the World appeared first on Home Business Magazine.
Click Here For Original Source Of The Article