Contrary to popular belief, getting an affordable equipment financing plan and on the right track to equipment ownership doesn't have to be an impossible feat. With some research, guidance, and a little bit of business soul-searching, you can figure out exactly what kind of financing your business needs and how to get it. To help you get started on that journey, follow these four simple steps.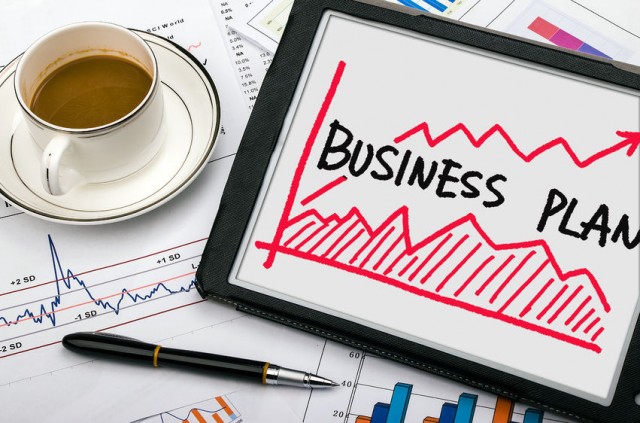 1. Analyze your budget and business plan
The first step in getting the best financing plan is to figure out exactly what your business needs out of its financed equipment. To do this, you'll need to analyze your budget and business plan, but don't let the process overwhelm you. There are several key things to focus on within your business plan and budget that will help you figure out what will work best for your home business.
When looking at your business plan, pay special attention to the goals and timeframe you've outlined. They'll not only dictate what equipment you need, but also what kind of plan is ideal.
For example, if you run a small custom embroidery business out of your home and are trying to decide what size machine to buy, look to the future. If within the next year or so you plan on doubling the number of customers you serve or want to expand your offerings, it's probably smart to go with a multi-head machine right away rather than purchasing a smaller one that'll need to be upgraded before the length of the lease is up.
Another thing to consider is where you are in your business plan. A start-up will need different financing options from a more established, home-based business.
As for budget, you need to consider more than how much cash you have in your savings account. Since financing helps you afford more, there are three main things to consider when looking at your budget:
Monthly payment—what makes financing great is its ability to break down the cost of equipment into manageable monthly payments. Take a look at your monthly cash flow, and estimate what kind of profit new equipment could bring in when deciding what you can afford each month.
Lease length—a longer financing plan typically means more interest, but your monthly payments are lower. The opposite is true for a shorter lease. When deciding between the two, consider what is feasible each month. If you want to spread out the cost, go with a longer lease.
Interest rate—you'll want to look for the lowest interest rate possible, but plan for a higher one. Be prepared for interest to increase the overall cost of the equipment.
2. Know your options
Next, you'll need to know what financing options are out there and decide what kind of plan you hope to receive.
People are always surprised to find out there's more to a financing plan than interest rate and monthly payment. Before committing to a traditional lease, consider some flexible financing options that may give you a greater chance at success.
No money down—with no money down equipment financing plans, the entire cost of the equipment is broken down into monthly payments and oftentimes nothing is due at signing. It's perfect for businesses that are wary of losing all of their liquidity or that prefer to let the equipment bring in a bit of profit before paying.
Skip and step—a skip program lets the lessee "skip" certain months' payments. A step program allows you to start with a lower payment and "step-up" to a higher payment as the lease progresses (step-down plans are also possible, but less common). Skip programs appeal to seasonal business, like landscapers and snow removal businesses. Step programs work well for newer businesses or those with atypical cash flows.
Skip Payment Example
MONTH                          PAYMENT
Jan – Feb                       $0/month
March – Oct                     $675/month
Nov – Dec                     $0/month
Total Annual Payment          $5,400/year
Step-Up Payment Example
YR OF LOAN                  ANNUAL PAYMENT
1                                        $5,500
2                                        $7,500
3                                        $9,500
4                                         $11,500
Deferred—often referred to as buy now /pay later, deferred payment plans allow you to put off the initial payment, usually for up to six months. During that time, your equipment can generate revenue and basically pay for itself. It's ideal for companies that expect the equipment to bring in profit fairly quickly.
Bundling—if you know you'll need to finance more equipment in the near future, consider getting it at the same time and combining the leases. Not only will it make the payments easier to track, but it can also lower the overall costs.
3. Get your personal and professional finances in order
Now that you've picked your ideal type of financing plan, it's time to do everything you can to get it.
This step is often overlooked by small to mid-sized business owners. It's important to remember that while your business finances are separate, your personal issues can come into play when it's time to finance equipment. This is especially true for new businesses. If you have been in business less than two years, many lenders will use your personal finances to decide if you're a good investment. Before applying for equipment financing, try to get your credit score as high as possible and avoid making any late payments on bills.
Even if you've been in business over two years, some lenders may still take your personal finances into consideration, especially when it comes to home businesses. Once again, monitor your credit, make payments on time, and show positive cash flow. That's all lenders really want to see.
On the business side of things, gather your bank statements and get an equipment quote. Being prepared shows the lender you're serious about getting financing for your business. And as an added bonus, it'll move things along faster. You might even get approved in as-little-as 24-48 hours.
4. Work with a specialized lender
Finally, you need to apply with a company that is most-likely to get you your ideal financing plan.
It's common for business-owners to turn to banks when it comes time to finance equipment, but it isn't always the best or most practical choice. Specialized equipment financing companies have industry expertise and flexibility that most banks lack. Specialized lenders have several key benefits:
Flexibility—flexible financing options, like the ones discussed earlier, are easier to come by when working with equipment financing companies. Banks and general lenders tend to stick to a set financing model that doesn't work well with home businesses or specialized equipment. A lender catering to your industry will be more willing to adjust a plan to fit your business' unique needs.
Equipment knowledge—if you're buying equipment specific to your industry, it's important to work with someone that knows their stuff. With the proper knowledge, they will be more equipped to advise you on financing options.
Industry expertise—working with a lender who's familiar with your industry and has plenty of experience means you'll be able to get financed faster. You'll also benefit from their knowledge of what it takes for a business to succeed in your market.
That's it! It's just four easy steps to finding an equipment financing plan that will help your home-business grow and prosper.  Once you figure out what works best for your business and who will help you, you can put your new equipment to work and start profiting.
---
---
The post Four Steps for Finding the Best Equipment Financing Plan appeared first on Home Business Magazine.
Click Here For Original Source Of The Article