Home Business Magazine Online
For business owners, one of the crucial considerations when overseeing operations is to ensure all products are readily identifiable, i.e., inventory tracking. Metal tags and labels, in general, are the best options for labeling assets and products due to their durability and visibility.
Nowadays, businesses worldwide should make an effort to stand out in a highly saturated market, especially when it comes to speedy and accurate fulfillment of orders. To meet fulfillment needs, precise inventory is crucial. Using inventory tags paired with a warehouse management tool is a suitable solution. Once the inventory tags are scanned, the supply chain is immediately notified of any changes in the inventory.
What Is an Inventory Tag or Label?
An inventory tag can be a barcode label, metal tag, or plate attached to an asset such as a product or package for tracking purposes. The tags provide for automated counting when connected to a system of scanners and a warehouse management system. Investing in tags may be the ideal option due to their ability to be customized to meet your organization's needs and ensure adequate inventory control.
A basic tag may contain variable information such as the inventory number, barcode, and company name. In some cases, the label includes additional identifiers, such as the product name. The standardization of tags is highly advised as it ensures uniformity and efficient monitoring, shipping, and stocking.
How Can Metal Tags and Labels Improve Inventory Tracking? 
Contrary to popular belief that inventory only applies to e-commerce operations, manufacturing, or commercial establishments, it actually has a broad scope. Remember that inventory is included in moveable and fixed assets, which means that any materials procured, managed, or stored are considered inventory. Some sectors that hold, ship, and maintain inventory regularly include education, healthcare, utility companies, government, telecom, oil, and gas, to name a few.
Here are five ways metal tags and labels can significantly improve inventory tracking.
1. Enhances Operational Efficiency
The inventory tracking process is a crucial step in ensuring efficient inventory management. Hence, you might consider automating this process as the manual method is prone to human error.
Cutting-edge inventory tags enable you to determine the exact location of assets at any given time. Furthermore, scanning the tags for an inventory count is more accurate than counting by hand, resulting in a reliable source of stock data.
The tags' readily available and accurate stock data and product information allow you to implement effective inventory control measures. Once you implement a tagging system, daily tasks such as creating procurement and supply plans, sorting out products, and scheduling reorders will be effortless.
Monitoring maintenance, repair, and overhaul information in the tags also helps ensure timely maintenance of all assets. Consequently, using inventory tags significantly lessens the risk of sudden breakdowns. This in turn improves your system's overall performance and reliability.
2. Facilitates Asset Management
Your warehouse inventory may comprise many of your company's moveable and fixed assets. Once the inventory runs through the latest warehouse management solution, you can seamlessly monitor all assets' throughput. With the available information, you can make better business decisions without the hassle of tracking down wandering inventory.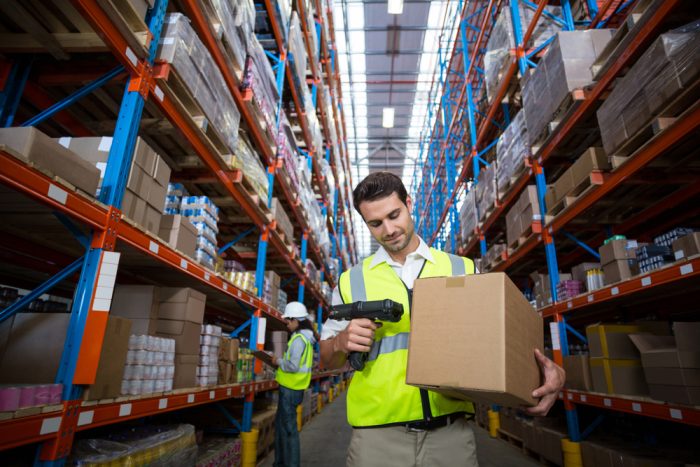 3. Improves End-to-End Visibility
Nowadays, end-to-end visibility is critical. This is because it ensures every component throughout the supply chain receives real-time information on your current inventory situation. By utilizing the data compiled from your inventory tags, almost everyone in the organization, from the customer support department and suppliers to customers, will know the current status of your stocks at all times.
Using this system allows your business to maximize the time spent on core operations rather than dealing with customers and suppliers.
4. Streamlines the Reporting Procedure
Most businesses find creating end-of-year or quarterly reports challenging, especially when experiencing a hectic season. This is where inventory tags come in handy, as they are a crucial component in your warehouse management system. By simply scanning the tags, you can have seamless data aggregation, enabling you to generate comprehensive reports before an audit.
5. Offers Better Level of Accountability
Businesses can easily access asset data by integrating inventory tags with a warehouse management solution.
Aside from the effortless creation of inventory reports, inventory data availability can greatly help monitor costs associated with inventory management. With this method, the total costs associated with maintaining inventory, replenishing stocks, and losses resulting from shortages can be easily tabulated and reviewed to optimize daily operations and processes.
Final Thoughts 
An inventory tracking solution that involves metal tags or labels is highly beneficial for businesses. If you want to optimize your daily business operations and save on unnecessary expenditures, implementing metal tags or labels along with a reliable warehouse management system will ensure better efficiency and productivity in the long run.
The post Five Ways Metal Tags and Labels Can Improve Your Inventory Tracking appeared first on Home Business Magazine.
Click Here For Original Source Of The Article