If you're reading this article then you're probably stuck trying to send a fax but can't find a fax machine in a 100-mile radius. While it may seem that faxing is a thing of the past, there are still many businesses and organizations that rely on the practice. There are many fax services out there that provide online fax services to such users. However, the problem is most users don't really need to fax that often. For most of us, faxing is a once-a-year type of thing. Where do you find a fax machine for your once-a-year fax needs?
FaxDroid and FaxZero are two of the best free online faxing services. These services don't require monthly subscription plans; they don't even require users to register an account. They both generally work the same way — you upload your documents, enter the recipient's information and hit send. Both fax services allow a limited number of free faxes and for additional faxes you will need to make a one-time payment.
While both services are very similar, in this article we will go through them in more detail to help you decide which fax service to choose.
Free Faxes
Probably the first question that comes to mind is in regards to whether or not they are free. The answer is yes and no. They both offer free fax services to some destinations with a limit on the number of pages you can send per fax.
FaxDroid allows free faxes to be sent to over 27 different destinations, while FaxZero only has free faxing for Canada and the US.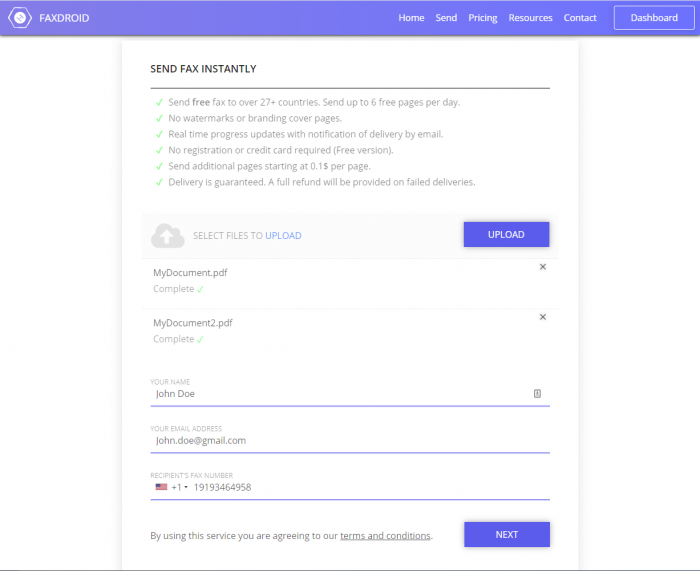 FaxDroid allows up to 6 free pages a day (with a limit of 3 pages per fax) while FaxZero allows up to 5 faxes a day (with a limit of 3 pages per fax).
There is no clear winner here. While FaxDroid is more limited in the number of daily pages you can send, it does offer free faxes to a wider range of countries.
Ease of Use
FaxDroid is the clear winner here. When using the service you will immediately notice how simple and intuitive the service is. FaxDroid asks for very little information from users, has an easy-to-navigate interface, and provides live feedback on the progress of your fax. It's also very easy to use on smartphones and tablets.
When using FaxZero, the first thing you will notice is that you are spammed with ads, and it has a very old and outdated user interface. After submitting a fax, there was no indication on the state of the fax. 10 minutes later, an email was received confirming that the fax was delivered.
While both services get the job done, the overall experience was much more pleasant using FaxDroid.
Cover Page
Cover pages are a useful feature. Sometimes you may want to add a small note to your fax. Furthermore, if you're sending to a shared fax machine (which multiple people might use) you may want to indicate who the actual recipient of the fax is. FaxZero automatically adds a cover page for you. This is very helpful in these situations.
FaxDroid, on the other hand, doesn't include a cover page. If you would like your fax to be accompanied by a cover page, you will need to include this yourself as part of the documents being faxed.
While FaxZero's cover page can be very helpful, do take into account it does come with a lot of branding and advertising content.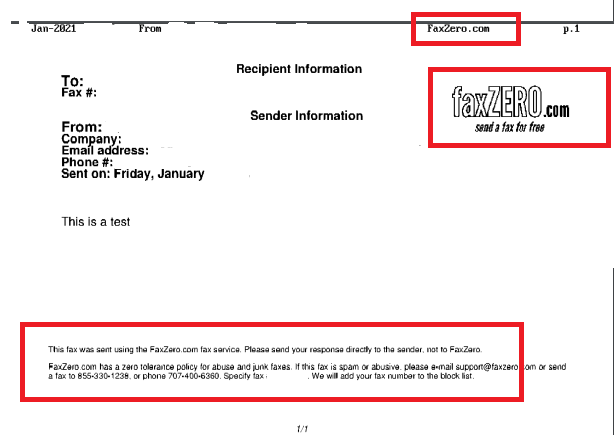 Pricing
For some of us, the free fax options will just not be enough. You may be sending a large document that exceeds the free fax limit or the destination you are trying to fax to is not supported in the free plan. The great thing about both these services is that they have a "pay-as-you-go" pricing model. That means you don't need to pay a monthly subscription fee just because you need to send the occasional large fax document.
FaxZero has a relatively flat pricing model. For example, if you wish to send a fax to the US and it's not covered by the free plan, you will be charged $1.99. This is the same whether you are sending 1 page or if you are sending 25 pages. In the lower end, it's a bit pricey. For example, for a 5-page document, you will be paying $0.40/page. In the higher end, it's actually not that bad — for a 25-page document it comes down to less than $0.10/page.
FaxDroid, however, charges based on the number of pages. So, if you are sending a single page, you will be charged for that page only. On the downside, there are no discounts for sending faxes with higher page counts. Faxes to the US are charged at $0.10/page. A 5-page document will cost $0.50 while a 25-page document will cost $2.50.
From a pricing point of view, FaxZero wins for higher page counts and FaxDroid for smaller documents.
Receiving Faxes
Both FaxDroid and FaxZero are great tools for sending faxes, but what if you need to receive a fax? Sometimes the recipient will send a response and expect them to have a fax machine. A common example is the IRS. It's not every day that you will send a fax to them. However, when you do, they will normally respond via fax. To get their response, you will need to have a dedicated fax number.
Both of these services offer great pay-as-you-go options for sending faxes. If you need to receive a fax, FaxDroid offers monthly subscription plans that offer a dedicated fax number starting at only $5.00/month. These subscription plans will enable you to send and receive faxes.
Conclusion
Both FaxDroid and FaxZero are great tools for sending the occasional fax. They both offer great free faxing options along with cost-efficient pay-as-you-go pricing for additional faxes. In the end, we choose FaxDroid as the better option due to the ability to send free faxes to more destinations, better pay-as-you-go pricing and an overall easier user experience.
The post FaxDroid Vs FaxZero Review 2021 appeared first on Home Business Magazine.
Click Here For Original Source Of The Article