For a long time, businesses trying to collaborate with today's top influencers and celebrities frequently found that the process of finding talent to work with was unsecure and inefficient. Brands had to go through multiple middlemen, and talent also couldn't properly vet and receive offers globally. Luckily, influencer marketing mogul and CEO Jeff Jones and his business partner, Lee Caplin (co-founder of Penske Media Corporation), fixed these issues by launching Mavens List, the first-of-its-kind business start-up transaction app. 
Business owners worldwide should use Mavens List to connect their brands with the most sought-after celebrities and influencers for curated partnerships. Officially launched in May 2020, Mavens List is a truly groundbreaking social transactional network platform that provides a seamless and secure mobile booking system for influencer marketing. Mavens List allows brands to match with and securely pay talent via its patent-pending unique escrow payment process, through which funds are verified and paid upfront, then placed in escrow to prevent fraud in the talent-buying industry.
In collaboration with Mavens List co-founder Nick Gangi and Business Investor Kelly Dooley, Jeff Jones and Lee Caplin found the perfect balance of business-to-brand convenience with fine-tuned social algorithms and first-rate talent. The Mavens List talent portal is all-inclusive, spanning from celebrities and influencers to thought leaders and sports figures, who have all been verified both legally and through industry experts. Once verified and approved, Mavens List users create their own profiles and optimize them as they would their other social media profiles.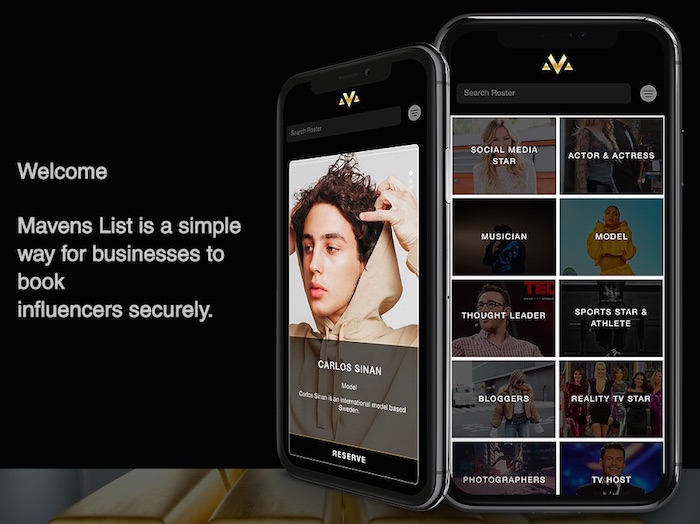 "Mavens List's direct-to-consumer interface not only makes direct booking possible, but also empowers both brand and talent by building a relationship," says Dooley. "An absolute game changer by granting entrepreneurs streamlined access to influencers and celebrities." 
Mavens List's purpose is to build transactional relationships, so users are encouraged to include visuals and data like social media followers, impression insights, and recaps of previous bookings, audience reach and media garnered, thus allowing brands to make the best-informed decision when selecting who they wish to work with.  
When it comes to financial security, Mavens List ensures that sensitive payment information about you and/or your business will be maintained securely in conformity with applicable financial and data security requirements. Mavens List is PCI-compliant and maintains GDPR certification. Behind the scenes of Mavens List, an in-house team also executes and manages influencer campaigns, as well as helps brands optimally execute their influencer-marketing strategies. Influencers don't have to pay any fees to join the app, and businesses just have to pay a transaction fee of 7.5% per booking. 

"With Mavens List, we've created and optimized an elite membership of diverse talent," says Gangi. "It was important that we make it simple and safe for brands to connect by simplifying various data and complex algorithms that go into selective recommendation, which ultimately leads to successful collaborations between talent and brands."  
Mavens List is truly bridging the gap between talent and businesses in the most unique and secure way. For more info and to sign up, visit mavenslists.com.
The post Every Business Owner Needs to Sign Up for Mavens List, the Ultimate Influencer-Marketing App appeared first on Home Business Magazine.
Click Here For Original Source Of The Article