As the President of Cinémoi TV, Daphna Ziman has made a major name for herself in the entertainment industry. Cinémoi TV is an award-winning film, high fashion, and international lifestyle channel that offers 24-hour programming filled with highly curated and acclaimed films, exclusive global events, and more. Defined by high-quality content, Cinémoi TV gives viewers a lens to the world at large and re-introduces American audiences to the most glamorous events and exotic destinations.
Home Business Magazine had the opportunity to catch up with Ziman and get the inside scoop on her journey with Cinémoi TV. She also shares her top tips for others looking to get into the entertainment world, how she maintains a healthy work-life balance, and the biggest challenge she's overcome to get to where she is today. On top of this, she gives an exclusive look at what other projects she has in the works!
HBM: You are the President of Cinémoi TV. Can you tell us about the TV network?
DZ: "Cinémoi TV is the only entirely curated, multi genre television network, with a specific focus on quality integration and integrity. Cinémoi is the only high fashion network, with a global view of cultural diversity in vintage to current movies, documentaries, and live entertainment. Jean Paul Gautier has called Cinémoi, 'The most stylish channel'. Cinémoi is the only window to international lifestyle and an exclusive lens into the most glamorous world events, like the CineFashion film awards and Paris Haute Couture fashion week, etc."
HBM: Tell us about your business journey. How did you get into the entertainment industry?
DZ: "I have grown up in the entertainment industry. Starting in music, I created Unicorn records and helped launch SST Records as the first punk and new wave record company in the world. At Unicorn, we created the first videos for MTV, which caused me to move into the audio visual world of film and television. I also started writing, and I wrote and directed a number of short films and then my first feature film, Footsteps, which I wrote, directed, co-produced, and composed the score."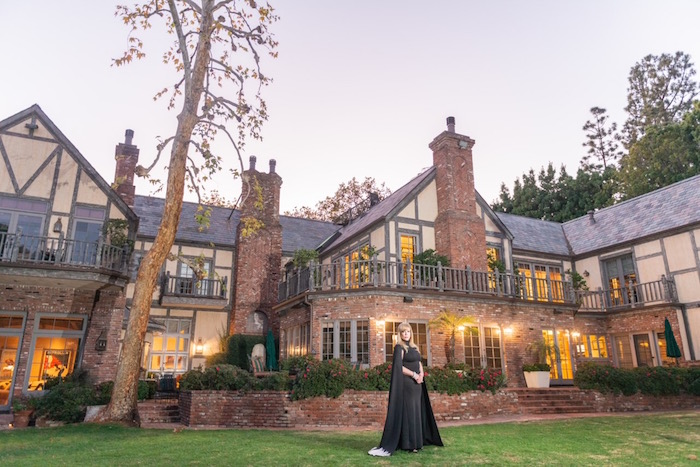 HBM: What tips do you have for others looking to get into the entertainment industry?
DZ: "Getting into the entertainment business is all about passion. When you are compelled to tell stories either via music or film. The best tip I can give anyone is to sharpen your inner tools as a storyteller. Either by telling a story through music, writing or visually. It's a collaborative art, so listening to input is crucial. You learn more through your mistakes than through your achievements. The key is to always evolve. Be your own best critic."
HBM: How do you maintain a healthy work-life balance? What tips can you share?
DZ: "I love to lose myself in the stories that I'm involved with. There's nothing more satisfying than living vicariously through characters you create or develop. Their stories become an alternative life that you experience. Dreaming and telling stories help me balance my life and intensifies my interest in real-life stories that are constantly occurring all around me. I also find solutions via my dreams and meditations."
HBM: What was one of the biggest challenges you've overcome to be where you are today?
DZ: "One of the biggest challenges I've overcome is in making the impossible possible. As I've taken on difficult challenges, I have had to rise above all the NO NOs to encounter a positive pathway towards achieving goals that seemed impossible. In fact, whether it is in creating a record company, composing and recording new albums, writing and publishing a book, making a movie, or creating a television network, everything fell into the category of the 'impossible dream'. The way I've succeeded has always been by persevering, and never taking 'NO' for an answer."
HBM: Where do you hope to see Cinémoi TV in three years?
DZ: "In three years Cinémoi will be global, the most stylish, quality-oriented television network in the world. A home for the greatest designers, filmmakers and artists in the world. A window to a technicolor world of storytelling, cultural tourism and artistic endeavors that can capture our global community's imagination."
HBM: What other projects do you have in the works?
DZ: "CineMoiWorld – A parallel world that offers a digital platform of entertainment, e-commerce, museums and cultural tourism, as well as virtual tourism into the most exotic destinations in the world. A virtual world with no borders, no racial differences, where we can all connect, commingle and feel a sense of genuine belonging."
Contact: shannahch@gmail.com
The post Cinémoi TV President Daphna Ziman: "Be Your Own Best Critic." appeared first on Home Business Magazine.
Click Here For Original Source Of The Article