Man Creates a Clothing Line for Dads and Brings Awareness to Family Issues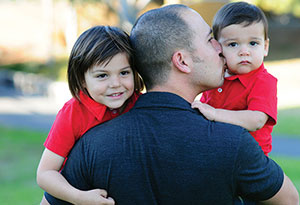 Fodada, a California cause-based apparel brand, began with one father's dream of leaving a legacy for his sons. Bobby Barzi created Fodada to celebrate the importance of fatherhood while bringing awareness to issues that directly affect families.
The term "Fodada" stands for: a dad who lives his life around his kids; a dad who pretends to be a jungle animal one minute and a super hero the next; a dad that makes a millennium falcon out of a cardboard box and howls like Chewbacca; a dad who never misses a pitch or goal and don't mind playing doll house tea party for hours.
Previously an executive at a global technology firm, Barzi now creates a men's basic clothing line for fathers who need some comfortable, cozy and hip clothes to relax, play or do whatever in. The Fodada line recently expanded to include options for women and children.
Fodada raises funding and recognition while creating or supporting programming by partnering with non-profit organizations, schools, and other philanthropic initiatives such as Autism Speaks and the American Heart Association. Barzi considers the Fodada brand's ability to leverage a tangible product to support multiple causes his best business achievement thus far.
Working from home has allowed Barzi to spend more time with his wife and children (ages 4 and 12 months), but as the company continues to expand, so does his travel for trade shows and promotional events. Barzi has learned that working from home can be challenging — finding the balance between professional and family life. However, he believes a home office fosters an incomparable working environment that has allowed an equally unique business to thrive. Barzi is proof that the success of a home business is not limited by its humble beginnings. Although he continues to work from home, the expansion of Fodada has demanded that he seek additional space to fulfill his growing number of orders. It is Barzi's hope that within the next three years, he can expand his partnerships with nationally recognized programs while simultaneously increasing his reach to consumers worldwide. For more information, visit www.fodadawear.com.
---
---
The post Celebrating Fatherhood in This Home Business appeared first on Home Business Magazine.
Click Here For Original Source Of The Article