Hollywood Swag Bag and Hollywood Baskets Gift New Celebrity Moms and Dads with Baby Swag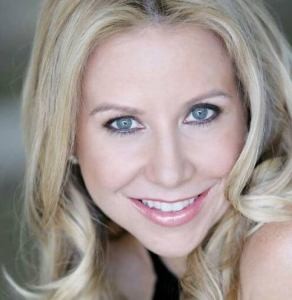 Heard of Celebrity Swag Guru Lisa Gal? The buzz around the Hollywood circuit about her companies heightens during the awards season. Founder of Hollywood Swag Bag, Lisa discovered a way to connect businesses with high-profile stars—by combining a bunch of snazzy products into one stylish bag.
The boutique-style gifting company recently gifted Golden Globes nominees at the Four Seasons hotel in Beverly Hills, and is scheduled to gift this year's SAG Awards and Oscar nominees as well!
HSB not only takes action during the awards season. When a celebrity gives birth to a precious newborn, it's a time to celebrate! HSB (through their subsidiary Hollywood Baskets) participates in individual targeted gifting and sends out a basket full of American brands and a basket full of Australian brands for new celebrity mothers.
Kim Kardashian West and Kanye West welcomed son Saint on December 5, and the six-week old received two of the gift baskets. The baskets contain products such as toys, lotions, cookbooks, baby travelers, baby food and more to introduce the A-listers to amazing and helpful baby products.
Many celebs have posted shout-outs about the products in the Swag Bag via various social media platforms. If a celebrity acknowledges the gifts, HSB will pay it forward to the local shelter LA Housing in North Hollywood, California, and will donate a basket full of necessities to a mother in need.
"We thank Whole Foods, The Honest Company, Earth's Best and Ella's Kitchen for providing most of the necessities to these families in need," Lisa says.
The celebrity baby gift baskets allow maximum exposure to top a-list celebrities in Hollywood in a non-evasive way. Hollywood Baskets gifts directly to all new celebrity Mom's and Dad's and are delivered conveniently to the celebrity's home! This offers a fantastic opportunity for your brand to be received, during the course of a one year period that is on-going.
These opportunities not only showcase the brands and products within the Hollywood Swag Bag domestically, but through social outlets can market your home-based businesses internationally, creating brand awareness and an increase in sales of your baby product!

Check out Hollywood Swag Bag and Australian Hollywood Swag Bag's amazing gifting brands sent to Kim and Kanye.
HSB American brands:
Tali Alexander Love in Rewind Book
Pura d'or Shampoo & Conditioner 
Apothederm Stretch Mark Cream * Ponilox Hair Accessory
RX Clinical Cosmeceuticals * Author Danielle R. Linder for Betsie Bee
USA Poli Sippy Cup * Author Delores Hamilton-Butler My Comfort Tree
Coffee from Coffee Break Cafe in Boston
Music by:
Joanie Leeds and the Nightlights * Flying Wish Paper
Author Jennifer Ormond Baby's Binky Box
HSB Australian Brands: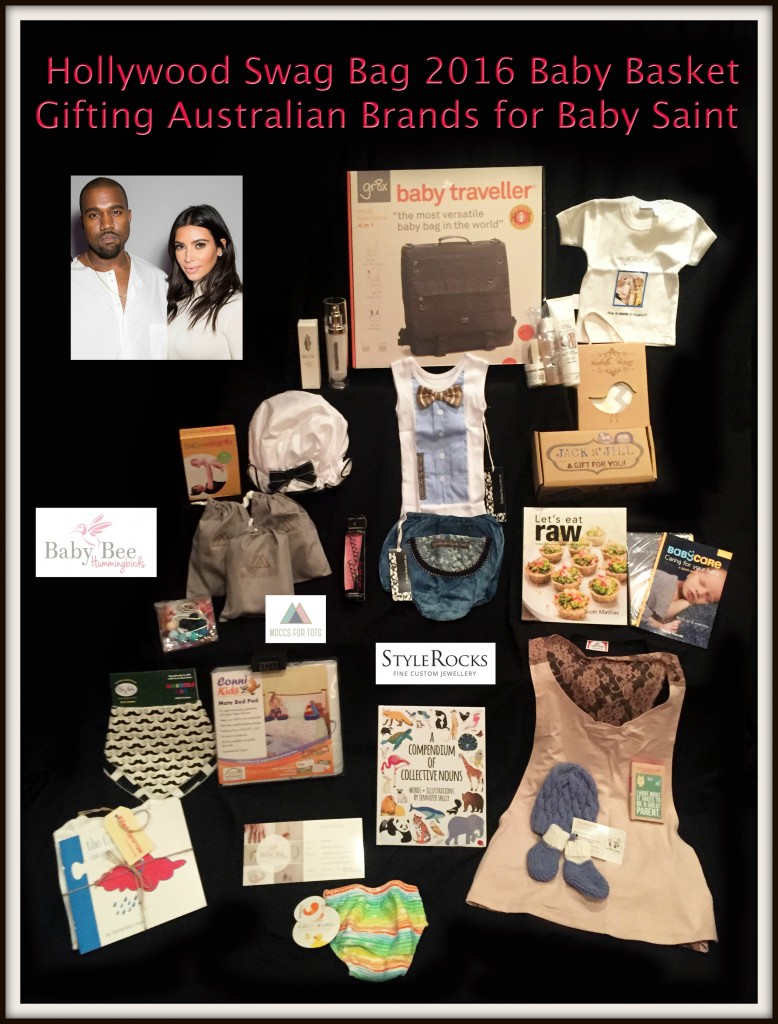 Plum Collections Sleep Bags and Clothing Australia
Babyweights Bond with Your Baby Through Exercise
Baby Bee Hummingbirds Keepsake Jewelry 
Arthur Avenue Baby Boutique Clothing
MAYAR Twist 'n Pin Hair Accessories
Bambella Designs Pram Liners * Jack n' Jill Kids Natural Tooth Paste and Accessories
Madhunt Designs Silicone Jewelry * Style Rocks Fine Custom Jewelry
Conni Kids (Bed Wetting Products) * Ola Baby
Red Parka Designs * Hide n Feed Breast Feeding Clothing 
Affirmations for Mothers * Babycare: Caring for Your Baby by Nicole Pierotti
Playtime For Kids Hand Knits for Babies and Toddlers
Escargot Kids (Baby Swimwear) * Red Sparrow Kids Children's Gifts
Scott Mathias Raw Food Chef and Gut Whisperer
Participate in celebrity branding with Hollywood Baskets to grow your business and gain new high-profile consumers like Kim and Kanye! Get your baby products in the hands of celebrities and key players in the entertainment, music and fashion industries, through gift bags, celebrity lounges, premiers, and other targeted programs. HBM
The post Businesses Gift Fabulous Baby Products to Kim Kardashian West and Kanye West appeared first on Home Business Magazine.
Click Here For Original Source Of The Article