Home Business Magazine Online
From marketing to acquiring office space, a lot goes into starting a business from the ground up. If your passion is video games, you've probably dreamed of starting a business involving gaming. While creating a business involves a lot of hard work, there are many opportunities for entrepreneurs in the gaming industry. There are several ways to generate income as a gamer; all it takes is an entrepreneurial mindset and determination. Keep reading below to learn about business ideas for gamers and for how to turn your love of gaming into a business.
Start a Blog or Vlog
If you love gaming, starting a blog or vlog is an excellent way to get a foot in the door of the gaming industry.
If you know your way around online casino games, you could write about social casinos like Chumba Casino, where people can choose from an assortment of games to play. Chumba Casino has a variety of slots, jackpots, and table games to keep players entertained for hours. Popular titles include Quest West, American Roulette, Big Buck Bandits, and Stampede Fury.
In contrast, if you know everything there is to know about battle royale games, you could start a blog covering popular games such as Fortnite, Apex Legends, and Call of Duty: Warzone. You'll have to consistently produce high-quality content to gain a large audience, but if you work hard, you may find yourself making money from your efforts.
Sell Used Games and Consoles
You may think that companies like Gamestop have a lock on the used game and console industry, but that's not entirely true. There is a large market for used games and consoles, and many shoppers look beyond major retailers when searching for one to buy.
You can get started with this business idea for gamers by selling old games and consoles you have around the house. Once you have experienced some success, then start buying used games and consoles and sell them for a profit. The easiest way to do this is to set up an online business on a marketplace like eBay.
You also want to design a website for buyers to find you. If you are successful, the next step is opening a physical store.
Open a Gaming Center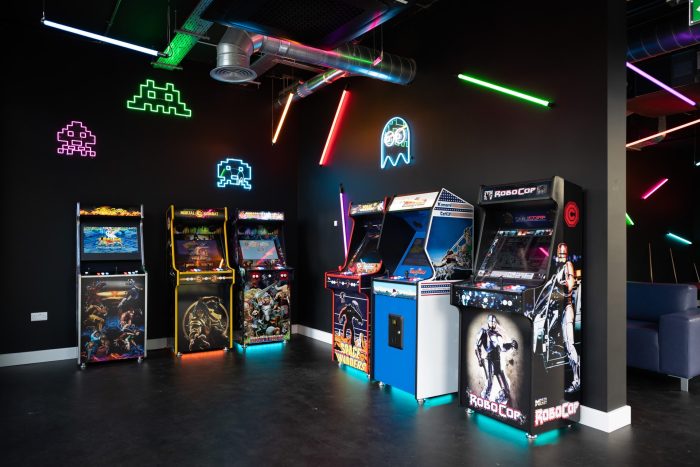 A gaming center is a place for people to go to play video games. Stock the lounge with video game consoles, including retro arcade games and older consoles that people may not have anymore.
Another business idea for gamers is to focus your gaming center on modern gaming with the latest virtual reality and augmented reality technology.
If you set up multiple screens and throw in a few gaming chairs, customers get a taste of what it is like to be a professional gamer. Also, make the center available for special occasions like birthday parties, allowing customers to pay to rent it out.
Setting up a gaming center requires a significant financial outlay. Therefore, you may not be ready to do this until you make money selling old consoles or something else with fewer start-up costs.
Teach People to Play Video Games
If you are good at a game like Fortnite or Overwatch, you could make money by becoming a professional video game trainer. Many gamers look for people to help them take their skills to the next level so to compete competitively. This can turn into a highly successful small business if you have the skills to help people master the art of playing video games.
You need to set up a gaming studio for your students to train in, or you may be able to conduct classes online.
Game Testing
Video games undergo significant testing before they go public, so video game testers are in high demand. This leads to the next business idea for gamers. If you have experience finding bugs in video games and explaining them in straightforward language, you could start your own testing business.
As a video game testing business, you work with directly gaming companies to help them find glitches in their games before launch.
The post Business Ideas for Gamers appeared first on Home Business Magazine.
Click Here For Original Source Of The Article