Home Business Magazine Online
Andres Zuleta is an esteemed entrepreneur who is making waves in the travel industry. He is the founder of Boutique Explorer, a company that plans unique and beautiful travel experiences in Mexico, Colombia, and beyond. Boutique Explorer plans private custom trips with a culinary and cultural focus. Their unique itineraries are perfect for unpretentious travelers who seek off-the-beaten-path experiences, love food, and appreciate local style — with just the right amount of luxury.
Recognized as a top travel specialist by Condé Nast Traveler, Zuleta has spent years living in Japan and enjoyed long-term stays in locations including Medellin, Oaxaca, Chiang Mai, Havana, and Lisbon. Home Business Magazine recently had the opportunity to chat with him all about his business. He was happy to share insight on his entrepreneurial journey, his top tips for a smooth and stress-free business trip, and more!
HBM: Tell us about Boutique Explorer. What is your company all about?
AZ: "Boutique Explorer offers private luxury trips around the world. We work primarily with couples and families (but also solo travelers and small groups of friends) to plan completely customized trips to countries in North and South America, Europe, Africa, and Asia.
Our trips tend to have a cultural and culinary focus, but since each itinerary is completely customized (based on traveler interests and priorities), every single trip is unique. This year so far we have planned trips for clients to Mexico, Colombia, Argentina, Spain, Greece, Italy, Peru, Ecuador, Portugal, and Scandinavia, among others."
HBM: How did you come up with the idea for Boutique Explorer?
AZ: "The idea came about organically thanks to the coronavirus pandemic. I've run a company called Boutique Japan since 2013, but because of COVID-19, we were inspired to pivot. I had personal and professional experience in planning trips to other countries (in addition to Japan), and so did some of my employees. Plus, thanks to our collective decades of experience in the travel industry, we already had a wide-ranging network of trusted contacts in a number of countries around the world.
We had no idea how the COVID-19 situation would evolve, and Japan ended up being one of the last countries in the world to reopen to tourists. So we are very fortunate that we spent so much of our time during the pandemic developing Boutique Explorer. It's been a huge focus for us over the past couple of years."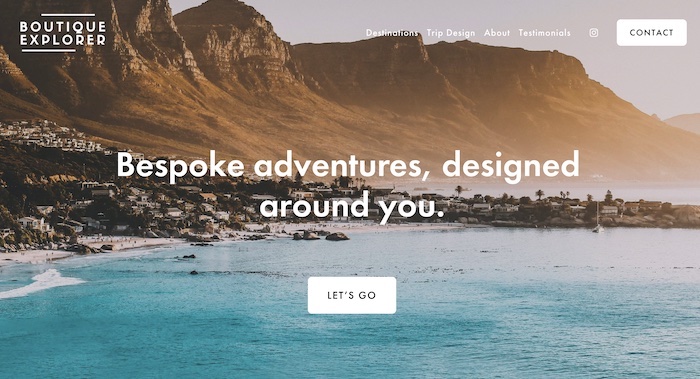 HBM: How do you stay productive each day?
AZ: "It fortunately feels easy to stay productive, as I love the process of working on and constantly developing the business. Since I know my most productive hours tend to be in the morning, I follow my natural rhythm and do my best to prioritize deep work in the mornings (this being said, it can take a little while for the coffee to kick in, so I often begin with a few easy tasks or emails).
At the end of each day, I always go through my tasks and priorities for the following day, so that when I start tomorrow I already know what to prioritize."
HBM: What are your top 5 tips for a smooth and stress-free business trip?
AZ: "While we specialize in leisure travel at Boutique Explorer, I take several business trips a year and these are my top 5 tips for a smooth and stress-free itinerary:
1. Less time, more structure. To make the most of my time, I typically plan short but highly efficient business trips. For example, I'll often go to Mexico City for just 2 days, or Tokyo for 4 days. I find that with less time, I'm able to achieve more with less energy. To make this happen, I organize my days strategically, usually scheduling meetings for each meal (for example, a breakfast or coffee meeting, a lunch meeting, and a dinner networking session). This makes my trips extremely productive, and I still have some time in between to rest, exercise, or catch up on other work.
2. Book comfortable accommodations. You might be tempted to just book budget accommodations. After all, you won't be spending much time there. But personally I find it's so much more restful to stay somewhere comfortable (whether it's a hotel or Airbnb). This way it's also a treat to head back to the hotel to recharge in between meetings. Obviously, location is essential, too, to save time and energy shuffling back and forth!
3. Book pleasant flights. What's the point in exhausting yourself with various connections and layovers, if it will cause you to be less fresh for your business trip? I always go for nonstop flights when possible, to minimize travel time and maximize my own time and energy, even if it costs a bit more. It's a worthwhile investment.
4. Enjoy yourself. Since I'm in the travel industry, my business trips are intrinsically enjoyable: I'm usually meeting guides and local experts, checking out hotels and restaurants, and exploring cities, all for research. Even so, I find it valuable to break up meetings with other fun activities, whether seeing friends where possible, splurging on a massage, or doing something else to take a break from pure business.
5. Plan, plan, plan. I'm a planner by nature and profession, and admittedly the logistics are part of the fun for me. I don't mind winging certain things, but for the most part I find it essential to have a really organized itinerary. It's nice to have some unstructured windows of time, but for maximum impact I keep these to a minimum during business trips. I usually end my trips pretty tired but fulfilled!"
For more info about Boutique Explorer, visit boutiqueexplorer.com.
The post Boutique Explorer Founder Andres Zuleta Shares Top Tips for a Stress-Free Business Trip & More appeared first on Home Business Magazine.
Click Here For Original Source Of The Article