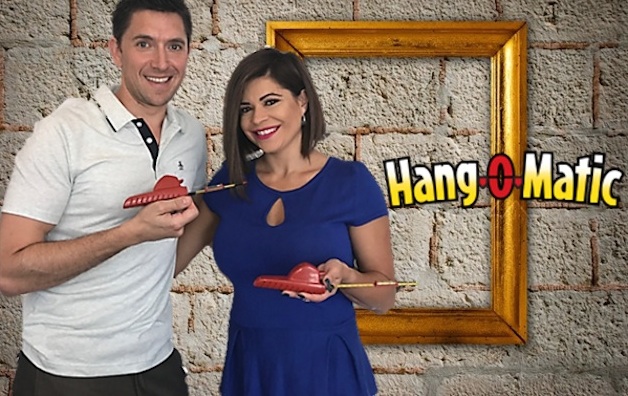 Every couple has a story, and theirs is a tale of perseverance.
Jared and Karina Rabin overcame innumerable obstacles, rejections and setbacks to bring their product, Hang-O-Matic, to market. Though it's now a household name, launching Hang-O-Matic nearly cost the Rabins their savings and sanity.
Today, the successful power couple is working to ensure their experience serves as both informative and inspirational to other aspiring entrepreneurs.
The Rabins have created free YouTube tutorials to teach new inventors how to get started. They're sharing the videos with hopes others can reach a level of success that hasn't come easily.
The idea for Hang-O-Matic was sparked back in 2000, when Jared was a college student moving from one rental unit to another. He was tired of landlords charging him for walls he'd damaged through failed attempts at hanging pictures and shelves.
"If only there were a tool that would help me hang something right the first time," he thought to himself.
It was all just an idea hanging the back of Jared's mind until years later, when he met and married Karina. Jared, a well-meaning newlywed, installed a shelf to display one of Karina's family heirlooms, not knowing it was uneven. He only realized his mistake when the beloved snow globe slid and crashed to the ground.
And so, the time came to get serious about an idea to create an all-in-one tool that would accurately level, measure and hang things to walls.
Hang-O-Matic was brought to market in 2014.
Today, it can be found in major retail stores throughout the US and Canada, including Hobby Lobby, The Container Store and Bed, Bath and Beyond. It will be available at Home Depot this fall.
The product was a top seller on QVC during the 4 a.m. timeslot and when it launched on The Grommet, Hang-O-Matic sold out within an hour.
More than 200,000 units have been sold.
But success didn't come easily for the Rabins.
The challenges they've faced have been costly (they lost $50,000 due to a packaging snafu), frustrating (working with investors can be tough, particularly when one turns out to be a fraud), and a test of resilience (it takes work to convince major retailers to carry your product).  They've faced financial setbacks, experienced every possible emotion, and turned a thousand "nos" into a thousand "yesses".
Their failures have been public at times, too. The couple was rejected on TV – three times. They didn't get on Shark Tank and were rejected on Oxygens's Don't Quit Your Day Job. You may have also caught them on the premier episode of Steve Harvey's Funderdome, where they were also shot down.
Privately, the Rabins faced more daunting challenges. They were forced to cash in on retirement savings and downsize their home to keep the business going.
Friends and relatives urged them to throw in the towel, yet the couple kept hustling.
Of course, as we now know, all that hard work, persistence and sacrifice paid off.
Today, they have a wealth of advice to offer fellow entrepreneurs struggling to navigate the tricky waters of seeing a product to market. From packaging and manufacturing, to investors and buyers, they've seen through about every challenge possible.
They're sharing the secrets of their success, so that more startups might become more confident and successful in their endeavors.
They want others to avoid the mistakes they made as rookie businesspeople, and both engage with and inspire other entrepreneurs working from home.
"We learned some hard lessons when launching Hang-O-Matic and hope others can learn from our mistakes," says Karina. "No one should have to be taken advantage of like we were when we started."
Through their YouTube videos, the Rabins offer tips on how to drop ship, master the art of tradeshows, and more. They also share insight on the benefit of making a product in America.
Visit their YouTube channel here to learn more.
---
---
The post An Inventor's Guide to the Galaxy appeared first on Home Business Magazine.
Click Here For Original Source Of The Article