It's Sunday night, and you're having negative thoughts about starting the week. Your stomach is in a knot, and your breathing doesn't feel whole. For no plausible reason, you feel sort of…nervous. According to the National Alliance on Mental Illness, 40 million adults in the United States suffer from anxiety, and the pandemic has only added to the struggle, but 32-year-old scientist Benny Singh is no stranger to anxiety. As he describes it, "It's a debilitating physical and mental feeling of worrying, mostly, for no plausible reason, but after giving CBD a try, the difference was night and day, which made working from home a much smoother experience." If you or someone you know suffers from anxiety while working from home or heading back to the office, read this fascinating story about Nature's Candy CBD founder, Benny Singh. His story is compelling, and he explains CBD's potential benefits for those who suffer while working from home, so it's worth the read.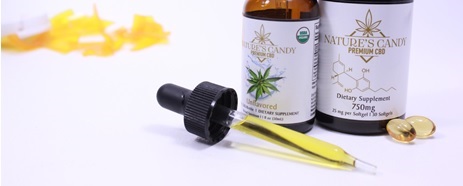 During the pandemic, the world has seen a rise in anxiety, especially amongst young working professionals. Being cooped up inside your house for a year can be a trigger to anxiety ― the change of environment, the disconnect from society, the financial impact, and the unstimulating, monotonous routine, can all be factors that come into play. Some people are heading back into the office, which can make for an anxiety-riddled experience as well. That said, there have also never been more "solutions" available — even including the off-putting idea of pharmaceutical cocktails.
Benny's anxiety story started as a kid living in a high-pressure Indian family in the United States, and this carried over to his professional life, where his anxiety intensified,
"It got really bad during the political turmoil of 2016. At the time, I felt overwhelmed by the world-wide issues at hand from global warming and changes in the stock market, to mass shootings and unlivable living wages. Once the global pandemic hit and the office went to a company-wide work-from-home schedule, I was faced with some seriously crippling anxiety. I first encountered CBD as early as 2013 and honestly didn't think much of it ― I thought it was just another fad. Gradually, I started to hear more and more about CBD online and heard accounts from users that it gave them relief from pain and anxiety. After weeks of debating, I finally bought a CBD tincture for myself from Whole Foods. I was taken aback by the $110 price tag for just 1 ounce of a middle strength oil. I began taking the CBD every morning for a few weeks, and the results were a huge difference. My thoughts were clearer and more organized, my mood was uplifted, my heart wasn't racing, and my breathing felt unhindered. I wanted to keep taking CBD every day from then on because of the profound affect it had on my anxiety. The only problem was how expensive that habit would be."
In 2017, Benny began research on how and why CBD works on the brain. It was evident that CBD can affect cellular signaling all over the body, including those involved with panic attacks. CBD has helped Benny tremendously working from home, but Benny wanted to help others like him, by offering a quality and affordable CBD product that he developed himself. A 2017 study by Penn Medicine showed that 70% of CBD products sold online are mislabeled.
"I don't know how I went so long without CBD. I'm not saying CBD is a cure, but if you have anxiety, I strongly think you should be taking CBD, but with so many CBD brands out there trying to make a buck misleading consumers about what's really in the bottles, it's hard to know what CBD brand to choose. I made it my life goal to help other millennials get anxiety relief working from home by offering top-tier products from someone they can trust. As a scientist, I place quality control as our top priority. Rest assured that Nature's Candy CBD makes sure you are getting what you pay for."
If you've never tried CBD, Benny recommends starting with Nature's Candy's 1350 mg CBD oil, one dropper full once in the morning and once at night. Nature's Candy is giving 10% off storewide with code HOMEBUSINESS10 as well as free U.S. shipping on orders over $75. They'll even refund you if you aren't happy with the product within the first 30 days. This is how confident they are about the quality of their products and service. If you have any questions, reach out to info@naturescandyshop.com, and make sure to follow them on Instagram, @naturescandy_cbd.
The post A Millennial Biologist with Anxiety Is Helping Other Millennials Working from Home appeared first on Home Business Magazine.
Click Here For Original Source Of The Article