Home Business Magazine Online
Warehousing isn't an easy task. There are challenges that every business could face when managing, maintaining, and organizing all the processes in a warehouse. While it seems straightforward to outsiders, industry insiders know that warehouse management is prone to error and challenges. These challenges include inaccurate inventory, redundant tasks, poor warehouse layout, and failure to prepare for seasonal demands. For that reason, many thriving businesses invest in industrial storage solutions, such as the Stack-it Shelving solutions, to ensure they successfully perform their day-to-day warehouse operations.
Industrial shelving has become essential to managing a warehouse today, as industrial shelves are customizable, space-efficient, durable, and cost-effective. Consequently, industrial shelving can improve your warehouse's safety and productivity.
With that in mind, if you consider investing in industrial shelving yet aren't familiar with all its different types, read the points below to learn about the several industrial shelving options.
1. Steel Shelving
Steel shelving is also known as clip shelving. It is one of the well-known types of industrial shelving with various sizes and styles valuable for retail outlets, distribution centers, and warehouses. With industrial steel shelving, warehouse staff can store numerous items and goods beyond the heavy and costly items stored in other material handling storage solutions. Moreover, regardless of the style of steel shelves, standard steel shelving provides retailers, distribution centers, and warehouses with significant benefits. Steel shelves, in particular, are sturdy and durable. This option is ideal for businesses looking for a space-efficient industrial shelving solution.
Furthermore, regarding safety, this solution provides expanded storage capacity that can accommodate heavier and delicate items such as tools, electronics, and machine parts. As for safety and visibility, steel shelving allows you to store and arrange goods that enable pickers to find them quickly.
2. Rivet Shelving
Rivet shelving, also known as boltless shelving, is another type of industrial shelving with simple yet adaptable shelving options. The primary function of a rivet or boltless shelving solution is to provide a flexible and easy-to-assemble shelving unit. Businesses usually use this industrial shelving solution for storing boxes supplied with lightweight items and goods. It offers significant benefits that help increase business efficiency. Since rivet shelves are boltless, they're easier to build and install than most metal shelving solutions. They're also durable and provide optimal support when handling bulky items.
Besides its durability, rivet shelving's improved accessibility allows pickers to find items quickly instead of wasting time searching for their needed products. In addition, rivet shelving is a cost-effective solution, as it's more affordable than other industrial storage solutions.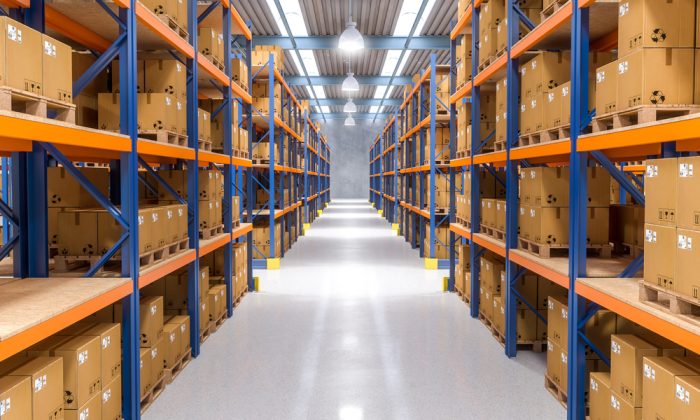 3. Wire Shelving
Wire shelving is a customizable industrial storage solution that comprises steel wires welded together to create multipurpose wire shelves. This type of industrial shelving solution handles capacities around 600 to 800 pounds. It's another excellent option that warehouses should consider, particularly if they're looking for a shelving solution that provides fire suppression and flow-through ventilation. Moreover, wire shelving contains multiple finish characteristics, such as moisture-resistant finishes, which give a competitive advantage over other materials. Wire shelving with damp-proof finishes can prevent corrosion and rust in their tracks. This extends or maintains the durability of the wire shelving utilized in damp environments.
4. Bulk Rack Shelving
Bulk rack shelving, or bulk storage racks, is another type of industrial shelving consisting of all-welded beams and frames designed for handpicking bulky and hand-duty items. These racks are highly configurable shelves because of their height and depth varieties available to fulfill particular warehouse needs. Since they don't need bolts to put together, they're also easy to assemble and disperse for one-time use. Moreover, with this industrial shelving option, businesses separate heavier products from smaller ones that are likely to be consumed. This makes the heftier items less likely to be disturbed from their place. As a result, it ensures warehouse safety.
Furthermore, bulk rack shelving contains a vast storage capacity that you can use to place items of the same type on a single shelf, thus promoting effective product placement and an easier way for customers to compare products of the same classification.
5. Clipless Shelving
Clipless shelving is also classified as backroom shelving. It is a notable industrial shelving option that's lightweight to maneuver and can hold heavy-duty products. In particular, clipless shelves are ideal for businesses carrying bulky objects from 500 to 700 pounds. Some of the excellent features of this type of industrial shelving are its lightweight materials. These allow warehouse staff to move clipless shelves quickly whenever they need to modify the warehouse layout at any point in time. With the clipless shelving's materials consisting of steel bracing and particleboard, any business can expect long-lasting shelves from this type of industrial shelving.
Conclusion – Industrial Shelving
Overall, managing and storing products with industrial shelving solutions can help save time and money and improve a business's production. Therefore, you must invest in an industrial shelving solution that suits your processes to help you increase productivity and efficiently perform your daily warehouse operations.
The post A Guide to Industrial Shelving Solutions appeared first on Home Business Magazine.
Click Here For Original Source Of The Article