If you have a fantastic product but it doesn't make its way beyond the curtain, what good is it? As a business owner, you don't want your product to remain sitting on your shelves. Instead, you want to get the word out so more and more people find out about it. What steps can you take to start promoting your product effectively? You can start by coming up with an effective marketing plan: launch big and promote relentlessly to make your business known.
Of course, as a small business owner, while launching big, you also need your promotions to remain within the marketing budget too while giving good bang for the buck. So, how can you target your customers in affordable yet impactful ways? We have come up with six effective low-budget marketing techniques to pave your way.
Take on the social media platforms
Social media has become the world's most extensive marketplace — about 42% of the world uses it. Establishing yourself on a well-known social media platform with a large user base can do wonders for your business's visibility.
Why should you avail this opportunity? Social media will help you put your brand in the spotlight and create greater brand awareness. By targeting the right people with your content, you can find potential customers and increase traffic to your product. Not only this, but the audience can directly contact you and engage with you, which in turn builds loyalty and rapport. Last but not the least, it is a platform where new businesses can learn from and even compete with existing brands and bigger players in the industry without breaking the bank.
Where to begin? You should start by setting up profiles on the relevant social media platforms you aim to use for your brand. A restaurant might want to target social media websites like Facebook and Instagram, for example, because that's where people go to look for food options. A home decor business might best reap benefits from a curated Instagram and Pinterest feed.
Now, start creating catchy content to attract your audience and have a regular posting schedule on the social media platforms to keep up a consistent presence and to stay on top of your audience's minds. Come up with intriguing topics for posting to gain your targeted audience's attention. Use polls, questionnaires, surveys to enhance your outreach. Moreover, you can alert your customers about deals, discounts, and promotions available for your brand to attract them even more.
Here's a pro tip: Your content is likely to perform better if you add videos, images, and other visuals to it. More people click content with visuals that show up in their feed.
It's not as much work as it sounds. Posting frequently doesn't mean you spend an entire day creating visual content. Instead, work smart, not hard, by using artistic tools to help you make your content catchy. PosterMyWall, an online graphic designing tool, helps you craft mesmerizing visuals for your posts in seconds with thousands of ready-made design templates on their website. Their graphics cover everything from videos and images to animations for various highly used platforms like Pinterest and Facebook.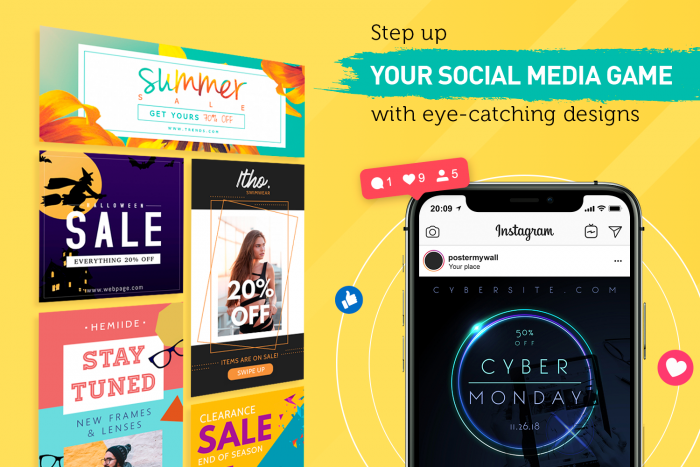 Once you've created a beautiful design to post on social media, you can resize it with the free resizing feature in just a single click. Then, you can simply publish your design on social media without leaving the website. You can also make multiple designs and schedule them for auto-publishing for later with the Premium subscription, freeing yourself within an afternoon.
Run ad campaigns to spread the word
You can run an ad campaign for your brand on social media and other platforms, e.g. on Facebook and Instagram, without burning a hole in your wallet. This way, you can convey your brand to a vast customer base with your tailor-made campaign. Moreover, the audience doesn't have to be following you to come across your campaign; instead, it will appear in their feed as an ad. More than 2.5 billion people use Facebook monthly, so you can set up a highly targeted campaign for the kind of audience you want (such as your target age, gender, location and interests) to target and expect an excellent conversion rate.
You can go through Facebook's Help topics and tools for creating an ad. To monitor your campaign's progress, you can use the insights report and improve your outreach. To maximize your reach, add visuals to make it more eye-catching for your potential customers. For this, you can simply use ready-made Facebook ad templates, add the text, and customize any imagery or colors necessary, and you are good to go.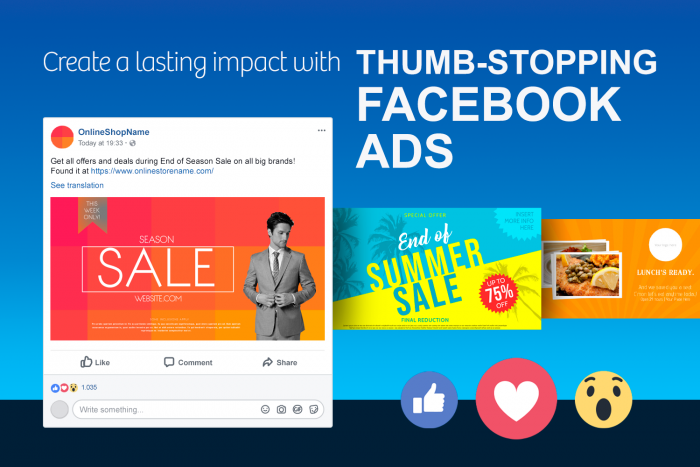 Create powerful content
To attract people to your website, it is important to make the content enjoyable. If you have played your cards right and intelligently defined your subject matter, your site will be the best source for information about your area of expertise.
Research suggests that blogs influence purchase decisions for 54% of survey respondents, and 25% indicated they make monthly purchases influenced by blogs. Therefore, to increase your brand awareness and build customer loyalty, you need to generate high-quality content.
To drive more customers to your platform, use excellent-quality pictures and graphics that would appeal to the human eye and would help in getting you a greater audience. Think like your targeted audience to know what they'd be interested in and think about their issues and how your brand can help them out. You can start by making blog topic polls for your audience to choose their desired topic from and then generate content on it.
Tip: Make your content more engaging by adding custom blog headers and eye-catching illustrations that increase the readability of your content. By sharing your content on social media with a nice-looking preview image, your followers will be encouraged to share your content and spread the word.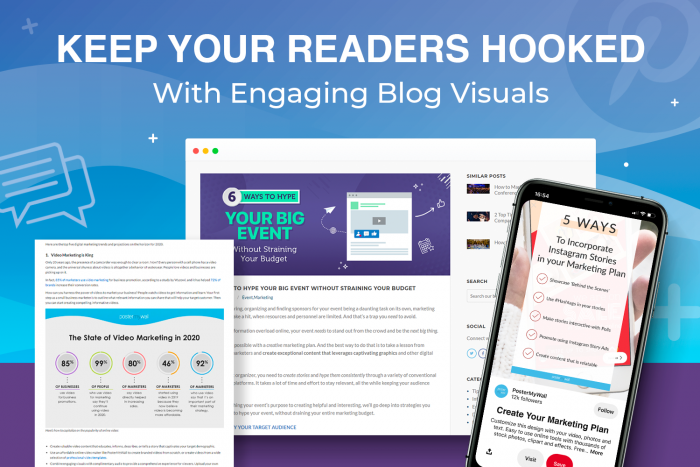 Use SEO to get to the audience
Know your goal! You aim to convert the targeted audience into customers, and one way of doing this is to drive traffic to your website. You can make sure that your business can be easily found on search engines by using SEO to enhance your website traffic via optimizing your site.
It may seem challenging to optimize your website, but it is not as complicated as it sounds. Need help? Here are a few possibilities to get you going with Search Engine Optimization (SEO):
Make sure you have a user-friendly website that is very responsive. A slow website drives away customers, so make sure there is less loading time. People tend to come back to websites they find smoother to use and navigate.
Add SEO plug-ins to your website to help optimize your site better, e.g., Yoast for WordPress.
Include keywords with high search volumes in your text to make yourselves highly searchable and relevant.
Make sure to have a lot of backlinks to your content. You can do this by collaborating with people who will link back to your site.
Capture the power of videos
Videos are a great asset in your marketing toolkit. Around 54% of consumers appreciate video content from their supported brands as they are immensely popular in getting the word out because they target not one but two senses — sight and hearing together — hence, appealing effectively.
Videos seem intricate to make and require expertise, so entrepreneurs are hesitant to dedicate a large portion of their limited budgets to creating them. It is hard to master video-making tools themselves and expensive to hire someone else to make them. Last but not least, making videos can be quite time-consuming.
But does it have to be this challenging to make videos? Not necessarily. Using pre-made video templates from PosterMyWall will not only make your content look stunning and help you spread your message on social media platforms, but it will also let you create videos in minutes instead of hours! Even 4K video graphics can be tailored according to your needs!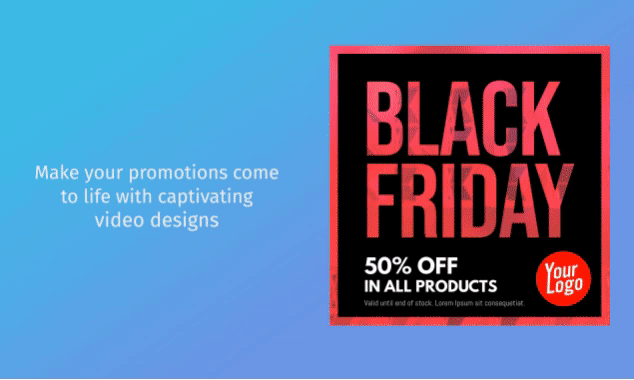 Get local support
Trust your local community to support you by getting involved in their activities. Participate in community gatherings, charities, games, festivals, and many more. Build good relationships with the people around you and seek their help. You can use appealing materials like flyers, banners, standees, and posters to spread the word about your business in your community.
Summing up
Business flourishes when a well-thought-out marketing plan is set in motion. With growing competition, you can no longer just wait around for customers to find you. You now have to get into the field and start putting yourself in front of people in interesting and effective ways. Start putting these strategies into action to spread the word about your business and get your brand in the spotlight in no time.
The post 6 Low-Budget Marketing Techniques to Boost Your Business appeared first on Home Business Magazine.
Click Here For Original Source Of The Article