Home Business Magazine Online
Are you worried that your content is not performing well even if you have done everything right? Does it occur to you that even after following the complete keyword protocols, it has not significantly impacted your traffic? Then read this article to understand why your articles might not perform well and how you should change article promotion methods to reap more organic visitors.
Content marketing is certainly one of the easiest methods of promotion for any business. It is also estimated that 53% of the marketers focus on content marketing for traffic on their blogs. However, to gain instant visitor growth, the content marketers tend to make some common mistakes that hinder their growth altogether.
Some of these mistakes, however common they might look, can be detrimental to the growth of your blog and the business.
If the content promotion is not done properly, the users might even reject the content or shy away from visiting the page. This could make you question, is blogging worth it?
To make sure your content reaches the right audience and for it to reciprocate towards the growth of your business and to gain back your trust in blogging, there are certain practices that you must quit.
1. Posting in Multiple Facebook Groups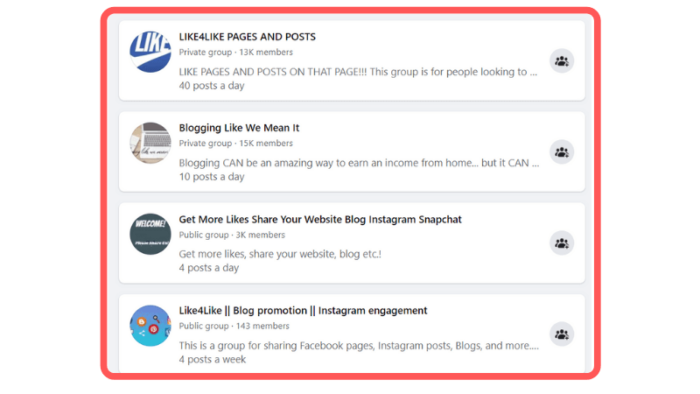 One of the major and common mistakes that promoters make is posting their articles in multiple Facebook groups at one go. They believe that posting to multiple groups would lead to a huge influx of visitors, but the certainty for the same cannot be ascertained.
Consider a case where there are 1000 active members in a group who are mostly writers or promoters. Now, even if one of five people start posting articles in the group, it will soon receive more than 200 posts per day. Therefore, it means you might be promoting content where there's already a ton of competitors.
Despite the lame promotional groups on Facebook, there are indeed some groups on the platform where fellow members like each other's blog posts for the sake of likes, reach, and engagement. But such reciprocal promotions merely lead to little growth and at the same time it doesn't help in building a strong reader base.
Therefore, in the long run, when you look back at this strategy of sharing your content/blog posts in like-for-like/share-for-share Facebook groups, you would realize that all the time was being wasted for mere likes and views which never lead to anything in the long term, being barely organic in any sense.
2. Using Clickbait Headlines to Generate Clicks
Generating clicks through clickbait headlines has quickly become one of the most common practices which must be avoided. Though clickbait headlines can generate some clicks at best, it can be considered one of the wrong ways to promote content.
While scrolling Facebook or other social media platforms, you might have come across titles such as '10 Harry Potter actors who grew attractive' or 'Man divorced his wife after seeing this photo'.
Let's assume you clicked any of those titles and went to see the article. If the article had nothing as exciting (or) relatable as the headline suggested, then would you click on any such titles henceforth? Wouldn't you instantly walk away from such headlines the next time you are faced with them?
Certainly, because you feel cheated.
It's important to understand as a blogger and writer that there is a thin line between clickbait headlines and good headlines. On the one hand, good headlines deliver the content/story that they promised. However, clickbait headlines are meant to generate clicks and never deliver the content that they promised in the headlines.
Therefore, it all comes down to writing captivating headlines which deliver what they promise.
3. Redirecting Users Through Half-published Content
Another wrong way to promote content could be providing links to half-published articles on social media. You might have seen on LinkedIn and Quora where people offer the first paragraph of their content but to read the remaining part of it, they leave a link which says, 'click here to read more' (or) 'click here to read the whole article'.
Such tactics, at first, might look very promising and enticing. You might think that this is the easiest way to generate traffic to your website by asking readers to follow a link to another site. This might work in a few cases but on the larger front, it could turn out to be a fiasco.
Instead of sending a reader using a sleazy technique to your blog or website, use the following tactics:
Create platform-specific content – Focus on creating content for each platform uniquely. To market your business/blog, you don't need to focus on all social media platforms. Instead, choose 1-2 social media platforms and extensively create content for those platforms.
Develop a call-to-action – If at all, you want to create a call to action, add your website and let your readers know that they can read more such articles by visiting the website.
4. Promoting Content Through AdWords
Google AdWords can change the way you receive traffic to your site. With a little bit of investment, you can receive highly targeted traffic to your website that can ultimately uplift your business. But Google AdWords can cost you immensely if not done right.
For example, using relevant keywords for a lawyer or insurance company can take your cost up to $800 per click. Assuming 5 keywords are misplaced, then it can cost $4,000 for every click on them. For smaller businesses, this kind of loss can be too much to handle.
Thus, it is advised for content writers and bloggers to stay away from Google AdSense. Until and unless they're familiar, comfortable, and knowledgeable about running Google ads. To run an ad campaign, you need a decent investment. As a blogger, your goal with Google ads may be to generate a few thousand clicks on a content piece which can't be monetized (blog posts with no affiliate links, no products to sell, no services to offer). Hence, if you're only a blogger who doesn't promote products/brands in his/her blogs, then running ads isn't a viable option for you.
5. Writing on Every New Trend
As soon as there are new trends, most bloggers/writers tend to write about them. Indeed there are sites and blogs who tend to focus their energy on writing about trends which are in the news at that time. The very basic idea of capturing trends is to find what is popular at that moment and then start writing about it.
Do you remember the 'ice bucket challenge' that was once too popular? The internet used to be filled with stories of celebrities taking the challenge, completing it and then finally challenging other celebrities. Every content marketer reaped rewards by using this trend to create content. But the same trend faded after some months and it has become obsolete.
Another example of a current trend is the word 'Pandemic'. Even though it has been almost two years dealing with the pandemic, that doesn't mean we are going to deal with it forever. So, writing articles around 'Pandemic' and expecting it to generate long-term traffic isn't the right way.
There is a basic understanding of trends with respect to content marketers as trends bring quick fortune, but that does not stay for long. There are various negatives attached to writing on trends, such as:
If you write about a market trend, you are basically chasing anything that makes the news. While you may write about a NASA rover today, it will be the football star's personal life next. Thus, following trends means that you are never be able to build a brand for yourself and your content will look confusing too.
This means that you will not have a pool of loyal followers whom you can count on. You will have sparse followers who will only care for one article and move on.
This also means that your articles or blogs will have a finite shelf life rather than be of evergreen value. Even if marketed right, your articles will lose traffic after some time. Therefore, only focusing on trends is a gamble.
Conclusion
Promoting your article to gain an audience can be a daunting task at hand. There are various challenges that you might face when marketing the content. Therefore, doing it right is the key to gaining not only new visitors but also downsizing your blog reputation in the long run.
For those same reasons, I advise writers and marketers around the internet to not follow any of the misleading and outdated promotion strategies which can ruin their chances of generating traffic. This will also save a good amount of time.
The post 5 Completely Wrong Ways to Promote Any Blog Post appeared first on Home Business Magazine.
Click Here For Original Source Of The Article