Home Business Magazine Online
Chain blocks play a crucial role in many industrial and commercial operations with lifting and lowering mechanisms to handle heavy loads. They undergo constant pulling and gear movements to transfer force into the chain and lift a particular load. Over time, they take a lot of wear and tear, which affects their structural integrity and overall functions. Therefore, conducting a chain block inspection is necessary before operation.
If you have a warehouse, cargo, or any kind of business that relies on the use of chain blocks, you'll find this article helpful. Read on to learn about the importance of checking your chain block before operation to ensure safety, productivity, and success.
1. Promoting Maximum Work Efficiency
Stenhouse says chain block inspections should be conducted according to relevant standards. Operators should check for cracks, corrosion, deformation, cuts, gouges, distortion, nicks, wear, and heat damage. Moreover, they must pay close attention to the hooks for overloading indications. That way, they can ensure the device's maximum work efficiency.
Inspection of chain block assembly components must be performed thoroughly to promote its maximum work efficiency. Hence, a chain block inspection should include the following:
Checking for correct, fit, and legible mandatory markings
Functional testing to ensure the chain block lifts and lowers correctly
Inspection of the top hook assembly fit
Inspection of the body
Inspection of the hand and load chain
Inspection of the bottom hook
2. Preventing Personal Injury
Chain block accidents could occur without a pre-inspection. The key components for a smooth chain block operation are the hooks and latches. Any nick, gouge, or deformities can affect the function of the chain block, which may lead to personal injury.
In 2012, Occupational Safety and Health Administration (OSHA) reported an accident associated with chain block operations: Something malfunctioned in the device, causing the chain to drop, crushing the worker's right hand. The victim who got bone fractures as a result of the accident had to be hospitalized and underwent surgery. This kind of incident could have been prevented with regular pre-inspections.
During a chain block inspection, employees should inspect the hook latch to ensure its secure attachment to the device. The chain hook should be rotating freely and away from extreme heat. Furthermore, the chain links shouldn't twist, stretch, or deform. They should undergo regular application of lubricants because corrosion on the chains could affect the smooth operation of the chain block and cause an accident.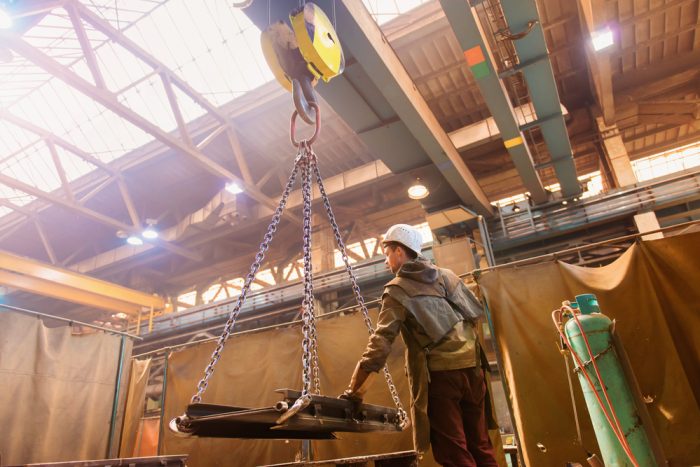 3. Preventing Load Damage 
Deformations or dents on the chain block's body form because of excessive loads or overuse, and they can lead to load damage. Therefore, inspecting the hoist body's external appearance is essential. Inspections prevent its parts from falling off during a lifting operation or a heavy load dropping situation.
It's important to assess the chain block's normal functions to prevent load damage and accidents. When you manually lift the chain, there should be a clicking sound in the chain pulley block. You'll know if the pull force isn't normal because you need to apply more effort to lift the load. If you notice this kind of problem, stop the chain block operation immediately.
When the hand chain operation stops, the lifted load should have the same position or height. Otherwise, there's a risk of the load falling or dropping. Discontinue using the chain block right away and label the device as malfunctioning or use any safety sign to prevent another operator from using it.
4. Promoting Chain Block Longevity 
Chain block storage and handling are important to ensure its longevity. Industrial and commercial businesses can save money from buying new chain blocks. When chain hoists receive proper care maintenance, they can work smoothly and last many years. That means higher productivity and income for your business.
To lengthen the lifespan of your hoisting equipment, you need to inspect all chain blocks and accessories for signs of wear and tear before use and storage. If a chain block inspection reveals it is malfunctioning or is showing signs of damage, don't put it into storage. Label or place a tag to indicate it's 'for repair' or 'damage.'
Hang the chain blocks from the top suspension hook when storing them. The chains shouldn't touch the ground to avoid dirt accumulation and corrosion. Cover non-portable chain blocks when not in use to keep them away from harsh elements.
Follow the manufacturer's instructions when inspecting and maintaining chain blocks, such as proper use and lubrication.
Conclusion
A chain block inspection is crucial before operation to ensure the safety of the operator, other people, things around the work, as well as the load. If you want to lift heavy loads and keep your operations running continuously without problems, follow these tips. By conducting regular inspections, you'll reap the benefits of using chain blocks for your business operations.
The post 4 Reasons to Inspect Your Chain Block Before Operation appeared first on Home Business Magazine.
Click Here For Original Source Of The Article